Spicy Teriyaki Grilled Steak Kebabs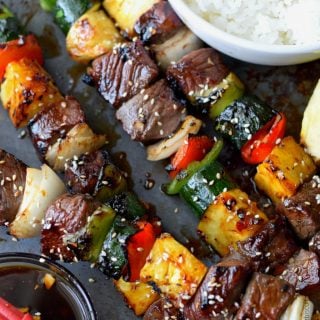 2½ lbs Sirloin steak cut into 1½ inch cubes
1 green pepper cut into 1½ pieces
1 red pepper cut into 1½ inch pieces
1 onion cut into 1½ pieces
3-4 zuchinni cut into 1 inch slices
3 cups fresh pineapple cut into 1 inch pieces
1 cup soy sauce
½ cup rice wine vinegar
⅔ cup water
1 cup brown sugar
4 cloves garlic minced
1 teaspoon fresh grated ginger
1 teaspoon red pepper flakes (more if you like it spicier)
3 teaspoons cornstarch
8-10 wooden or metal skewers (soak wooden skewers in water for 30 minutes to avoid burning on the grill)
In a small bowl whisk the soy sauce, vinegar, water, sugar, garlic, ginger and red pepper flakes until sugar is dissolved.
Place steak cubes in a large ziplock freezer bag and pour in ⅓ marinade mixture. Place in refrigerator and marinate at least 6 hours but preferably overnight.
In a saucepan add the remaining marinade and whisk in cornstarch until mixed. Bring sauce to a boil then reduce heat to a simmer 20 minutes or until thickened. Set aside.
Heat a grill to medium high heat. Thread the skewers alternately with steak, peppers, onions, zucchini, and pineapple. Grill the skewers 3-4 minutes per side. Or until steak is cooked to desired doneness. Remove skewers and let rest 10 minutes. Brush with thickened teriyaki sauce and sprinkle with sesame seeds.
**Make sure you soak you skewers for 30 minutes this helps them so they don't burn while on the hot grill.
Recipe by
Butter Your Biscuit
at https://butteryourbiscuit.com/spicy-teriyaki-grilled-steak-kebabs/