[pinit]
This strawberry cheesecake mousse is a new favorite dessert at our house. It's a very refreshing dessert to have on a warm summer night. If you love strawberries and cheesecake you have to try this! Great for those hot summer days when you need a dessert but don't want to bake in your oven.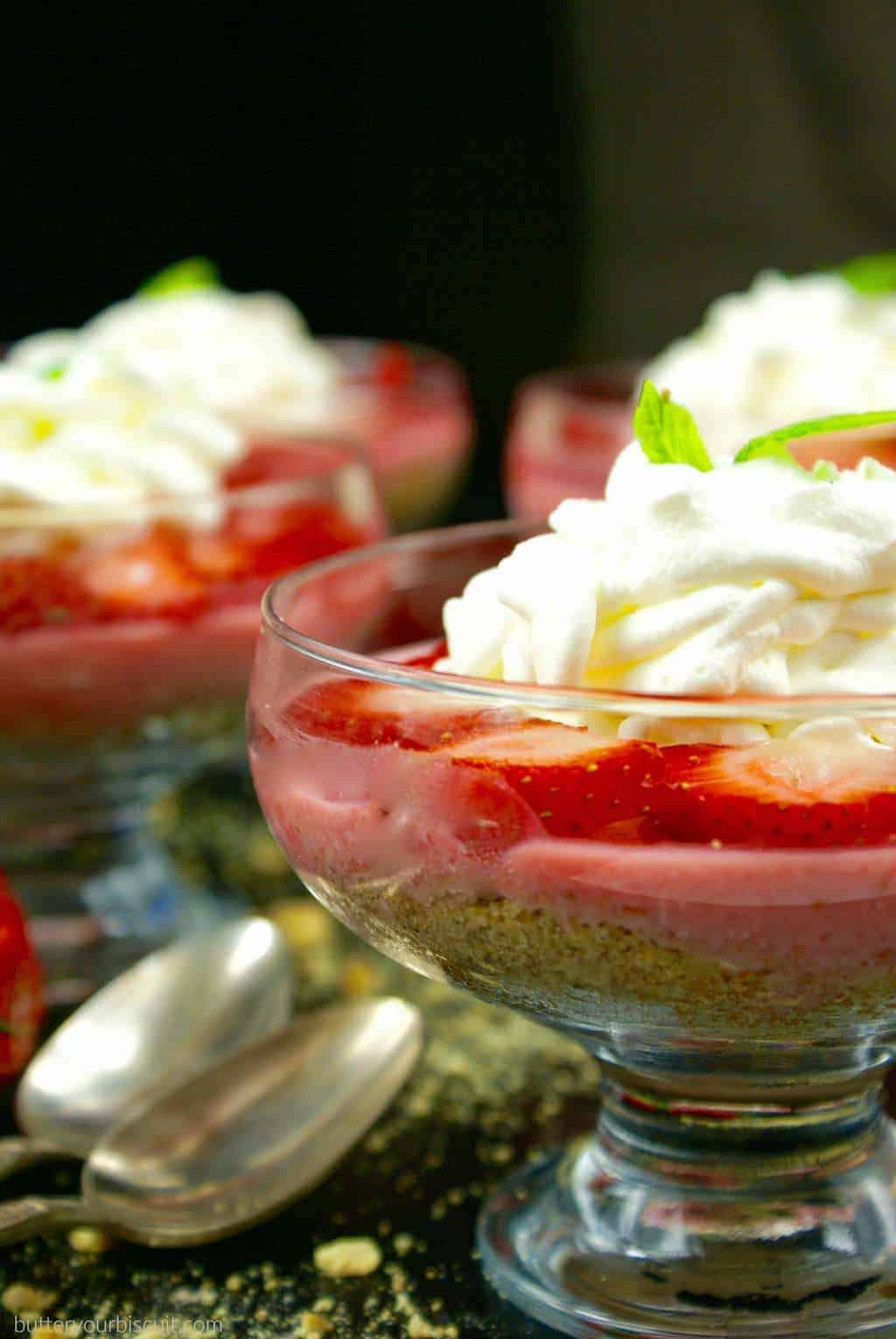 Strawberry Cheesecake Mousse
Ingredients
6 cups dices strawberries plus more for garnish
¾ cup sugar
1 pkg cream cheese
1 pkg unflavored gelatin powder
1 cup heavy whipping cream
1 cup graham crackers
4 tablespoons melted butter
Instructions
Dice up strawberries and place in food processor and pulse a few times. Remove and place in a medium bowl. Stir in ½ cup sugar and let sit for an hour.
Strain the strawberries through a sieve into a medium bowl until you get 1 cup of juice. Measure 3 tablespoons of the juice and put into separate bowl, Add the gelatin and mix and let sit for 5 minutes. Place the remaining juice into a saucepan and heat over medium heat just until reduced to about ¼ to ½ cup stir in gelatin and mix well add cream cheese and whisk until all clumps are dissolved. Set aside
Return the strawberries to the food processor and pulse until pureed. Strain the puree through a sieve to remove all the seeds. Add the puree to the cream cheese mixture and mix. Discard the seeds.
In a food processor pulse the graham crackers into crumbs, remove to a separate bowl, add the melted butter and mix until combined.
Put 3-4 tablespoons of the graham crackers into the dessert dishes gently press. Divide the cheesecake mixture evenly. Chill for 4 hours.
Using a stand mixer whisk the heavy whipping cream until frothy, increase speed to high and whip until peaks form about 3 minutes. Gradually add sugar and whip another 2 minutes.