These Sloppy Joe Stuffed Rolls are a family favorite, and kid approved recipe!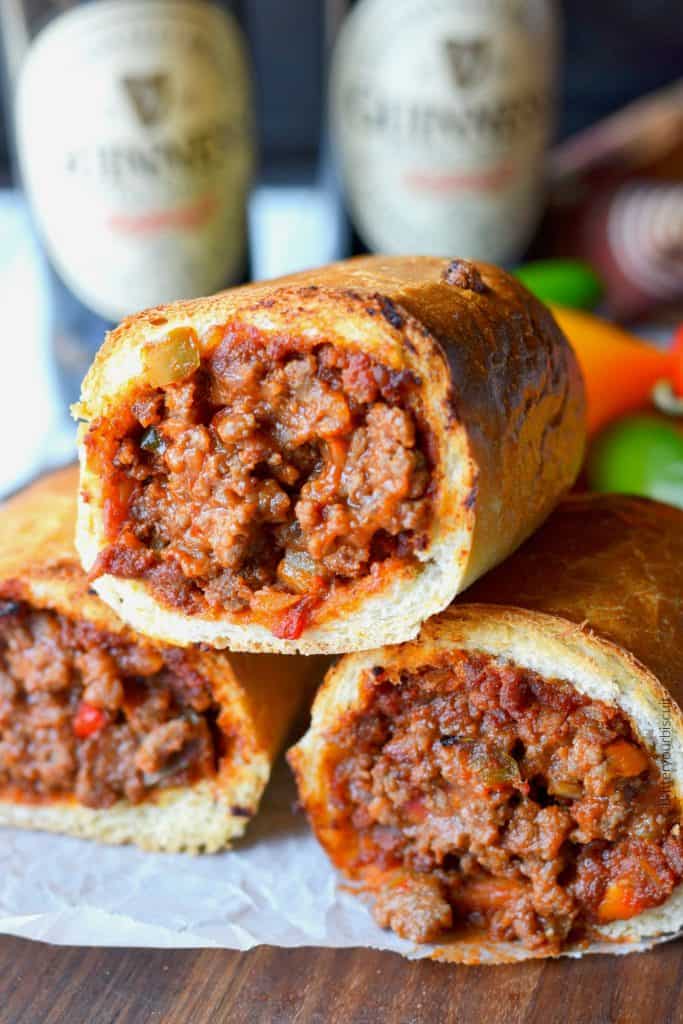 Sloppy Joe Stuffed Rolls always give me such a fond childhood memory. Just knowing we were having sloppy Joes for dinner got us all excited. These rolls are crispy on the outside, and are full of sloppy joe love on the inside.
If your grocery store doesn't carry unsliced sandwich rolls, you could just use large dinner rolls and hollow those out and place on a baking sheet and bake as directed.
Need more quick and easy family friendly recipes?
These are truly the best ever sloppy joes, whether you make them for game day, or for a weeknight meal. Your family is sure to love these!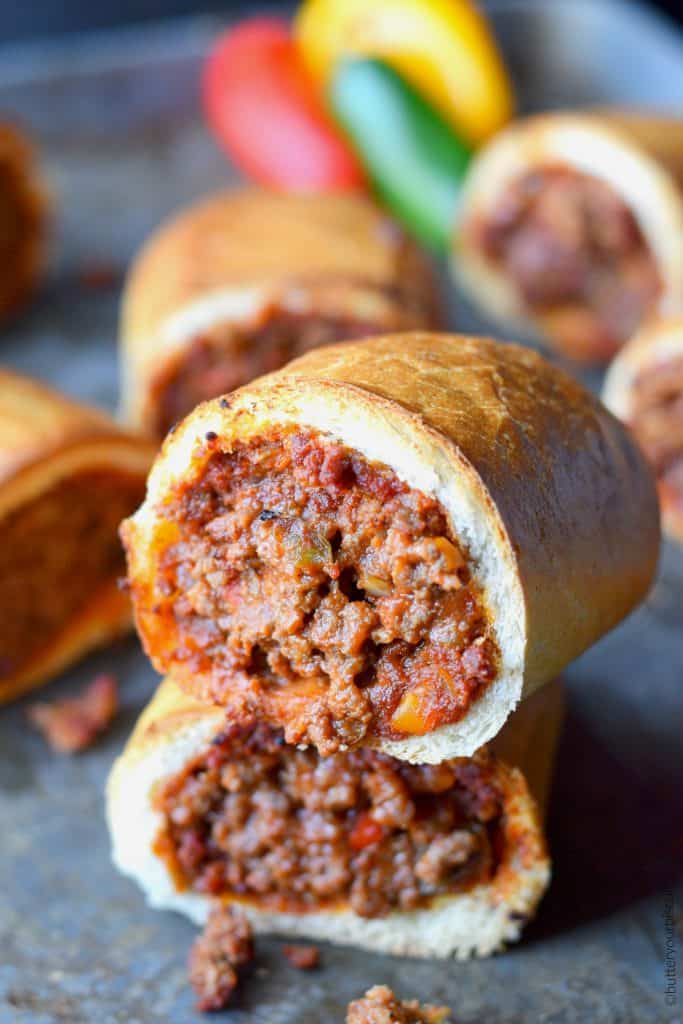 This is a great make ahead meal to freeze, then just pop them into the oven and add a salad or fries and your pretty much good to go. Give this twist on the classic sloppy Joe a try, maybe for game day. Make a bunch though they will be devoured quickly!
Not-So-Sloppy Joe Rolls
Ingredients
1½ lbs pound ground beef (or turkey)
4 cloves garlic, minced
1 small onion diced
½ cup green bell pepper diced
½ cup red bell pepper diced
8 ounces tomato sauce
½ cup ketchup
3 tablespoons brown sugar
2 tablespoons Worcestershire sauce
1 teaspoon prepared mustard
½ teaspoon garlic powder
¼ teaspoon onion powder
¼ teaspoon crushed red pepper optional
1½ cups shredded cheese optional
6-8 Rolls unsliced
Instructions
Preheat the oven to 350
In a medium bowl, stir together tomato sauce, ketchup, brown sugar, Worcestershire sauce, mustard, garlic powder, onion powder, and red pepper, until well combined. Set aside.
Heat a large pan over medium-high heat. Add the ground beef, onions, and peppers and cook until no longer pink, breaking apart and stirring as the meat cooks. Drain fat, then return to the heat add garlic and cook for 1-2 minutes. Pour sauce over browned meat, stir, and simmer for 10 minutes.
While sauce is simmering, cut your rolls in half and with a knife hollow out the inside. Once the rolls are hollow it into the roll then spoon the saucy mixture into the rolls
Bake the rolls on a baking sheet for 15 minutes until just lightly crispy on the outside.
**Optional For a cheesy surprise at the bottom put about 1 tablespoon of shredded cheese into the bottom of the roll then spoon the meat mixture in.