[pinit]
I mean who doesn't love a soft, chewy on the inside, yet crispy on the outside, chocolate chip cookie? I SURE DO! Paired with a big ole glass of milk, it can make a bad day great! I have been on a mission for months now to find that perfect chocolate chip cookie recipe. And I found it! I dare you to eat just one!
I like to use Nestle Delightfulls milk chocolate morsels with caramel filing. I just like that little burst of caramel flavor in the chips, plus the chips are a bit larger then the average chocolate chip. Although, you could use any kind of chocolate chips. Whatever kind your heart desires.
Do not forget to chill, chill, chill the dough! This is an absolute must. And Enjoy!
Of course you can use just plain chocolate chips, but the Delightfulls Caramel filled chocolate chips are just amazing. Mmmm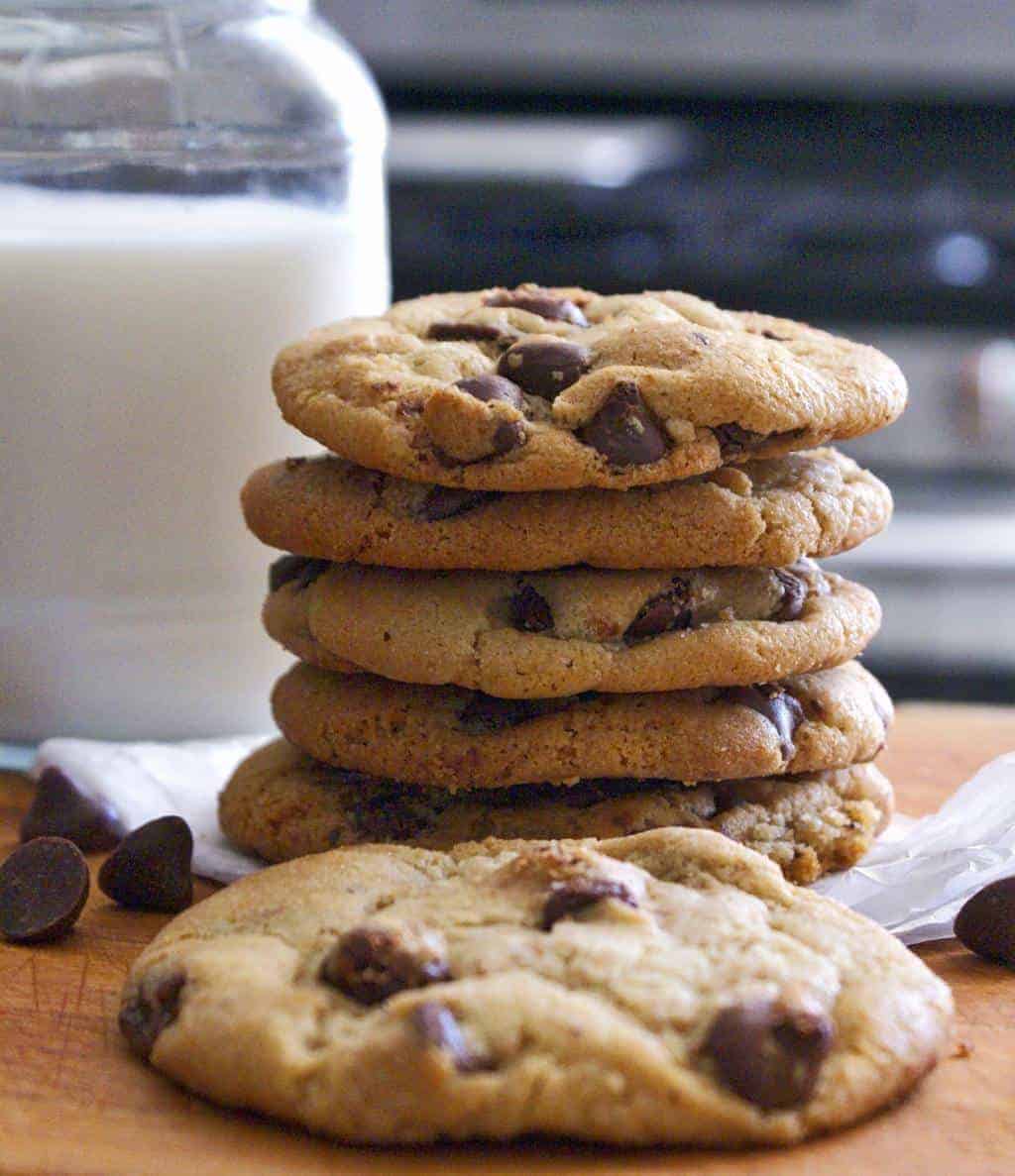 Chewy Chocolate Caramel Chip cookies
Prep time:
Cook time:
Total time:
Ingredients
2 and 1/4 cups all-purpose flour
1 teaspoon baking soda
1 and 1/2 teaspoons cornstarch
1/2 teaspoon salt
3/4 cup unsalted butter, melted
3/4 cup light brown sugar
1/2 cup granulated sugar
1 large egg + 1 egg yolk,
2 teaspoons vanilla extract
1 cup Nestle Delightfulls milk chocolate morsels with caramel filling
Instructions
Whisk together the flour, baking soda, cornstarch and salt in a large bowl. Set aside.
In a medium size bowl, whisk the melted butter, brown sugar, and white sugar together until no brown sugar lumps remain. Whisk in the egg, then add the extra egg yolk. Finally, whisk in the vanilla. Pour the wet ingredients into the dry ingredients and mix together with a large spoon or rubber spatula. Fold in the chocolate chips. Cover the dough and chill in the refrigerator for 1 hour. do not skip the chilling step.
Take the dough out of the refrigerator and allow to set for about 5 minutes
Preheat the oven to 325°F. Line two large baking sheets with parchment paper or silicone baking mats. Set aside.
Roll the chilled dough into balls, about 3 Tablespoons of dough each. Then place on prepared sheet Continue this process until all the dough has been rolled. Bake the cookies for 12-13 minutes. These cookies will continue to bake on the cookie sheet. Let them set for 5 minutes them transfer them to a wire rack.
**you can use regular chocolate chips/chunks if you desire