Cedar Plank Grilled Salmon is super moist and has a slight smoky flavor.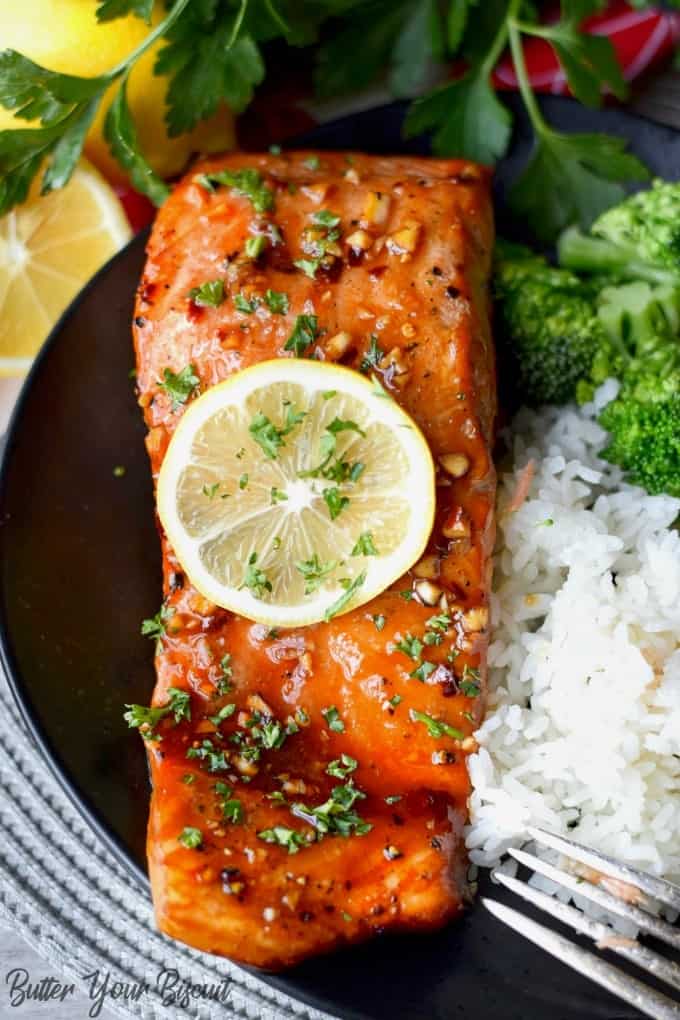 This Cedar Plank Grilled Salmon is marinated in a soy sauce, garlic, brown sugar marinade. Super simple and adds so much flavor, and you get a fantastic smokiness from the smoldering wood.
I know the thought of using a cedar plank can be intimidating but it really is easy. My family is obsessed with this salmon recipe. My son could eat it everyday if I'd let him. I usually serve this with a side of rice and a veggie, but they also make amazing tacos. Yumm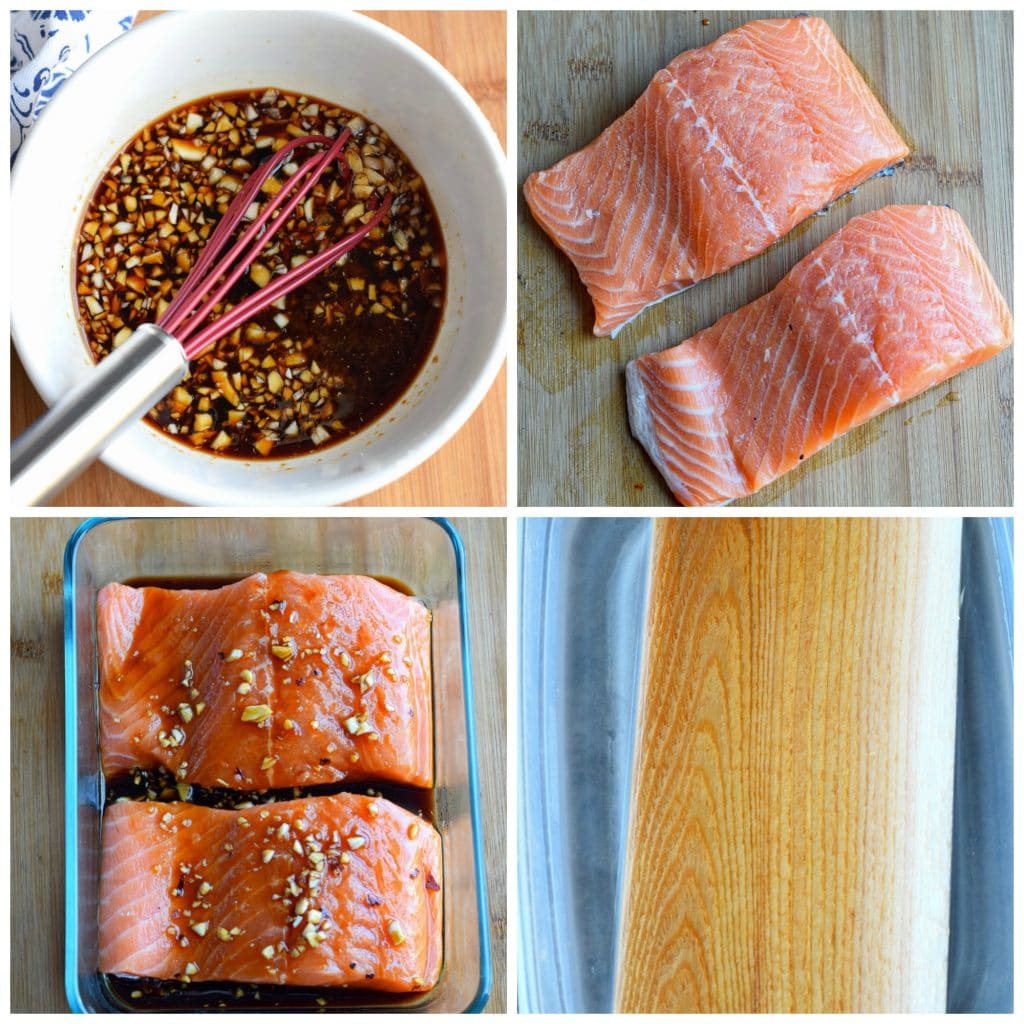 lt's very important to soak your cedar planks prior to cooking your salmon. Soaking it will cause the plank to smolder and create smoke. The salmon becomes slightly smokey from the cedar plank. Also the plank prevents the salmon from sticking to the grill and is easy to clean up.
How to make Cedar Plank Grilled Salmon
Start by mixing all your marinade ingredients in a small bowl

Place salmon in a dish and pour 1/2 of the mixture over salmon and marinade for 2 hours.

While the salmon is marinating place the cedar plank in a container and cover with water. Soak cedar planks for at 1-2 hours.

Heat grill on high and place cedar planks over direct heat for 1-2 minutes, flip and heat 1-2 more minutes.

Place salmon on cedar planks and grill 15-18 minutes or until opaque and flakes with a fork.

Looking for more grilled recipes?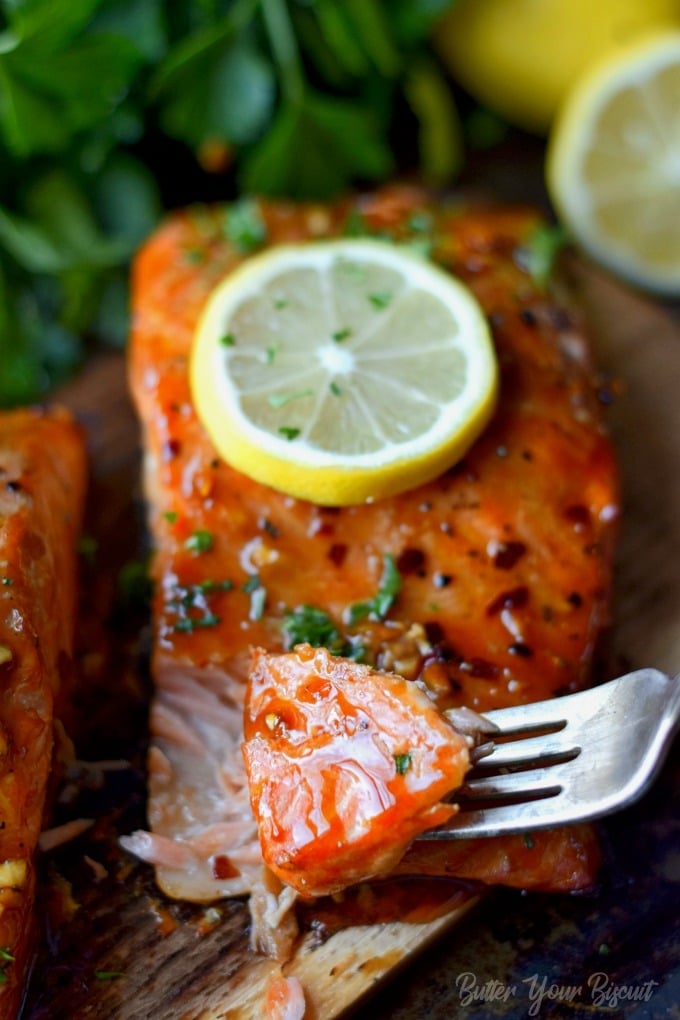 FOLLOW BUTTER YOUR BISCUIT ON INSTAGRAM, FACEBOOK and PINTEREST FOR ALL THE LATEST RECIPES!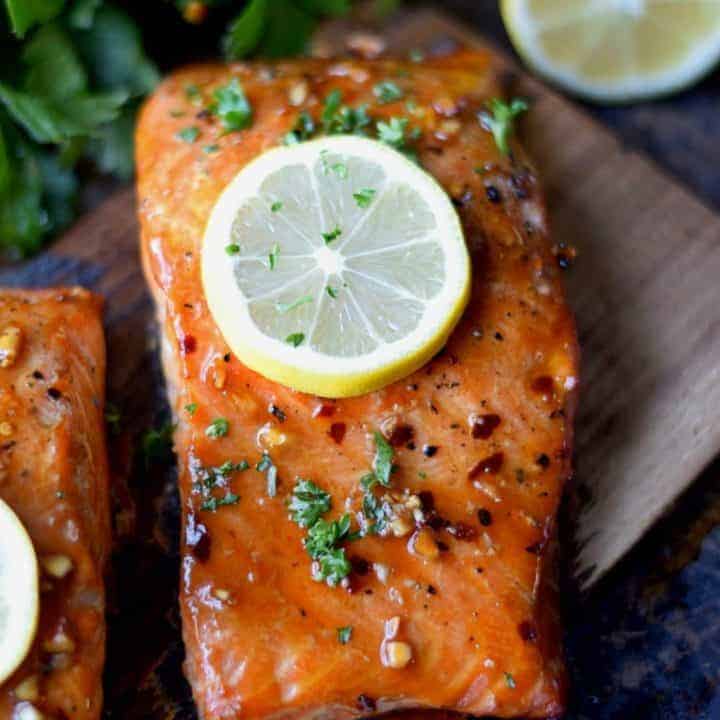 Cedar Plank Grilled Salmon
Ingredients
2

lbs

salmon (I use Atlantic)

1

cup

soy sauce

1/4

cup

brown sugar

1/2

cup

rice wine vinegar

3

tablespoon

garlic minced

2

tablespoons

fresh ginger grated

1/2

tsp

red pepper flakes

2

tsp

cornstarch

Salt and pepper to taste

Lemons
Instructions
Soak cedar plank in water for at 1-2 hours.

In a small bowl combine soy sauce, brown sugar, vinegar, garlic, grated ginger, and red pepper flakes, whisk until sugar is dissolved. Pour 1/2 of the marinade over fish until well coated. Marinade in refrigerator for up to 2 hours.

Heat a small saucepan on medium low heat and add the remaining marinade mixture. Whisk in the cornstarch until dissolved. Simmer sauce for 3-5 minutes or just until thickened.


Heat charcoal or gas grill on medium heat, Place soaked cedar plank on top of flames. Heat plank for 1-2 minutes then flip and heat another 1-2 minutes. Place salmon skin side down on cedar plank. Season with salt and pepper. Grill over medium heat for about 12-15 minutes. Or until the salmon is just opaque in the center and flakes with a fork.

Brush some extra sauce on, add salt and pepper and a squeeze of lemon if desired. Serve over rice.