This Garlic Rosemary Roasted Pork Shoulder cooks slowly in the oven to make it absolutely succulent!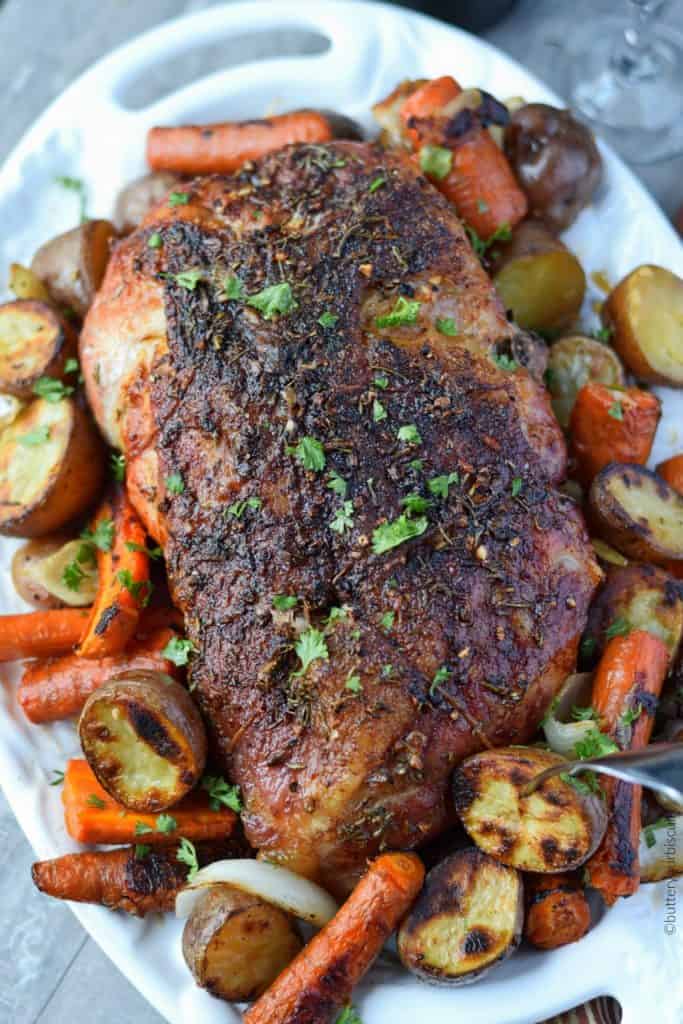 This Garlic Rosemary Pork Shoulder melts in your mouth. So tender and juicy, one of the easiest roasts I have ever made. A perfect Holiday dinner or Sunday supper.
Slow roasted and cooked to perfection, so tender you don't even need a knife. I was really surprised at how fantastic this turned out. The red potatoes have that perfect creaminess to them and the carrots and onions are caramelized and sweet. Cooking until the pork reaches about 185-190 degrees ensures melt in your mouth tenderness. This Cuisinart 16-inch Roaster with Rack works perfectly, I also use it to roast my Root Beer Glazed Spiral Ham for Easter every year.
Leaving the bone in adds extra flavor and the layer of fat helps keep the roast moist while it cooks. Here is a good tutorial for tying up your roast, it helps keep its aesthetically pleasing round shape.
Toss all the veggies together in a bowl first and add some salt and pepper to taste.
Adding the veggies after a couple of hours of roasting just ensures they won't be mushy and overcooked when the roast is done.
I have a fantastic Slow Cooker Pulled Pork Sandwich with Chipotle Slaw recipe that is always a huge crowd-pleaser.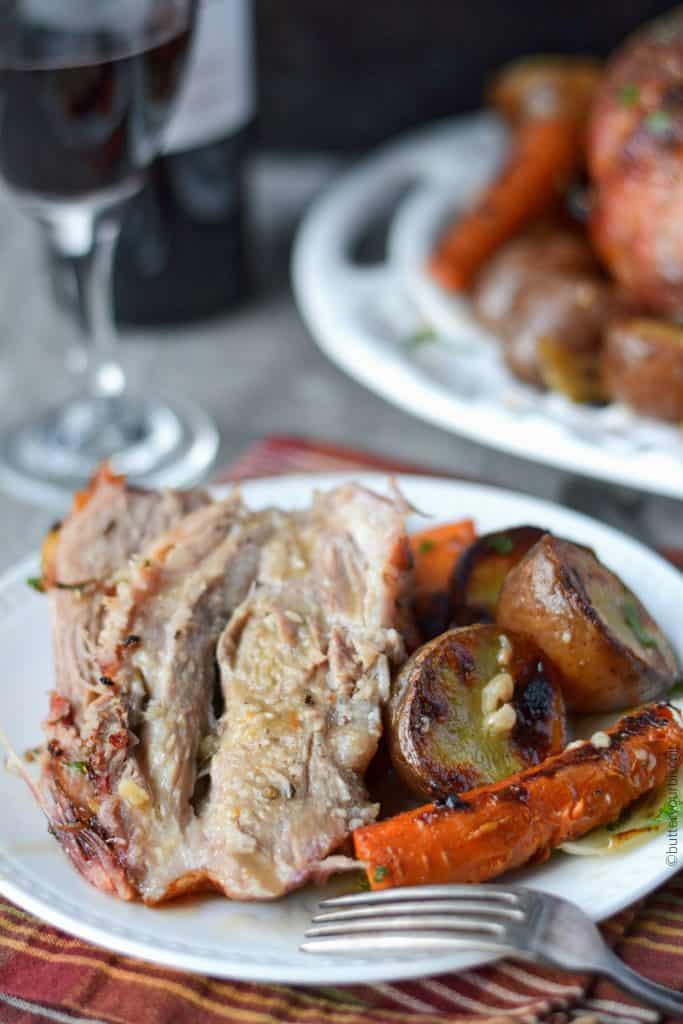 Garlic Rosemary Roasted Pork Shoulder
This Garlic Rosemary Roasted Pork Shoulder cooks slowly in the oven to make it absolutely succulent!
Ingredients
6-8

pound

bone in pork shoulder

1

tablespoon

paprika

2

teaspoons

kosher salt

1

teaspoon

fresh ground pepper

5

large carrots

peeled cut into large chunks

3

pounds

red potatoes

cut in half or quartered

1

large onion cut into chunks

6

cloves

garlic minced

2

teaspoon

fresh rosemary chopped

olive oil

Fresh chopped parsley for garnish
For the gravy
3

tablespoons

flour

3

cups

chicken stock

salt and pepper to taste
Instructions
Preheat oven to 300 degrees

Season pork with paprika, salt, and pepper. Drizzle 1 tablespoon olive oil over roast and gently pat 1/2 of the minced garlic and 1 teaspoon rosemary on the roast.

Place pork in roasting pan fat side up in the middle oven rack and roast uncovered for 2 hours.

While pork is roasting, put potatoes, carrots, onions, the rest of the garlic, rosemary add salt and pepper to taste in a bowl drizzle with olive oil, and give it a good toss. Remove roast from oven and add veggies to the roasting pan. Return to oven and roast 3-4 more hours. Or until 185-190 degrees

Remove roast and veggies (leave drippings in pan) to a serving platter, cover gently with foil, and let roast rest 15 minutes before carving

For the gravy

Place the roasting pan with drippings over medium-high heat and whisk in flour until combined, add in chicken stock and whisk until combined. Simmer for 5-10 minutes until desired consistency. Add salt and pepper to taste.
Nutrition
Serving:
1
g
Calories:
678
kcal
Carbohydrates:
44
g
Protein:
113
g
Fat:
100
g
Saturated Fat:
36
g
Polyunsaturated Fat:
55
g
Cholesterol:
121
mg
Sodium:
411
mg
Fiber:
5
g
Sugar:
6
g