This Herb-Crusted Rib-Eye Roast recipe is moist and juicy with the most delicious crust on the outside and smothered in a rich brown gravy, perfect for your holiday table.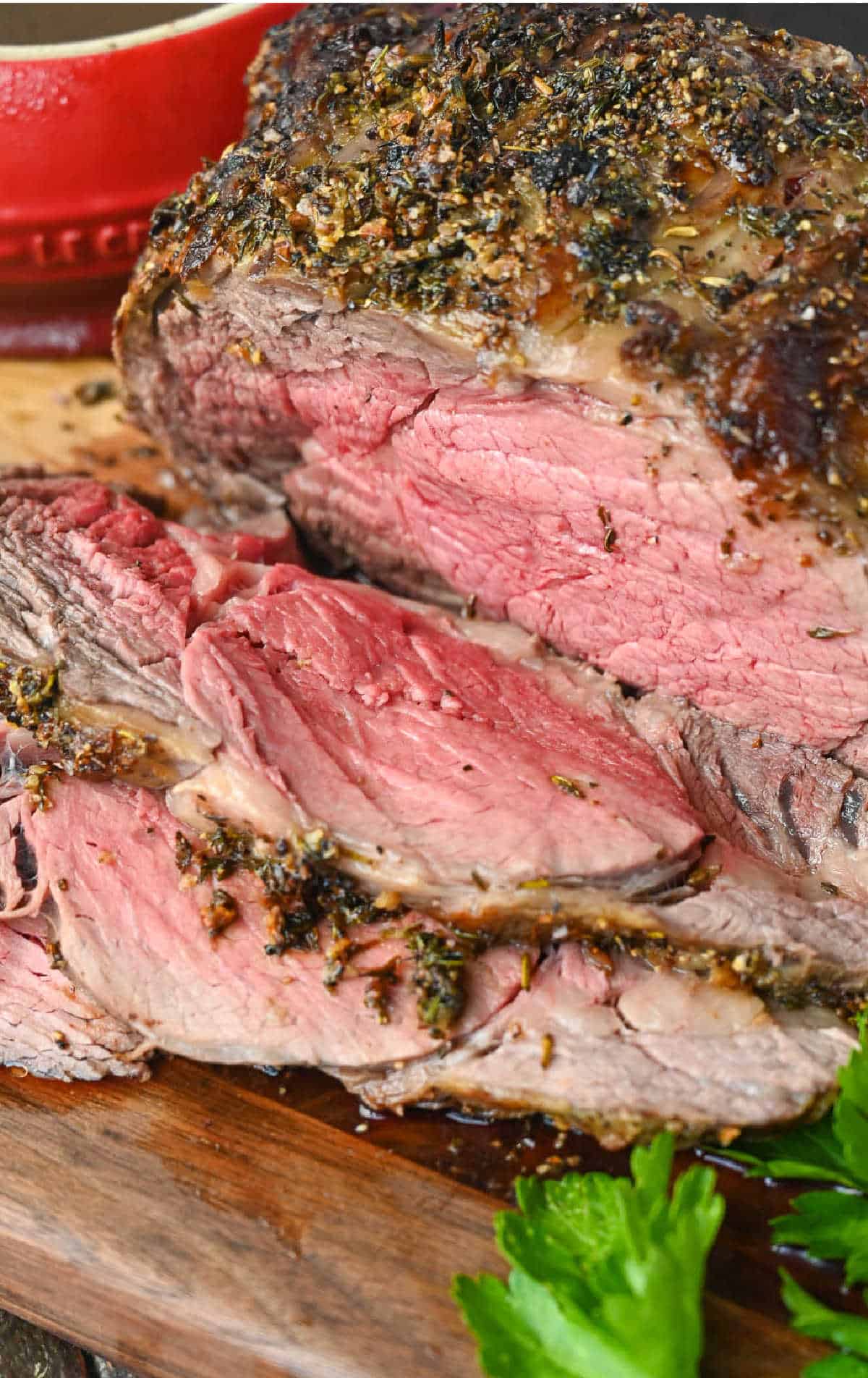 We may earn a small commission for purchases made through links in this post. Read our disclosure policy here.
I prefer to cook a boneless roast but you can certainly do a bone-in if you prefer you just may have to add some cooking time. Or you may prefer to make my Pan Seared Ribeye Steak. But either way, serve with some Creamy Mashed Potatoes and a side of Roasted Asparagus is sure to wow your guests for your holiday meal or Sunday dinner!
Why this recipe works
This is a stunning dish that will impress family and friends on your holiday dinner table with minimal fuss. With the most delicious gravy made from the drippings. The rosemary, thyme, and garlic butter add tons of flavor to herb-crusted roast beef, I always recommend having my Compound Butter on hand and ready to go or this Cowboy Butter.
Rib Eye Roast Ingredients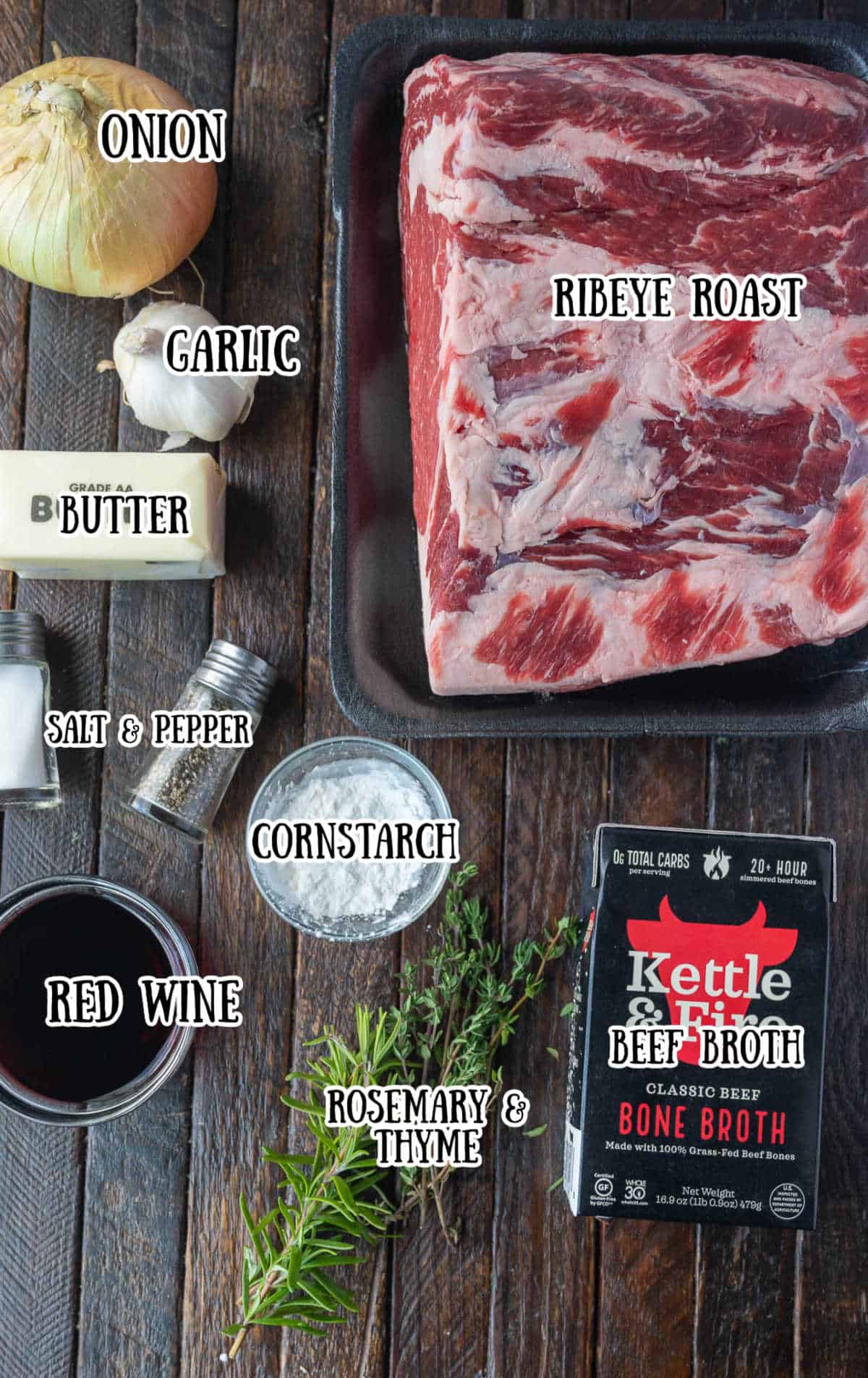 Ribeye roast: I use boneless but bone-in can also be used.
Butter: Use real butter at room temperature.
Fresh Herbs: Fresh thyme and Rosemary.
Onion: Yellow or white
How to make this recipe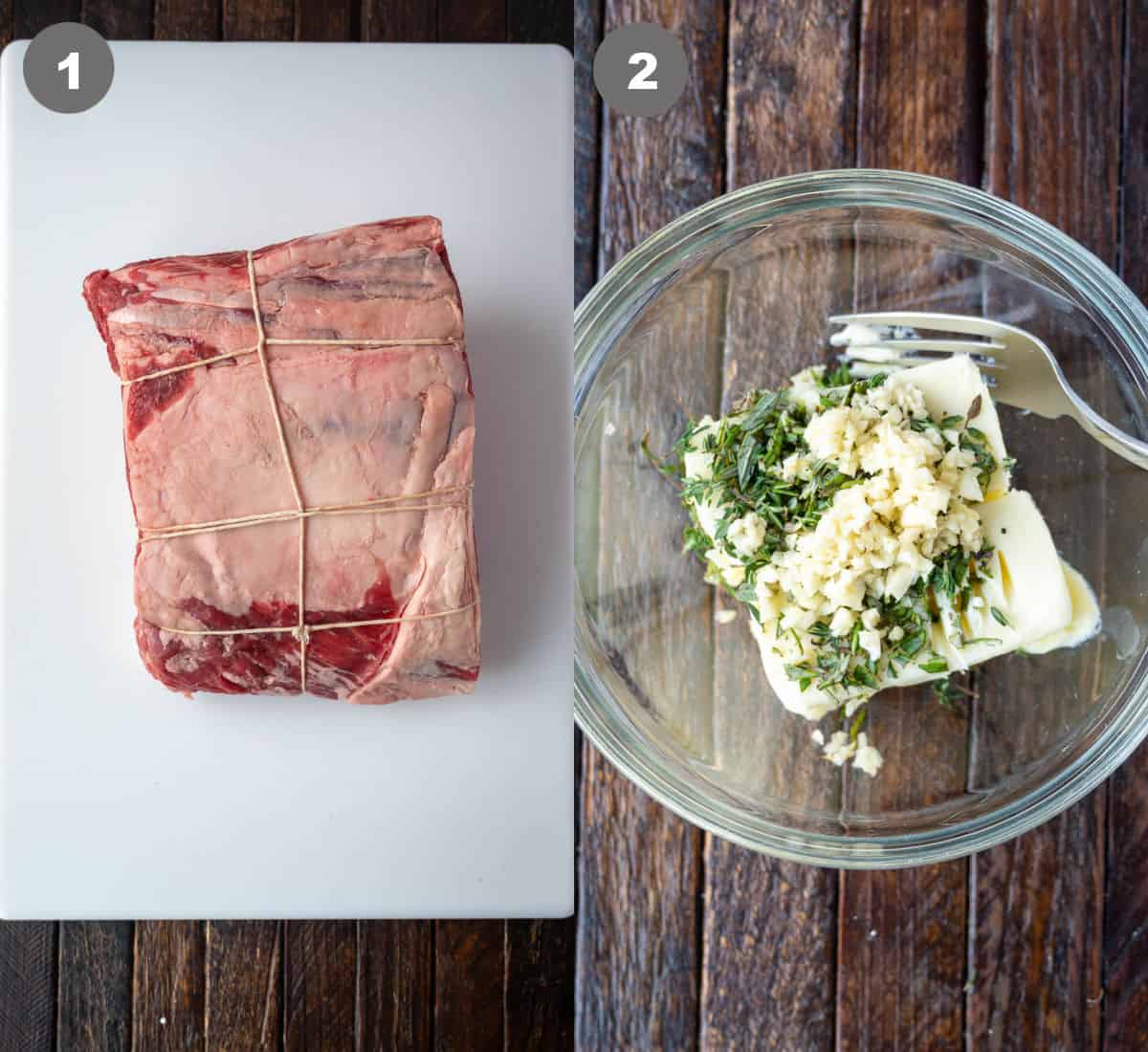 Step 1: Place roast on a cutting board and tie it up with twine.
Step 2: In a small bowl mix the herb mixture until combined.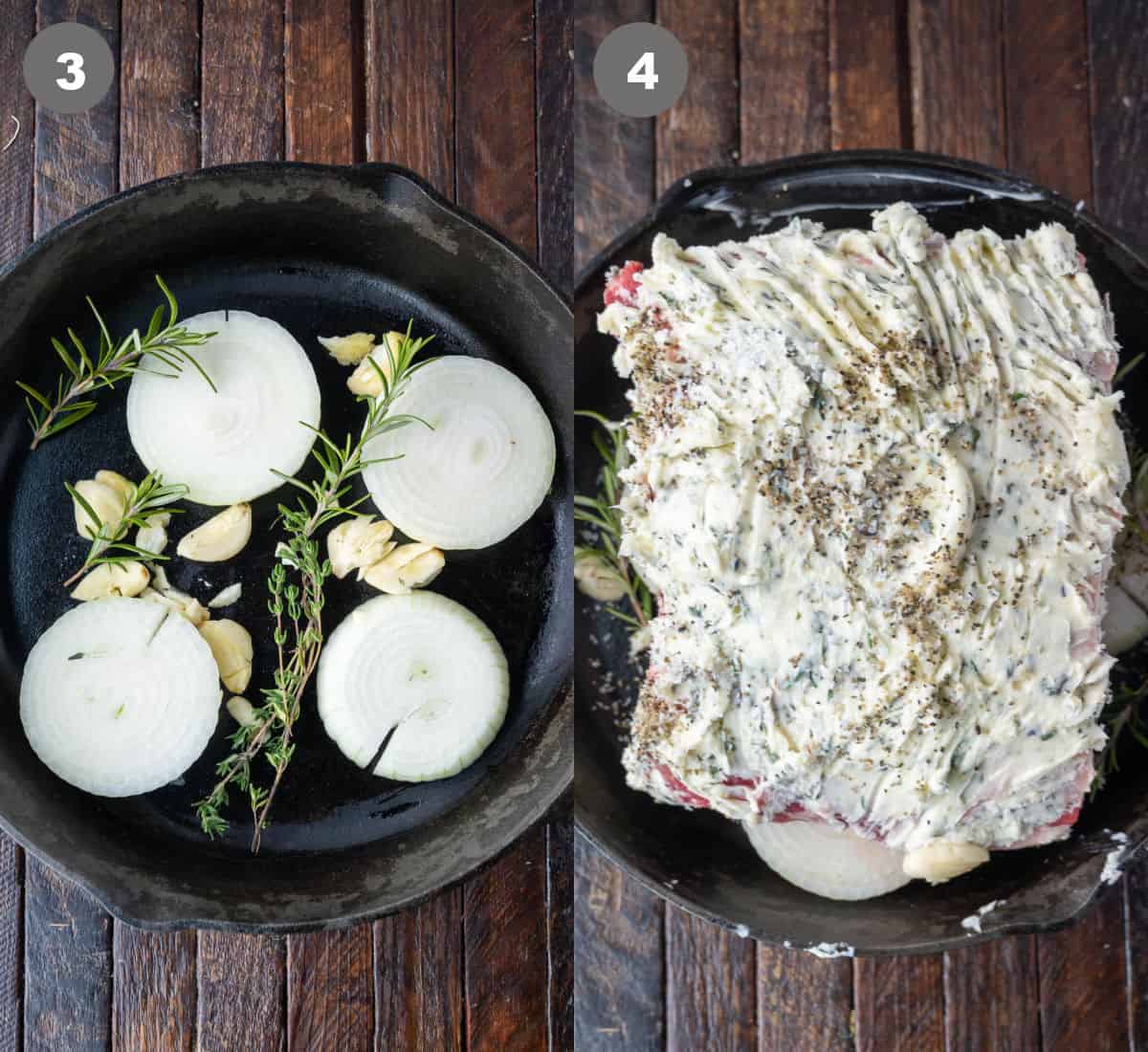 Step 3: In a cast iron skillet or shallow roasting pan add the sliced onions garlic and herbs.
Step 4: Place beef fat side up on top and spread 3/4 of the herb butter all over the surfaces of the beef roast.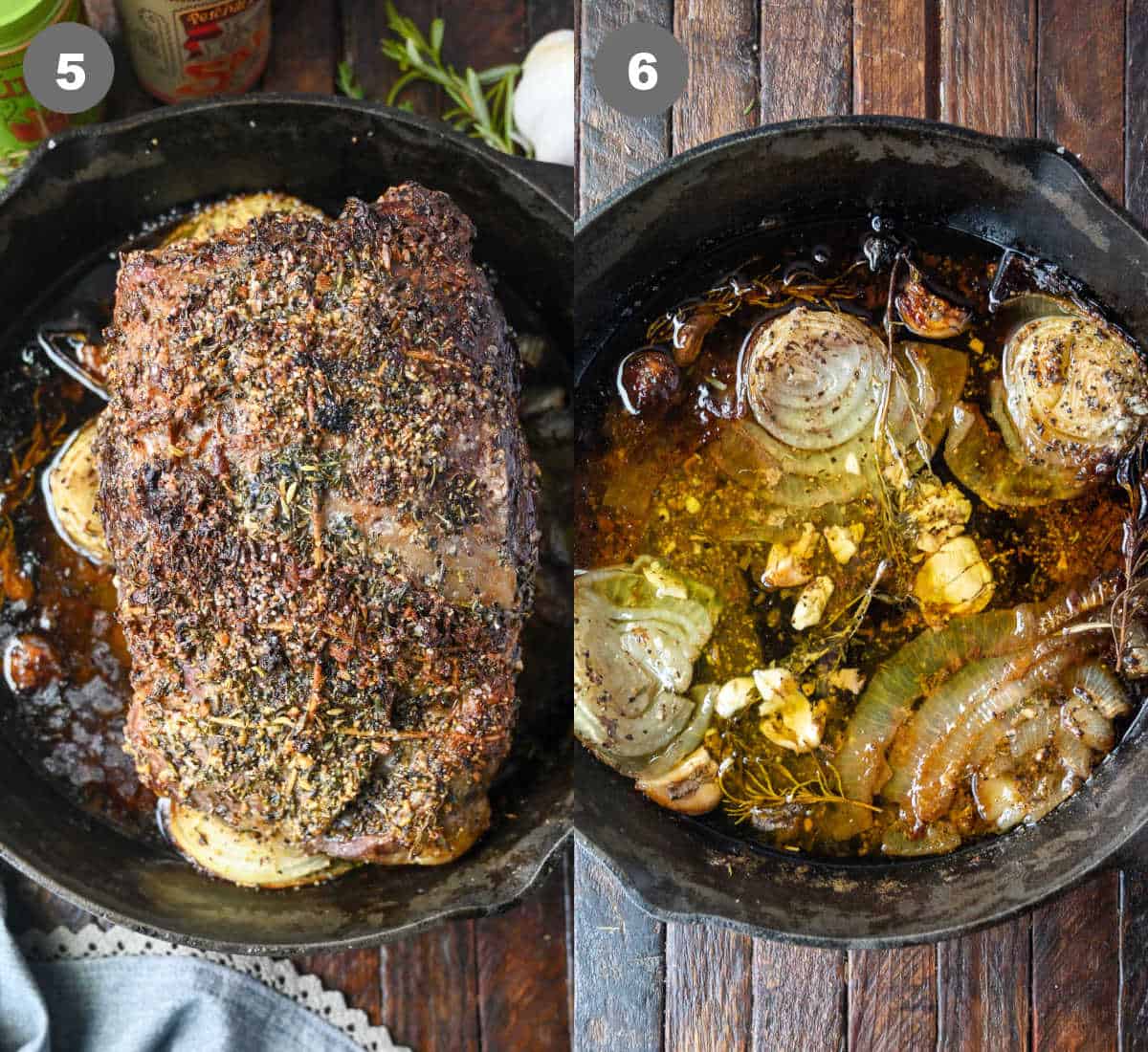 Step 5: Roast the rib eye, then remove the skillet from the oven and remove the rib eye to rest.
Step 6: Bring the pan drippings to a simmer and add in the broth, wine, and cornstarch.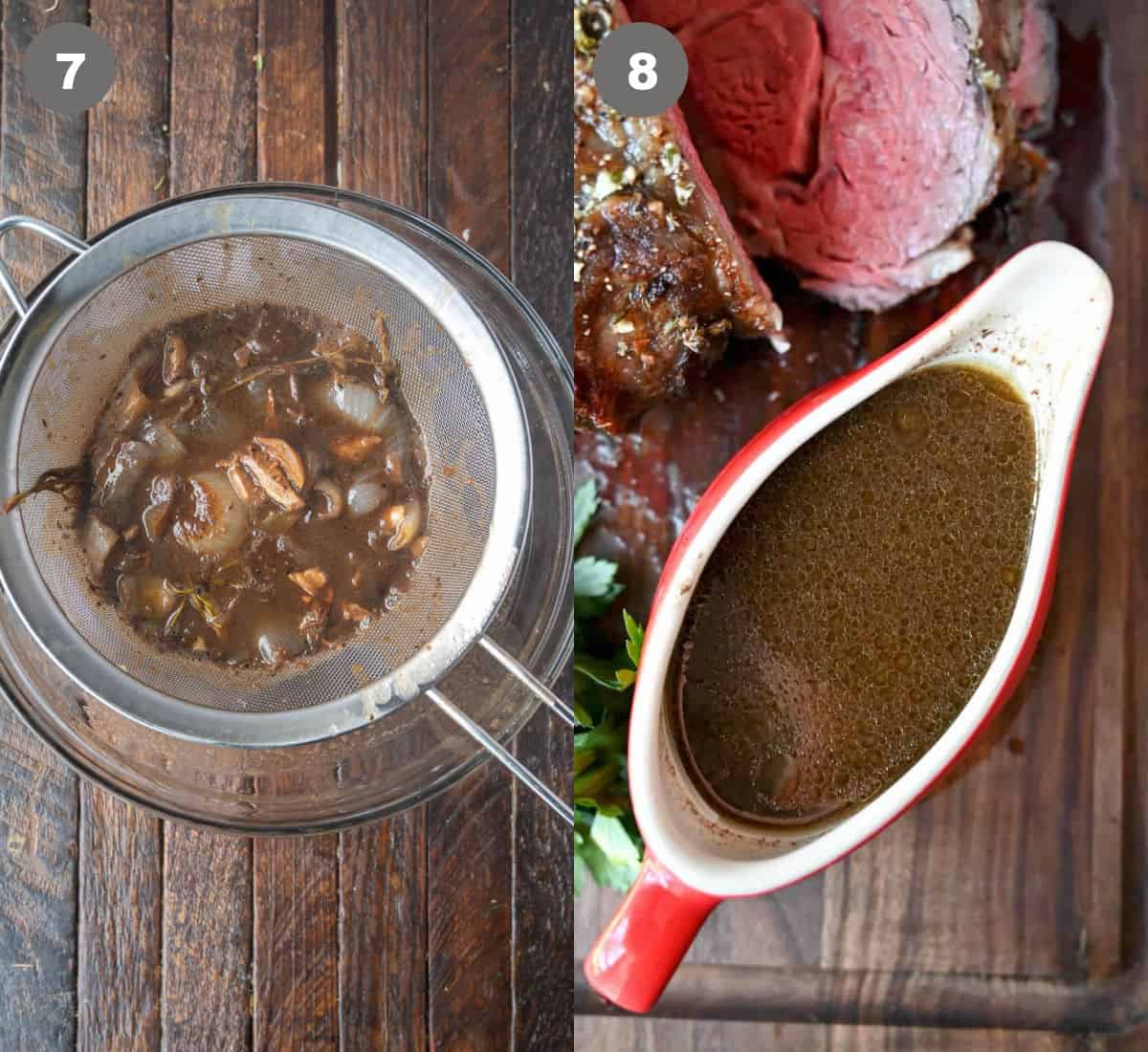 Step 7: Strain the onions and herbs from the sauce.
Step 8: Pour into a gravy boat and serve.
Is a ribeye roast the same as prime rib?
Close, but not exactly. The prime rib roast is sometimes called standing rib roast because the large bones enable it to stand on its own while roasting. I prefer ribeye roast, to me rib eye is one of the best cuts of beef. It is generally smaller, and still well-marbled with a nice fat cap. It slices beautifully and makes a delicious meal for the holiday season.
Do I have to tie up the roast?
Often people tie up a roast to help hold it together for a more perfect appearance. But it is definitely an option not everybody wants to do. Here is a how-to video.-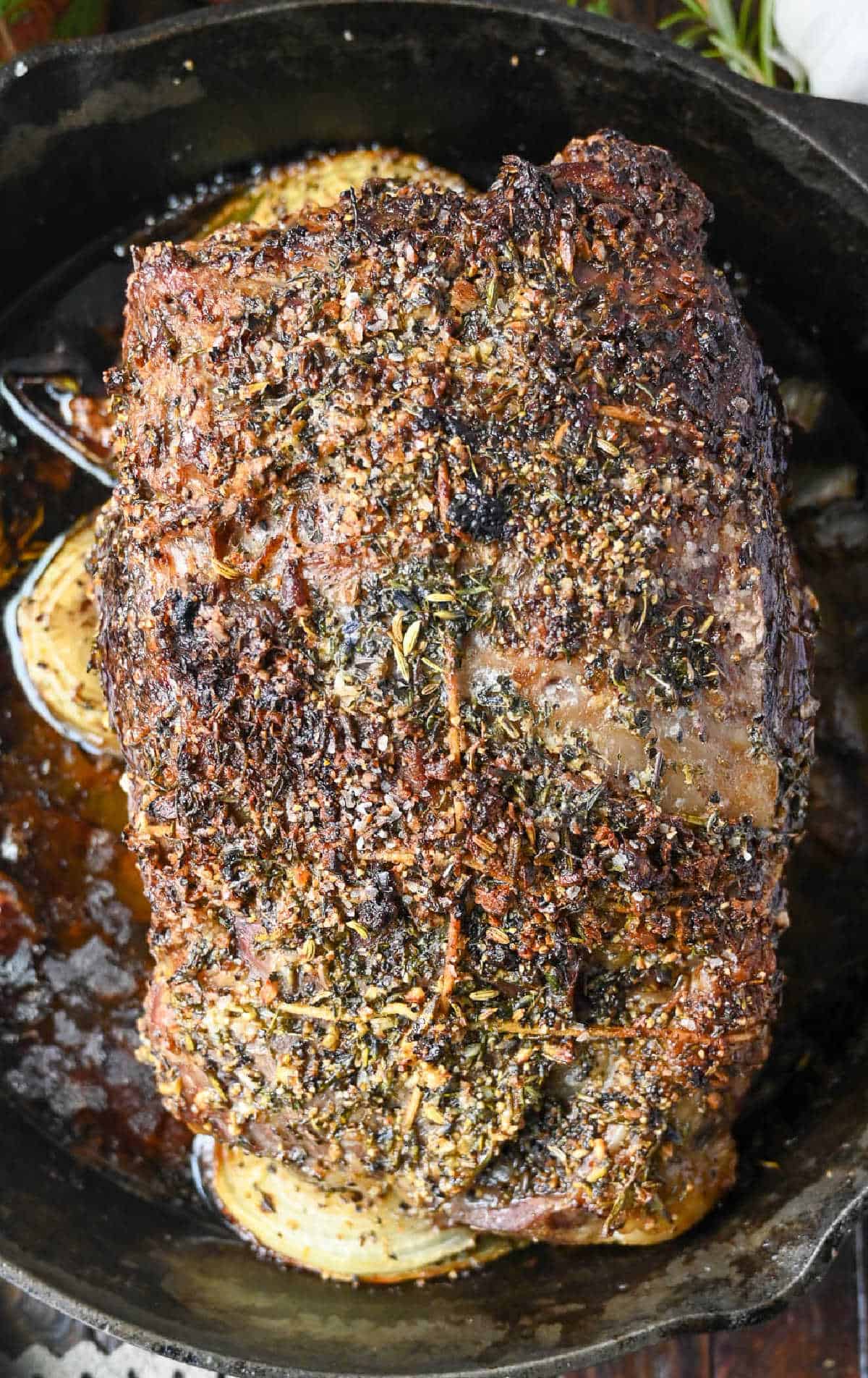 Recipe tips
Tieing up the roast is optional, but always makes a prettier presentation. (Here is a tutorial)
Let the meat come to room temperature for about 1 hour for more even cooking.
A digital thermometer is a must
It's very important to let the beef rest for 30 minutes before slicing.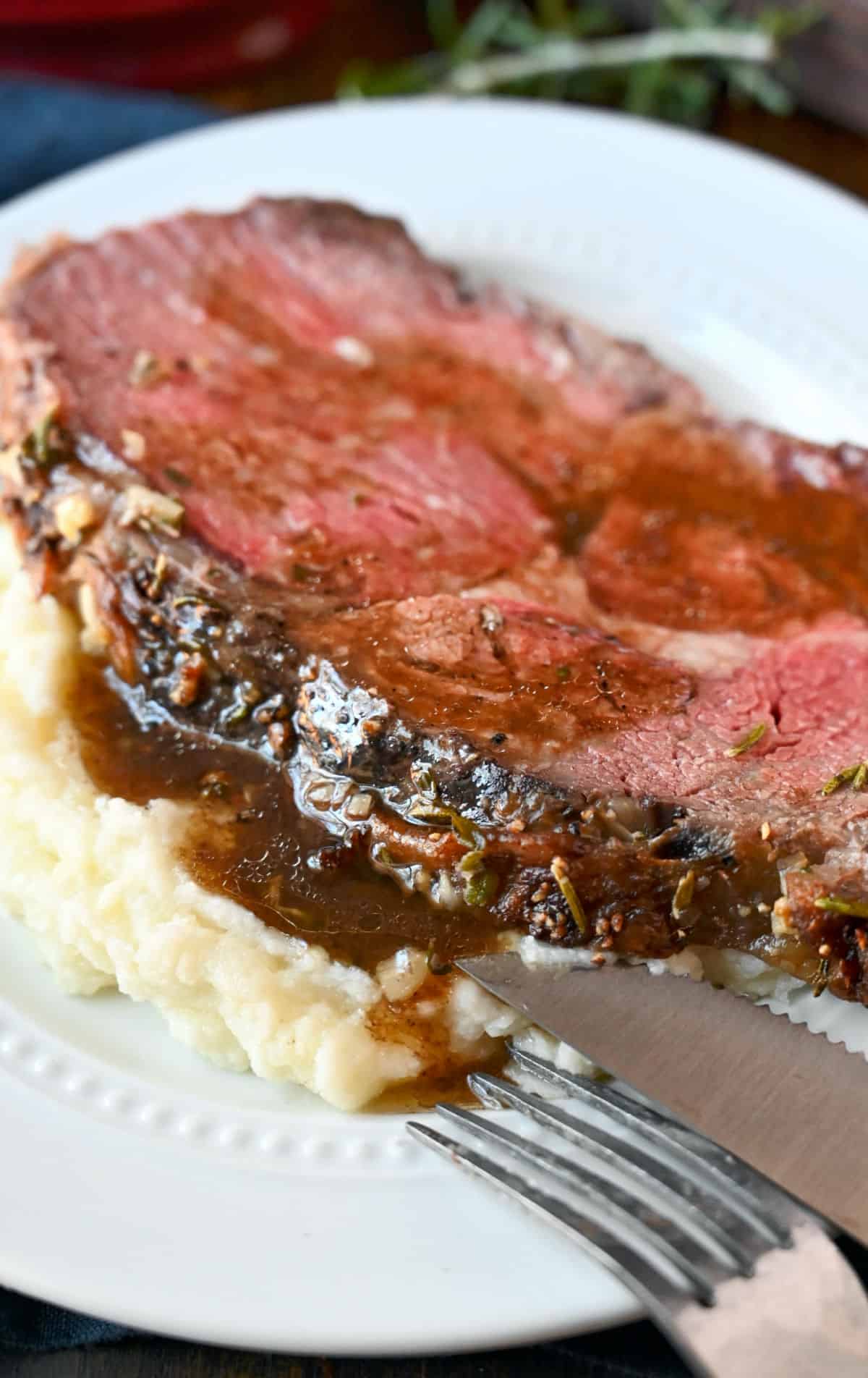 Recipe faq's
What temperature should I cook the roast to?
This ribeye roast recipe is a large piece of meat and ideally is best cooked to medium-rare doneness. But if you prefer to cook ribeye roast longer you'll need to place a digital meat thermometer into the thickest part of the beef to read when the meat reaches internal temperature.


Rare: 120 degrees
Medium Rare: 125 degrees
Medium:130 degrees
Medium Well Done 135 degrees
What can I do with leftovers
Store leftovers from this herb-crusted roast beef recipe in an airtight container in the refrigerator for 3-4 days. For another flavorful dinner try using leftovers in my Steak Chili or my Beef Stroganoff.
How long does it take to cook a rib eye roast?
I like to cook a ribeye roast at 450 for 20 minutes to sear the outside, then reduce the temperature to 250 degrees and cook for another 1 1.2 hours for medium rare.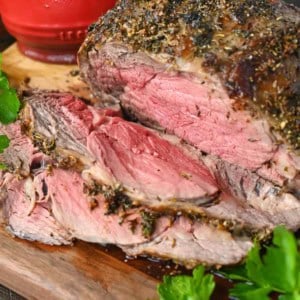 Herb Crusted Rib Eye Roast
This herb crusted rib-eye roast recipe moist and juicy with the most delicious crust on the outside and smothered in a rich brown gravy, perfect for your holiday table
Ingredients
5

pound

boneless rib eye roast

1

large onion. Peeled and cut into three large slices

6

garlic cloves

peeled

5

sprigs of thyme

3

sprigs of rosemary
Herb Butter
10

tablespoon

butter

softened

5

cloves

garlic

minced

2

teaspoons

fresh thyme

chopped

2

teaspoons

fresh rosemary

chopped

2

teaspoons

kosher salt

1

teaspoon

black pepper
Gravy
1 1/2

cups

beef stock

1/2

cup

red wine

1

tablespoon

cornstarch
Instructions
Bring rib eye to room temp (about 1 hour)

Preheat oven to 450 degrees

Mix together the garlic butter and set aside.

Place onions, garlic cloves, rosemary, and thyme in an oven-safe skillet or baking pan.

Rub ¾ of the butter mixture all over the roast, even the bottom.

Place roast fat side up on top of the onions, and garlic.

Place the roast on the middle rack and roast for 20 minutes

Reduce heat to 250 degrees and remove the roast from the oven and slather the remaining butter on top.

Roast for another 1 1/2-hours for medium-rare. Use a meat thermometer inserted into the thickest part of the roast to get to your desired doneness. Keep in mind the roast will continue to cook while resting, generally goes up about 5 degrees.

Rare: 120 degrees
Medium Rare: 125 degrees
Medium:130 degrees
Medium Well Done 135 degrees

Remove roast from skillet and place on a baking sheet cover with foil and let rest 30 minutes.
For the gravy
1.Heat the skillet with onion and garlic on high heat. Add in the beef stock and red wine. Simmer 10-12 minutes to reduce

2.Add the cornstarch and 2 tablespoon water to a small bowl and mix it until combined. Pour half of the mixture into the gravy and whisk let the gravy simmer until it starts to thicken. Add the rest if you want it to be thicker.


3.Remove from heat and strain the onions and garlic out and pour the gravy in a gravy boat or serving dish.

Notes
I use Merlot or Cabernet.
You can sub the red wine for more beef stock.
Nutrition
Serving:
1
g
Calories:
1288
kcal
Carbohydrates:
7
g
Protein:
100
g
Fat:
94
g
Saturated Fat:
45
g
Polyunsaturated Fat:
45
g
Trans Fat:
1
g
Cholesterol:
363
mg
Sodium:
1205
mg
Fiber:
1
g
Sugar:
2
g