These chicken pot pies will warm you from the inside out on a cold day. Ultimate comfort food!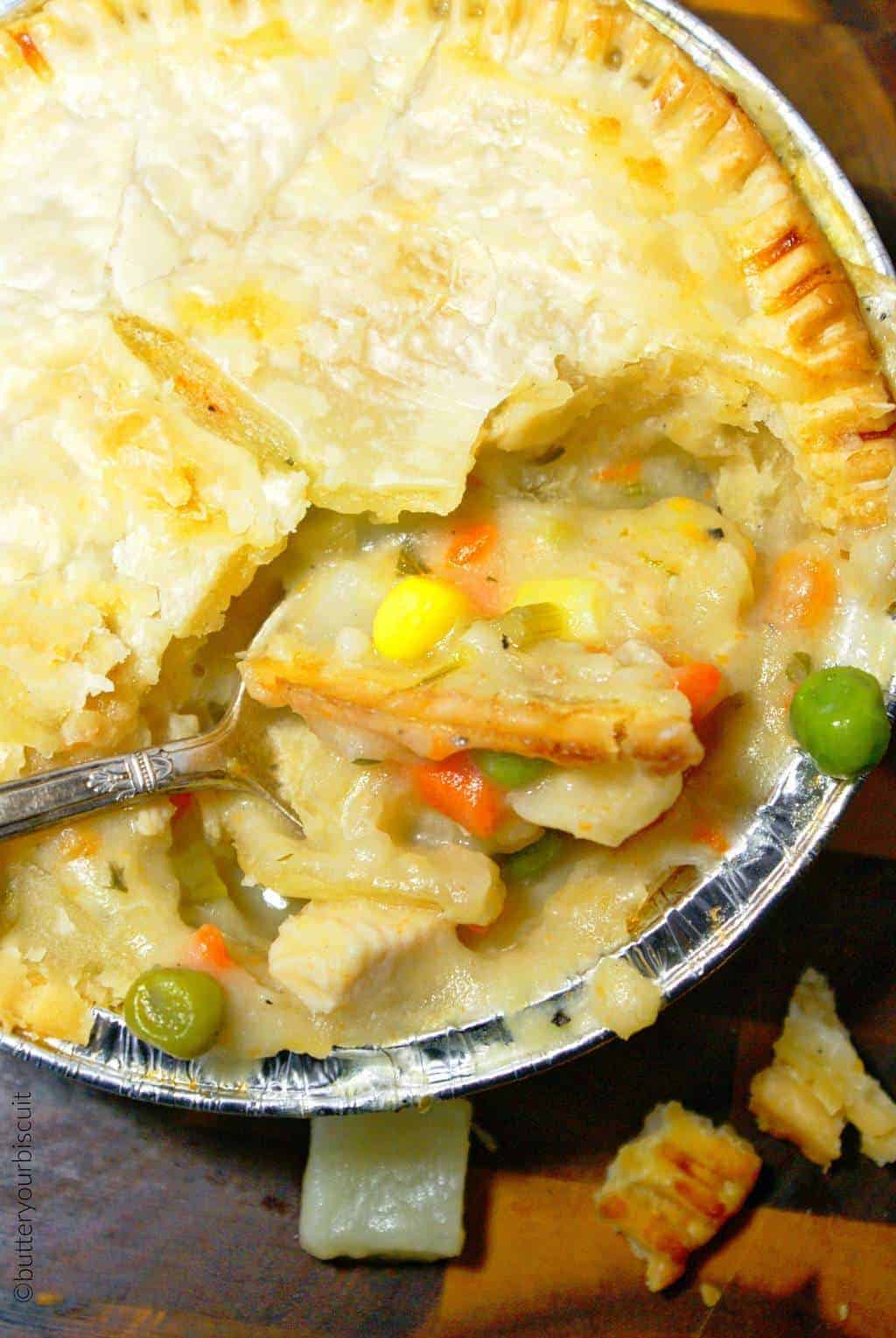 These chicken pot pies have a buttery flaky crust and loaded with tender chicken, potatoes and lots of veggies. A true family classic!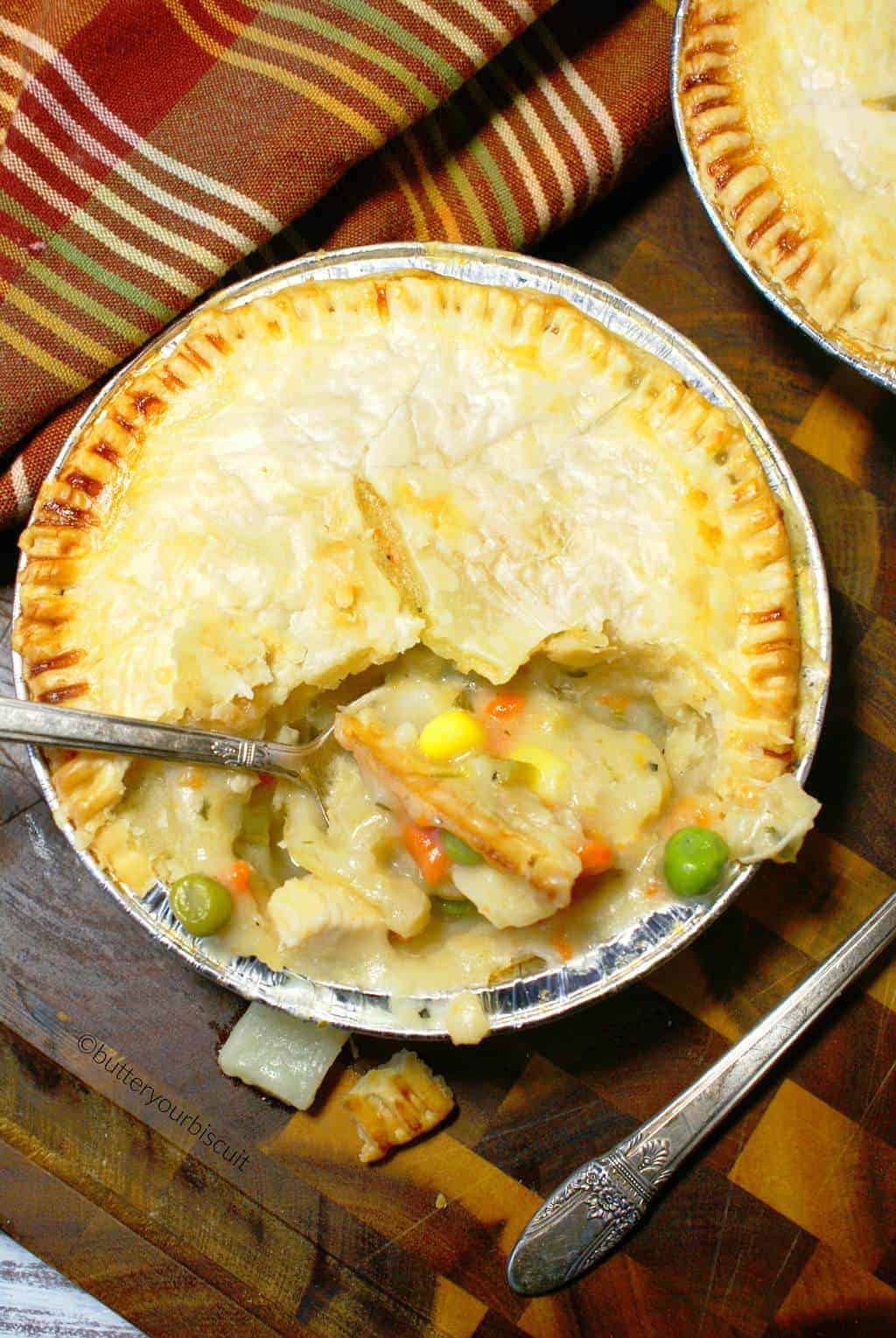 It's a great way to use left over turkey for Thanksgiving! Whether you use chicken or turkey I suggest make a bunch because they won't last long!

I found these disposable 5" mini pie tins on amazon, but I have seen them at the grocery store also. I just bought pie crust but you could totally make your own which would cut down the cost. The pans from amazon are 5" across so they are perfect for single servings. I just used a small bowl and larger bowl to cut my circles out for the crust layers.

Add the filling

Place the top crust on and use a fork to pinch the edges to keep the filling from bubbling over to much. Cut three slits in the top to let the steam escape. Brush the egg wash over the top crust so it gets golden brown while baking.



Looking for more comfort food recipes?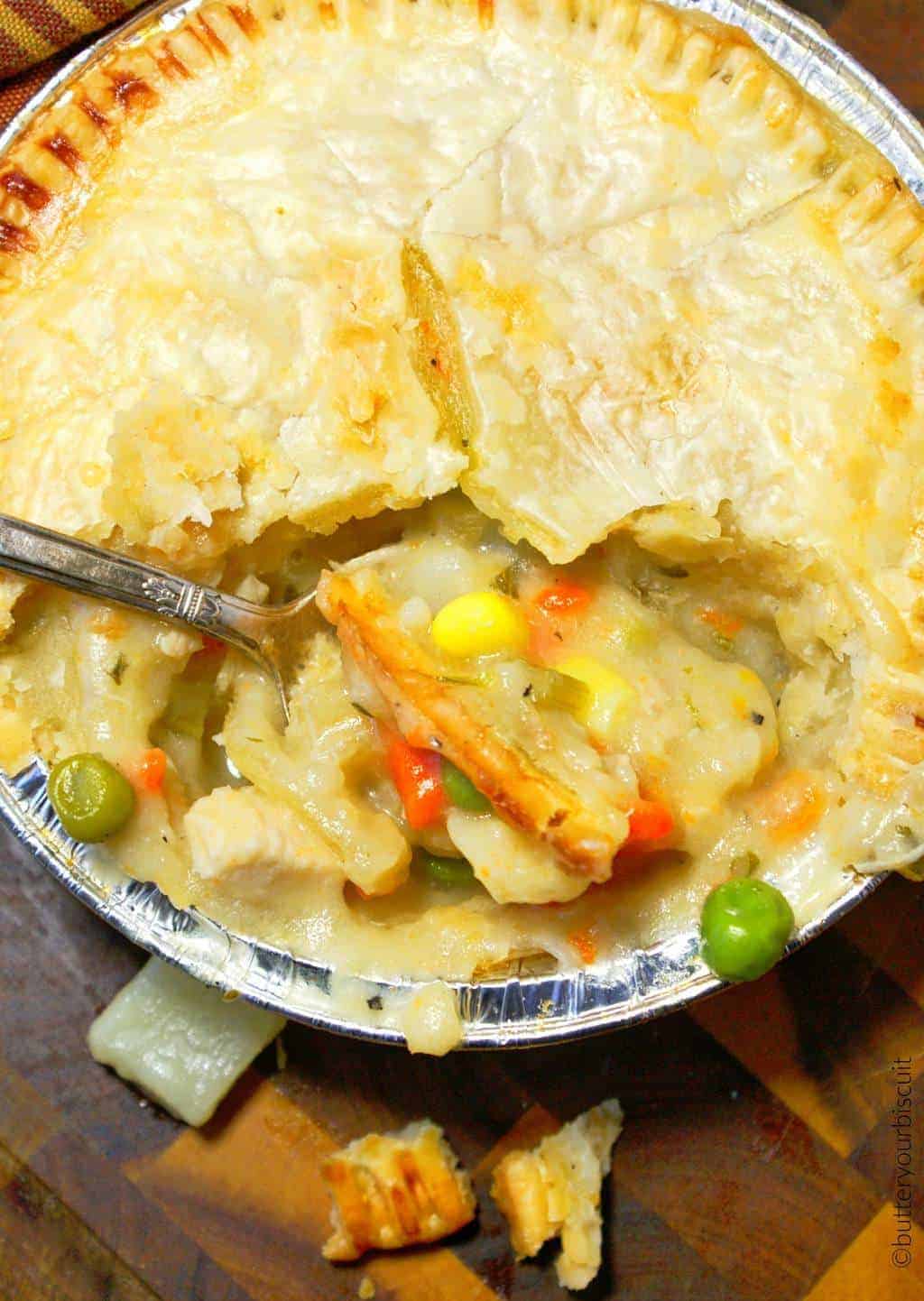 Mini Freezer Chicken Pot Pies
Ingredients
3

cups

cooked chicken breasts chopped

2

cloves

garlic finely diced

1

medium onion diced

3

carrots peeled and diced

2

celery stalks chopped

1/2

cup

frozen peas

1/2

cup

frozen corn

2

large russet potatoes diced

or 3 medium

4

cups

chicken broth

1/2

cup

heavy cream

1/3

cup

butter

2/3

cup

flour

2

teaspoons

fresh thyme

1

teaspoon

fresh rosemary

1/2

teaspoon

Salt

1/4

teaspoon

pepper

2

pkgs

refrigerated pie crust (See notes)

2

egg whites
Instructions
Melt butter in a large skillet or pot on medium heat, add onions, carrots, celery and garlic. Cook until they start to soften about 3 minutes. Add flour and whisk until combined and cook another minute. Add chicken broth and whisk until combined. Add the potatoes and bring to a low boil, reduce heat and simmer 7-8 minutes to soften potatoes. Add chicken, corn, peas, rosemary, thyme, salt and pepper and cream. Simmer for another 5-6 minutes until it becomes thick and bubbly. Remove from heat and let cool, the sauce will thicken. If you are freezing the pot pies bring the mixture to room temperature before filling the pies and freezing.

Preheat oven to 400 degrees Cut the circles for the bottoms and tops of your pies. Place the bottom crusts in the tins and spoon in the mixture. Then top with the second crust. You should be able to get 5 mini 5" pies out of one box of pie crust. Then seal edges with a fork. Make 3 slits in the middle of the top to let the steam release.

Whisk egg white with 1 tablespoon water brush over top of crust. Bake for 30-35 minutes or until crust is golden brown.
Recipe Notes
You could double the amount of pies this makes if you only use a crust on the top.
If freezing cool pot pie filling down before freezing, Once assembled place a small piece of parchment paper over the top then wrap in foil. freeze up to three months.
For frozen pies bake at 425 for 15 minutes then reduce heat to 375 for another 40-45 minutes.