This Chicken Caesar Salad Wrap has all the flavors of a classic Caesar salad wrapped up into a soft tortilla!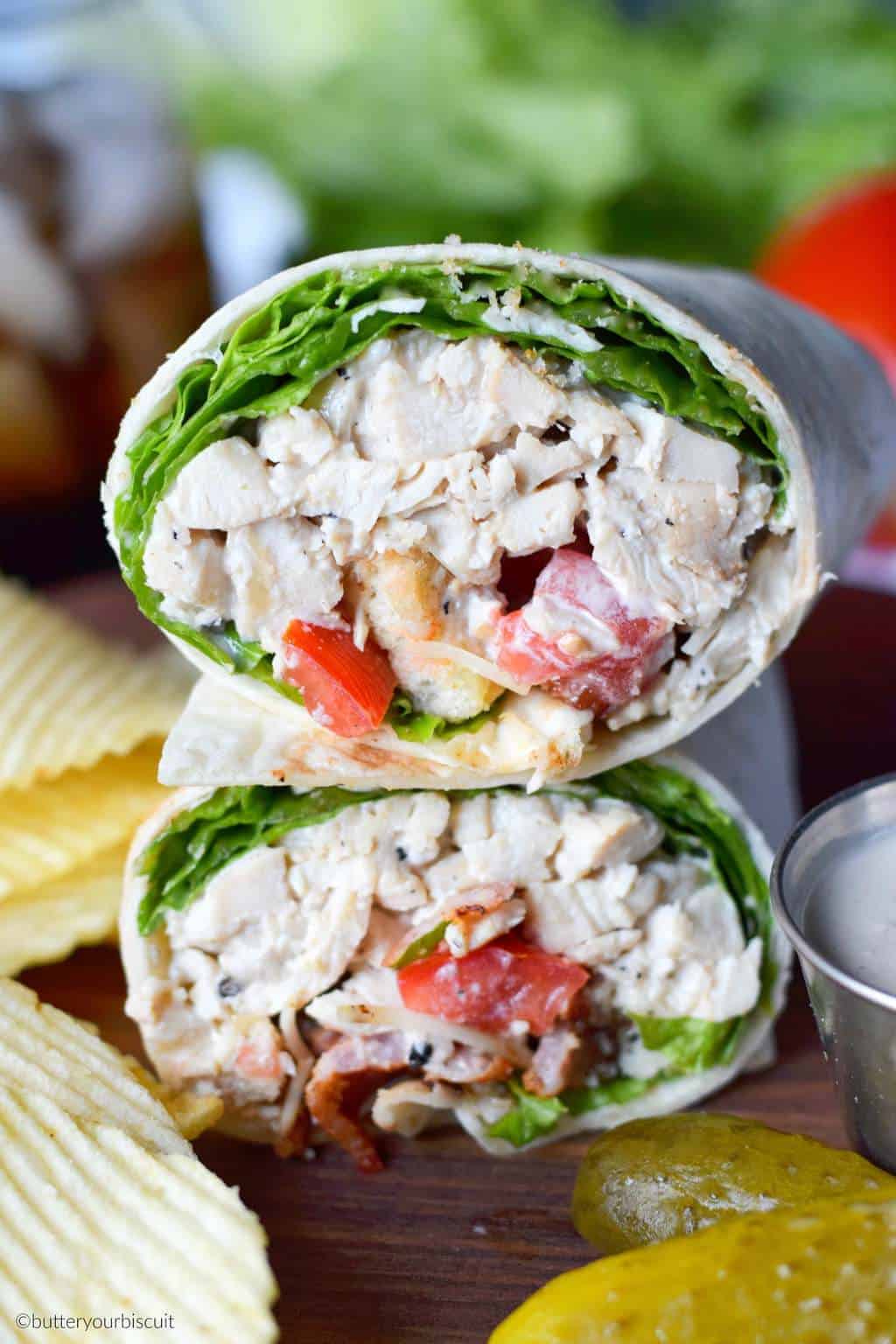 I love Caesar salad, it doesn't matter what time of year it is, sometimes I just need to have it! These wraps are amazing, and super easy to put together, great for a busy night or just a light lunch. It's a nice twist on the typical Caesar salad.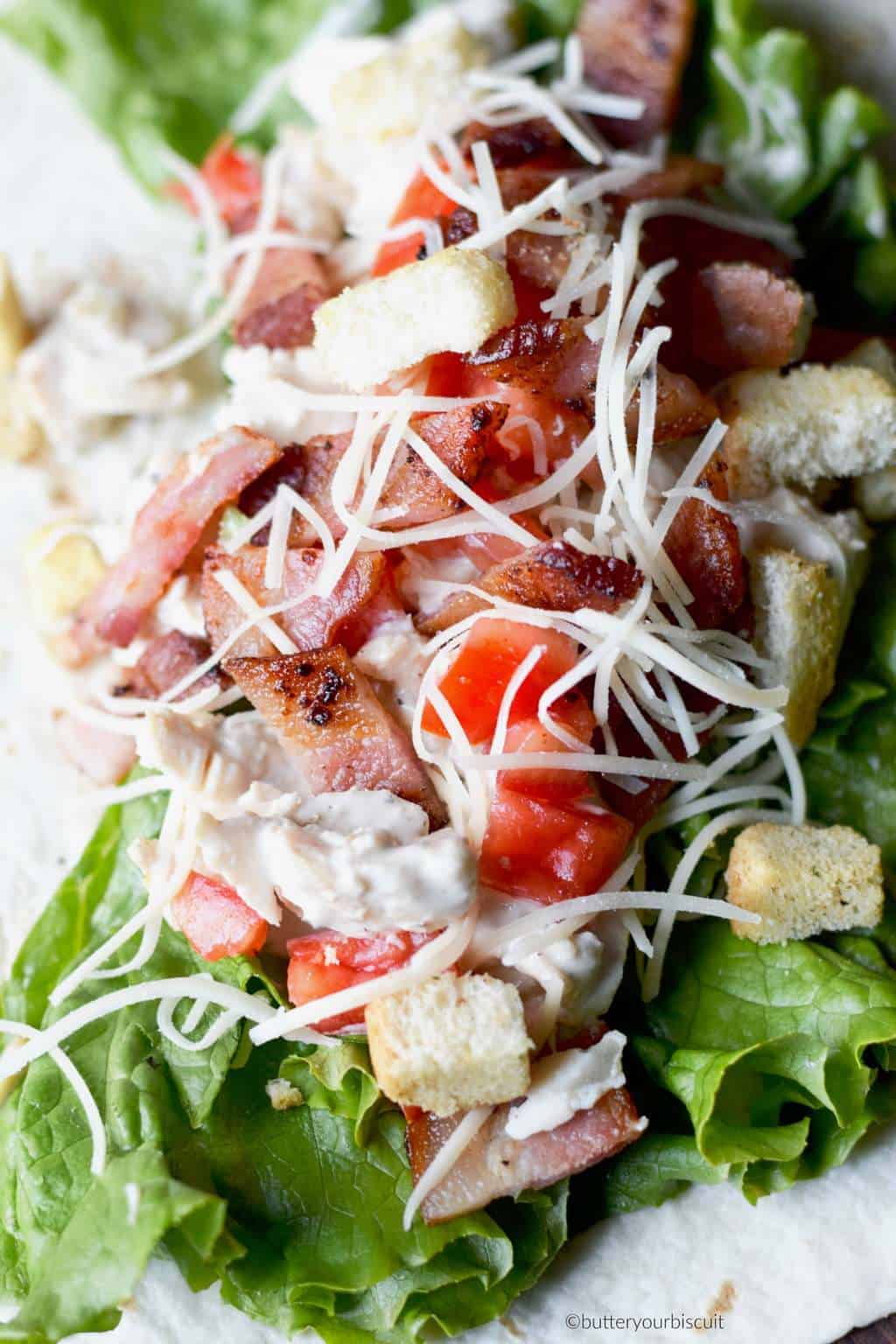 They are loaded with tender chicken, crispy lettuce, tomatoes, bacon and crunchy croutons with a creamy dressing all tucked nicely into a soft tortilla. Great for any left over chicken you have in the fridge. I like to make my dressing, but you could use your favorite store bought brand.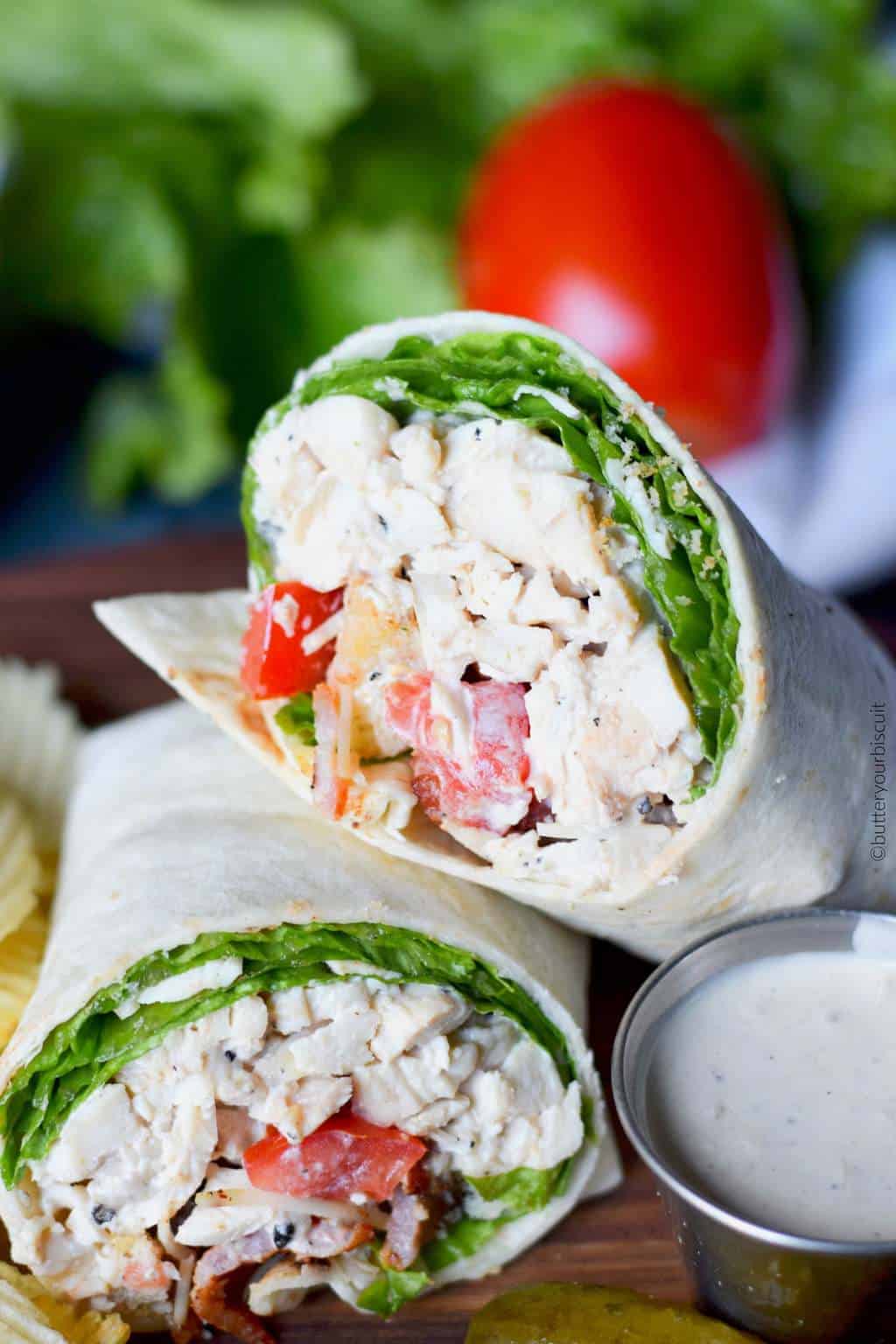 So if your tired of the same boring sandwich everyday, give this wrap a try. I would just recommend if your planning to not eat it for a couple hours to add the dressing right before.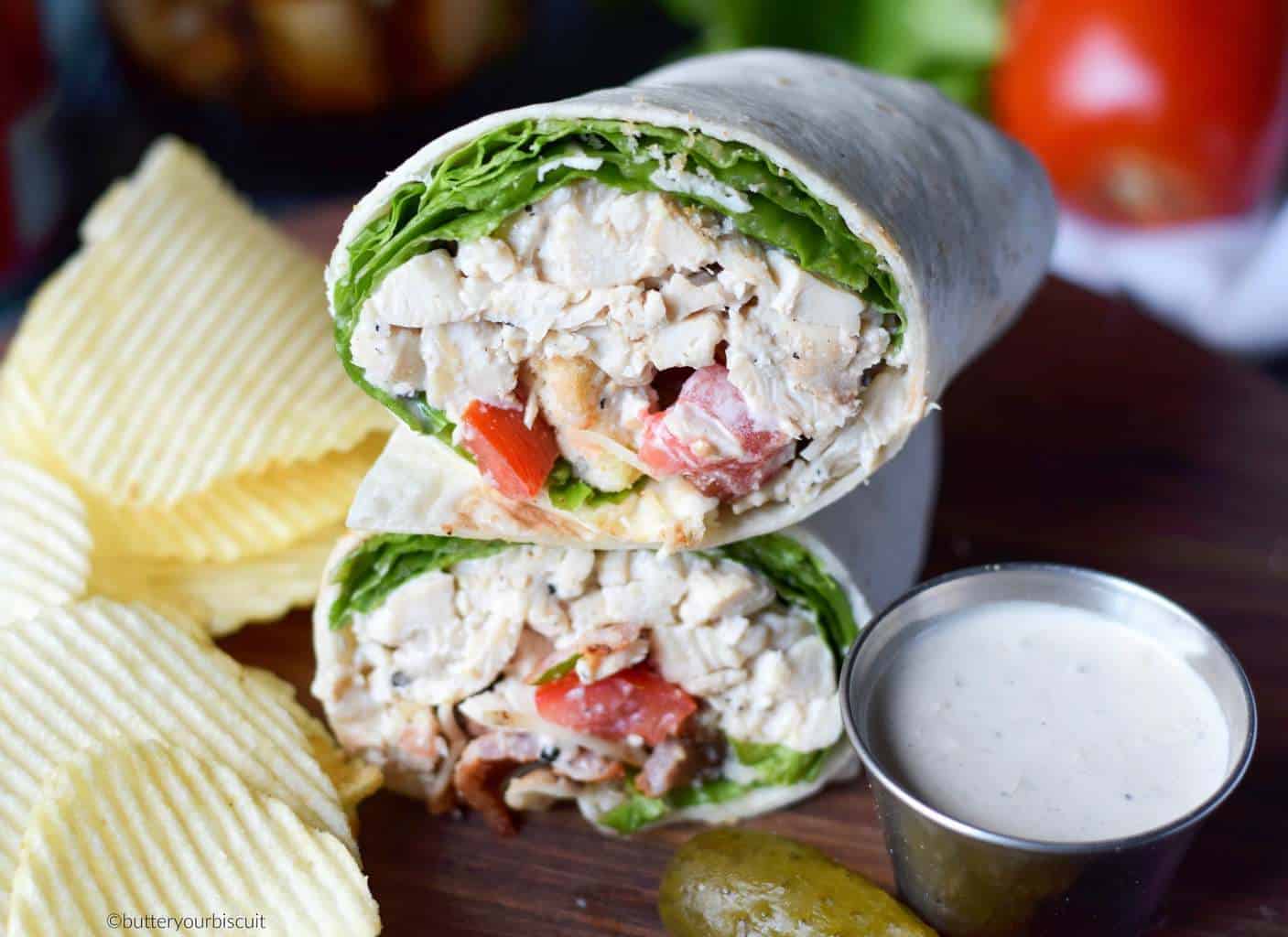 If you love wraps as much as I do you'll want to check out my Buffalo Chicken Wraps. One of my hubby's favorites to take to work for lunch.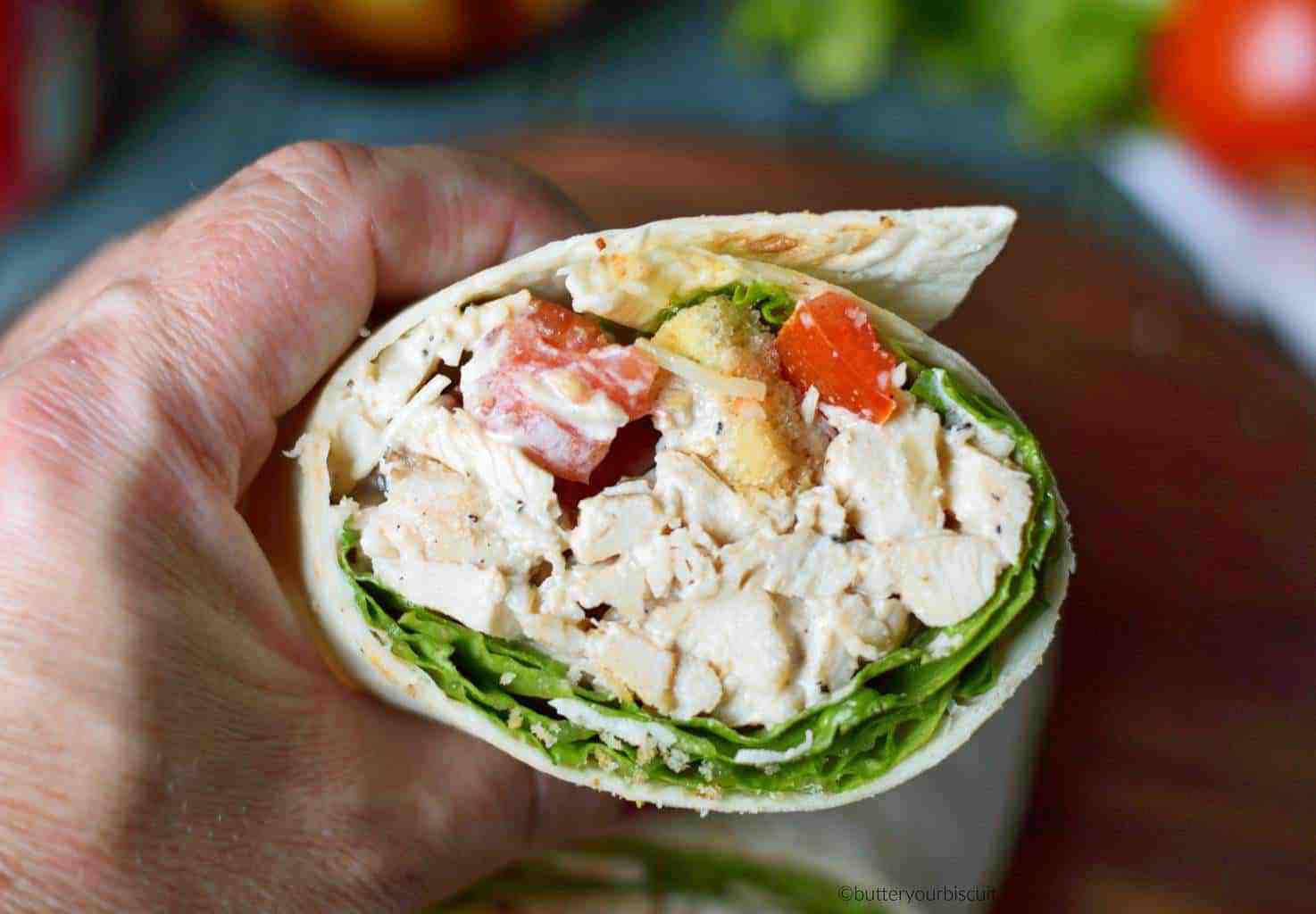 ll

Chicken Caesar Salad Wrap
Ingredients
2 cups cooked chicken
6 slices cooked bacon
3 Roma tomatoes seeded and dice
Romaine leaves
½ cup freshly grated Parmesan
¼ cup croutons coarsely chopped
½- 3/4 cup Caesar dressing
4 (10 inch) flour tortillas
For the Dressing:
2 small garlic cloves, minced
1 teaspoon anchovy paste
2 tablespoons freshly squeezed lemon juice, from one lemon
1 teaspoon Dijon mustard
1 teaspoon Worcestershire sauce
1 cup mayonnaise
½ cup freshly grated Parmesan
¼ teaspoon salt
¼ teaspoon freshly ground black pepper
Instructions
Place the tortillas on a flat surface. Spread 2 tablespoons dressing in the center of the tortilla. Lay some lettuce on the tortilla, add ½ cup chicken, some bacon, tomatoes, croutons, and shredded Parmesan.
Tuck the sides in and roll the tortilla tightly. Slice in half and serve with chips and a side of extra Caesar dressing
For the dressing in a small bowl whisk all ingredients together. Store in a container in fridge for 1 week.