This Sheet Pan Lemon Herb Chicken is quick and easy, perfect for a busy weeknight dinner!
This fool proof Easy Sheet Pan Lemon Herb Chicken and Parmesan Asparagus dinner is amazingly easy. Chicken is juicy, with tender asparagus all in one pan!
Lets face it who doesn't love simple recipes? Plus add the fact that its only a few ingredients and you have pure gold right here! It's healthy, hearty and satisfying. And if you hate doing dishes as much as I do, then this is right up your alley. Trust me this is one meal you will want to try!
If your a chicken lover like my family , check out my other chicken dinner recipes!
Make sure you get up under the skin as much as possible with that buttery herb mixture. The butter is what helps the skin get that crispy goodness that we love. So make sure you use it all.
Lemon is my favorite accent with chicken and or veggies or even fish for that matter. I always use this lemon juicer, and lemon zester, both are super easy to use. It just adds that bit of freshness that makes the dish pop! Lemons are as crucial flavor enhancer as salt is in my opinion. So for that reason I always, always have lemons on hand!
MAKE SURE TO FOLLOW ME ON FACEBOOK, INSTAGRAM, PINTEREST FOR ALL MY LATEST RECIPES.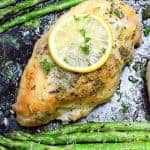 Easy Sheet Pan Lemon Herb Chicken and Parmesan Asparagus
Ingredients
3

bone-in skin on chicken breasts

3/4

cube butter melted

zest 1 lemon plus juice

2

tablespoon

olive oil

2

tablespoons

fresh rosemary

2

tablespoons

fresh thyme

1

teaspoon

kosher salt

1/2

teaspoon

pepper

1

lb

asparagus

1/4

cup

Parmesan cheese
Instructions
Preheat oven to 400

Rinse the asparagus and trim off woody end pieces, set aside

In a small bowl, mix butter, lemon zest, plus juice of 1/2 lemon, and herbs

Working with one breast at a time, use your fingers to carefully separate the skin from the meat. Rub some butter herb mixture under the skin, Then brush some over the top.

Place the chicken breasts on a rimmed baking sheet. Bake 30 minutes

Remove pan from oven place asparagus around the chicken and drizzle with 2 tablespoons olive oil. Sprinkle kosher salt and freshly ground pepper. Sprinkle Parmesan over the asparagus. Bake for another 12 minutes.

Remove from oven, squeeze remaining half of lemon over chicken and veggies.

**Note** if using boneless chicken breasts cook for about 20 minutes