Make this bold and Spicy Hunan Chicken and skip the takeout this week! With tender pieces of chicken and flavorful fresh veggies, this dish is largely made in the same pan for easy cleanup.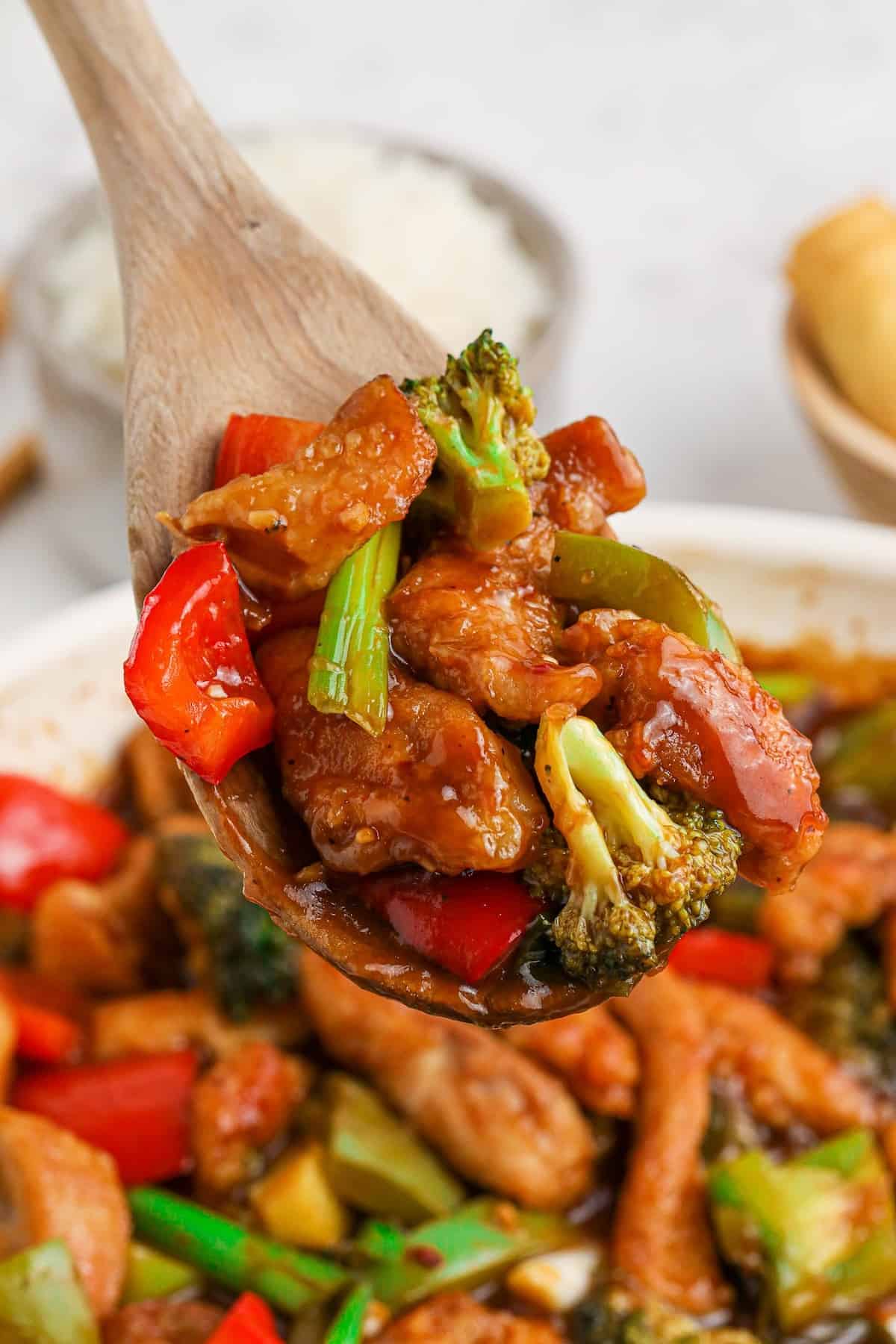 This post contains affiliate links. As an Amazon Affiliate, if you purchase through those links, I earn a small commission. Thank you! Read our disclosure policy here.
If you find yourself craving Chinese food but want something affordable and healthier for you, try this homemade Hunan chicken. It features a delicious spicy sauce and an assortment of healthy vegetables.
Paired with tender chicken cooked to a perfect golden brown, this dish will rival your local Chinese restaurant like my Shrimp with Hot Garlic Sauce.
With options to customize with your favorite veggies or even use a different kind of protein, this is a fantastic way to satisfy that fast food craving! Pair it with Pork Fried Rice if you need to feed a large crowd.
Why this Recipe Works
This Hunan chicken is not only fast, it's so easy to make and simple to clean up. It's ready in under 30 minutes, making it the perfect recipe for a quick weeknight dinner. Best of all, most of the cooking is done in the same dish!
If you love making Chinese takeout at home, you should also try this Sweet and Spicy Chicken Stir Fry. It's a similar spicy dish that's loaded with protein and veggies!
Ingredients Needed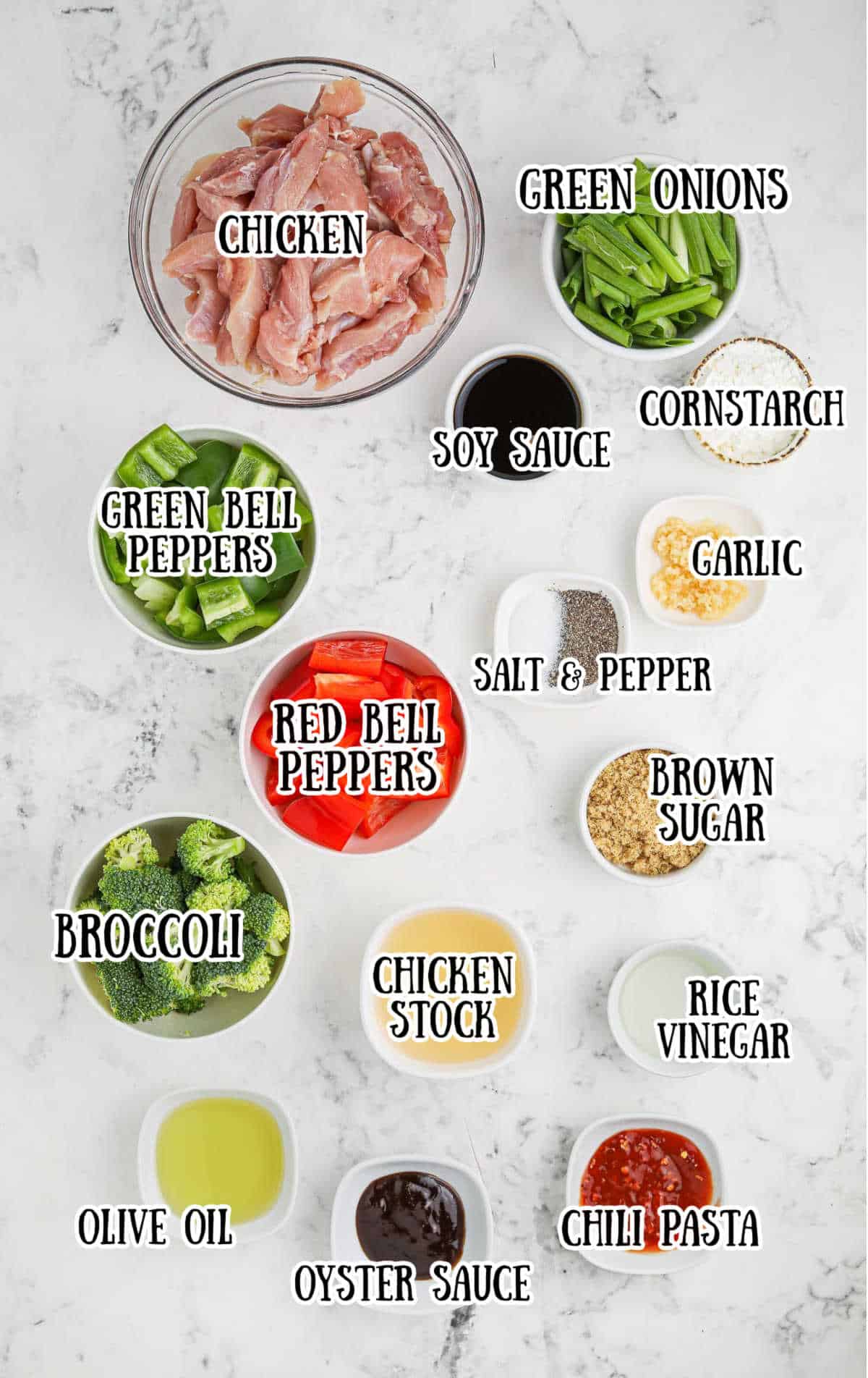 Chicken Thighs: I prefer boneless, skinless chicken thighs. You could also use chicken breast if you prefer lighter meat. You'll want to cut them into thin slices.
Cornstarch: Ensures the chicken gets nice and crispy while it cooks, and also thickens the sauce.
Olive Oil: You could also use sesame oil or vegetable oil.
Vegetables: For this recipe, I used red and green bell peppers, broccoli, onions, and garlic.
Chicken Broth: Gives the sauce a flavorful base. Reduce the amount if you prefer a thicker sauce.
Soy Sauce: Provides its signature umami flavor.
Brown Sugar: Helps balance out the savory flavors by adding some complex sweetness.
Oyster Sauce: Deepens the flavor of the sauce and aids in bringing out both sweet and salty flavors.
Rice Vinegar: Cuts through the rich savory flavors of this dish with some acidity.
Chili Paste: Provides the signature spicy kick. This can be used in a smaller amount if you don't like spicy food to be too hot.
Salt and Black Pepper
How to Make this Spicy Hunan Chicken
Step 1: Coat sliced chicken pieces in cornstarch.
Step 2: Heat olive oil in a large skillet over medium-high heat, then cook chicken until fully cooked. Remove chicken from the pan and set aside.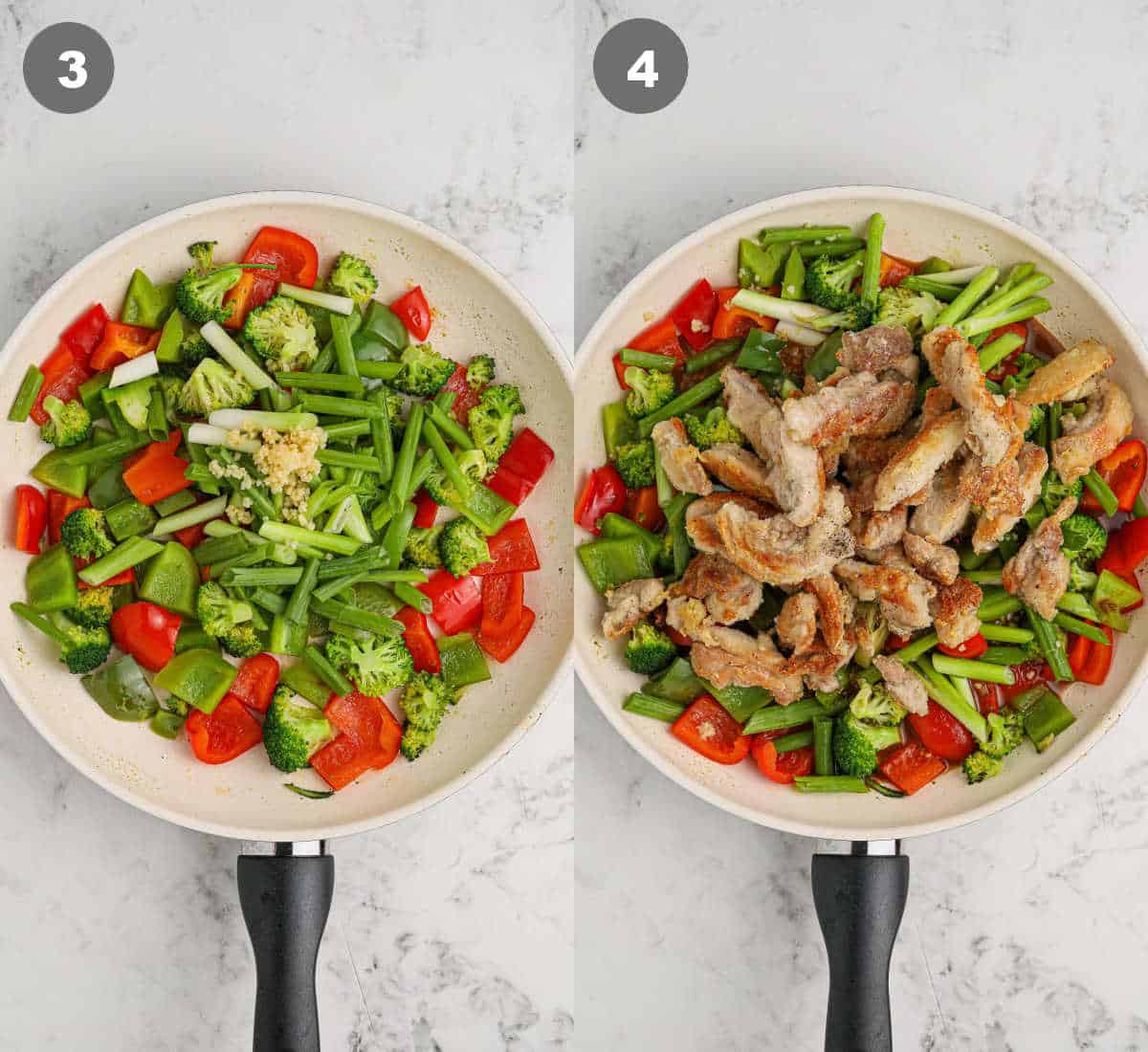 Step 3: Add vegetables to the pan and saute until softened, about 2 to 4 minutes.
Step 4: Return chicken to the pan with the vegetables.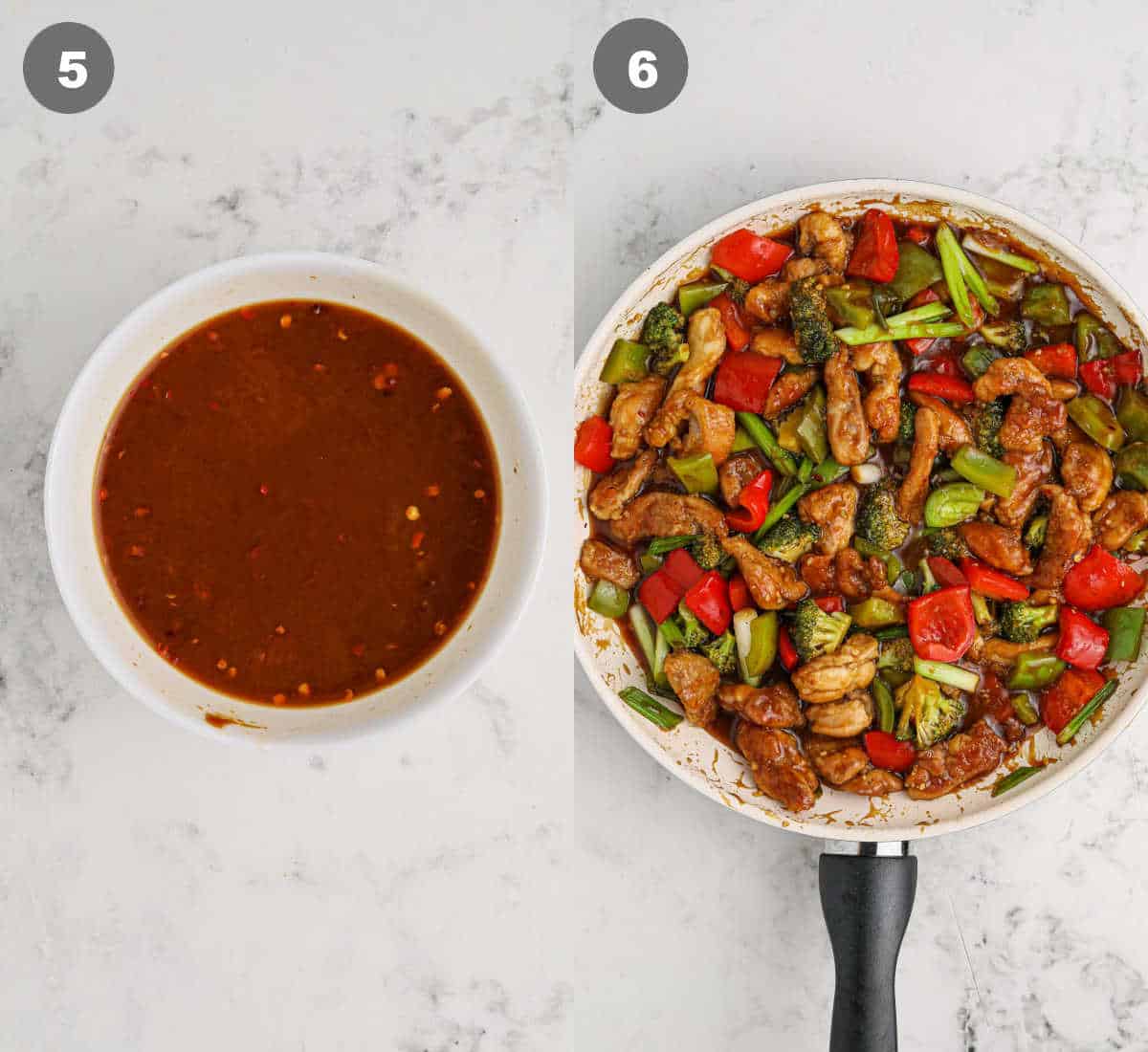 Step 5: Whisk sauce ingredients in a medium bowl with a tablespoon of cornstarch.
Step 6: Pour the sauce into the pan. Stir to coat everything evenly and cook until the sauce is thickened.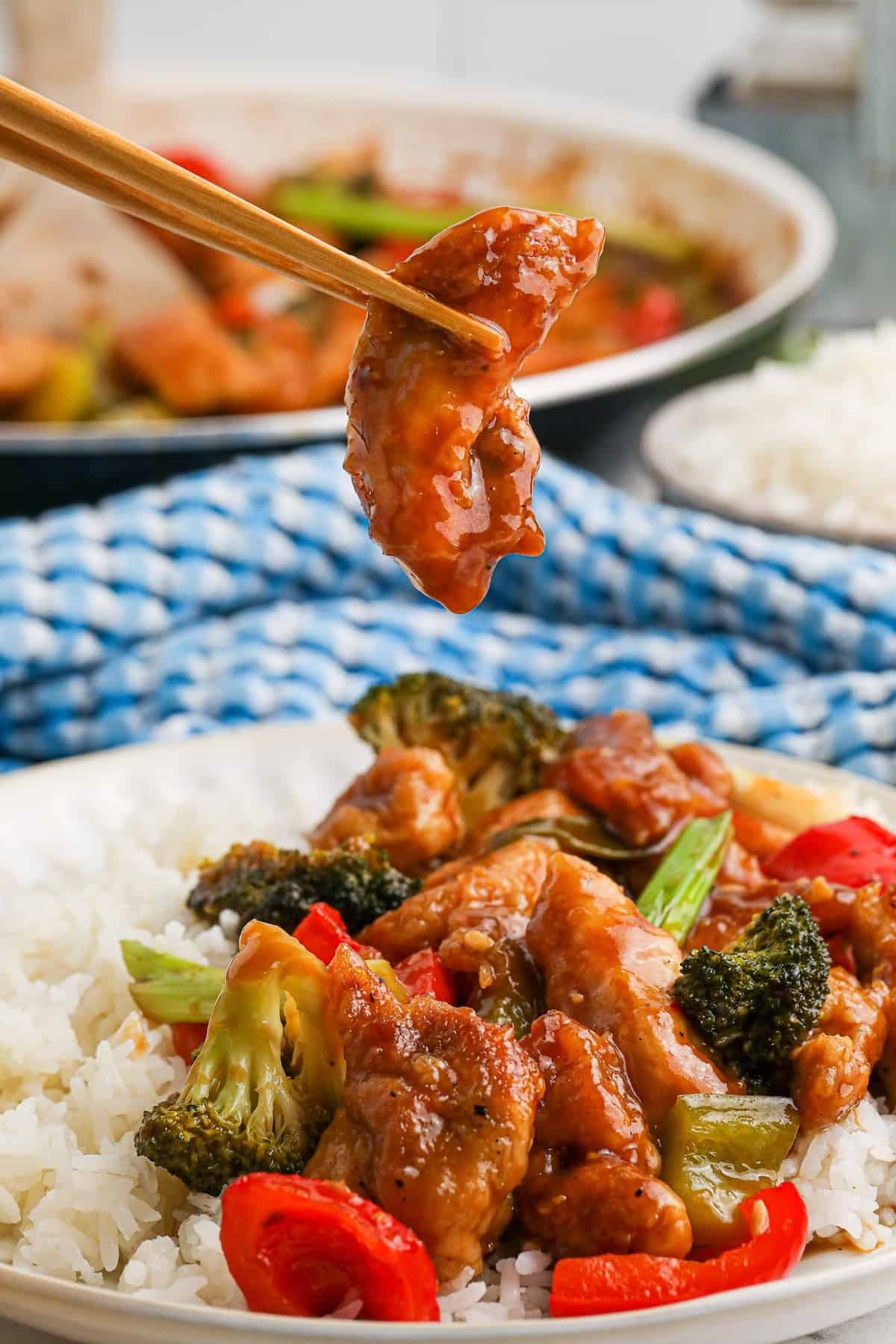 Recipe Tips
Make the sauce thinner by adding a few tablespoons of water or additional chicken broth.
To store leftovers, allow them to cool and transfer to an airtight container. In the fridge, your leftovers will be good for 3 to 4 days.
When it comes time to reheat, you can either reheat in the microwave or heat in a pan on the stove top. You may need to add a splash of water or broth to prevent drying out.
Serve Spicy Hunan Chicken over top white rice, brown rice, jasmine rice, your favorite kind of noodles. It can also be served on its own!
To cut down on prep time, purchase pre-sliced fresh veggies. Some grocery stores sell packages of "stir fry vegetables" that often include red bell pepper, broccoli, snap peas, or green beans.
If you're concerned about the spice level, start with a small amount of chili paste in the sauce. Add more if you want to enhance the spicy flavors.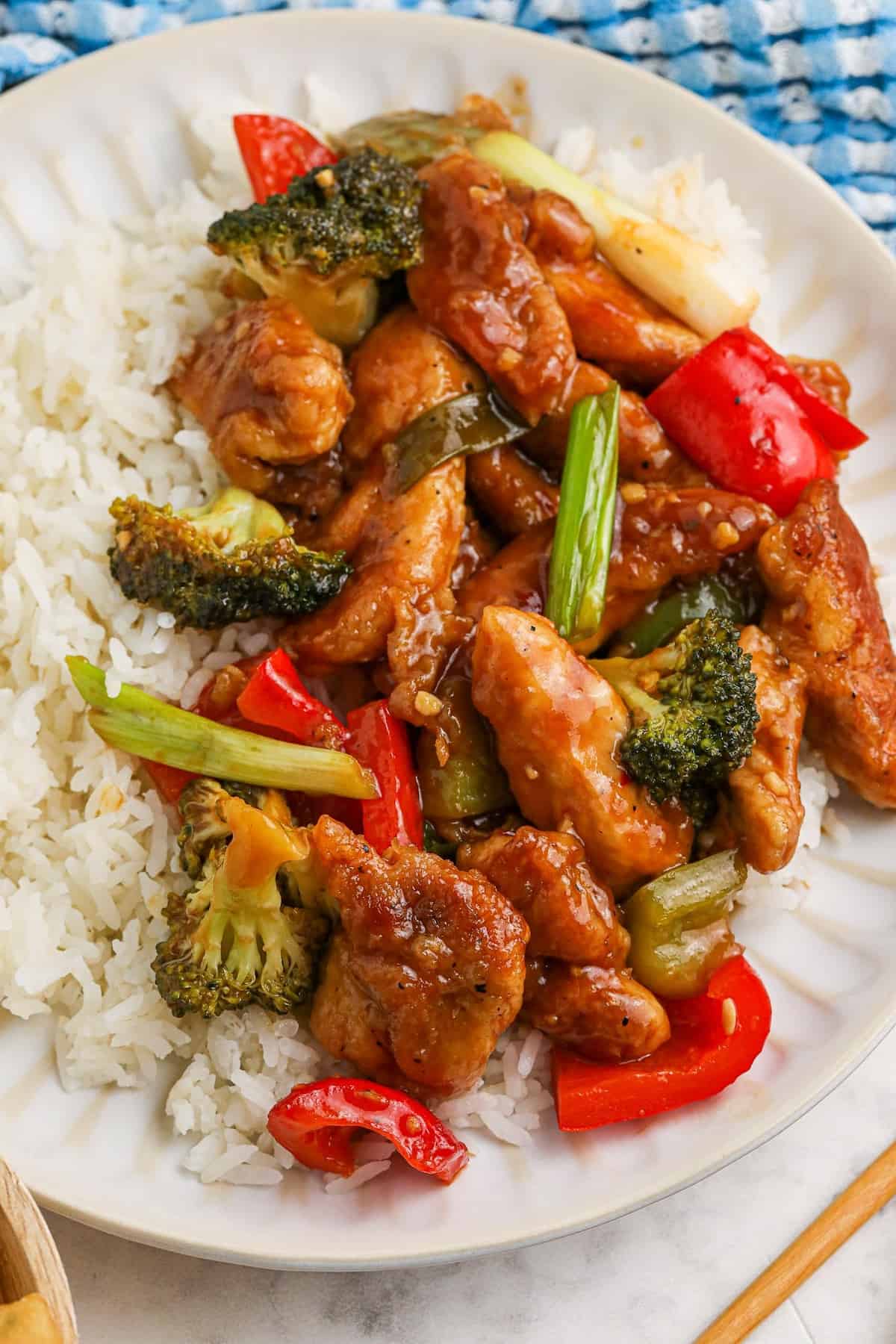 Recipe FAQ's
What is Hunan sauce?
This dark brown sauce is a staple of Hunan cuisine (also known as Xiang cuisine), one of the Eight Great Traditions of Chinese cooking that originates in the Hunan province of China. Hunan cuisine is known for rich and spicy flavors, deep colors, and beautiful aromas. A critical aspect of Hunan sauce is the chili paste.
Is Hunan spicier than Szechuan?
These two kinds of chicken have similar qualities in that they're both known for their spicy heat. Hunan chicken tends to have more of a dry heat, whereas Szechuan chicken is fiery. While Hunan chicken is tangy and savory, Szechuan chicken tends to be on the sweeter side.
Is Hunan chicken healthy?
With an assortment of veggies, this is a dish that's full of nutritional value. Unlike similar dishes found at Chinese restaurants, you're in full control of the amount and type of oil used to cook your chicken as well. A single serving of this Chinese Hunan chicken has just over 200 calories.
Can I make Hunan sauce ahead of time?
For even quicker prep, make your spicy Hunan sauce ahead of time. Whisk well and store in a mason jar or other airtight container. It should last up to 2 weeks in the fridge.
MAKE SURE TO FOLLOW ME ON FACEBOOK, INSTAGRAM, PINTEREST FOR ALL MY LATEST RECIPES.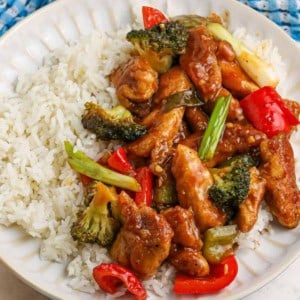 Spicy Hunan Chicken
Bold and flavorful, this easy Hunan chicken recipe rivals even the most delicious Chinese takeout, and it's ready in under 30 minutes!
Ingredients
1 1/2

pounds

boneless skinless chicken thighs

3

tablespoons

cornstarch, divided

1

tablespoon

olive oil

1 1/2

cups

broccoli florets

1/2

cup

red bell pepper, diced

1/2

cup

green bell pepper, diced

3

garlic cloves, minced

3

green onions, sliced
For the Sauce
1/3

cup

low sodium, chicken broth

1/4

cup

low sodium soy sauce

2

tablespoons

brown sugar

2

tablespoons

oyster sauce

1

tablespoon

rice vinegar

2

teaspoons

chili paste

More if you like it hot

1/4

teaspoon

black pepper

Salt, to taste
Instructions
Slice the chicken thighs into bite sized pieces and toss the chicken with 2 tablespoons of cornstarch.

Whisk all sauce ingredients with the remaining 1 tablespoon of cornstarch in a small mixing bowl and set aside.

Heat the olive oil in a large skillet over medium-high heat and add the chicken strips. Cook for 6-8 minutes, flipping halfway, until chicken is fully cooked through. Remove from the skillet to a plate and set aside.

Add the broccoli and bell peppers to the skillet and saute for 2-4 minutes until softened, add in the garlic and green onions.

Return the chicken to the pan and pour the whisked sauce ingredients into the skillet. Simmer the mixture until the sauce is bubbling and thickened. Remove from heat.

Serve immediately over rice, enjoy!
Notes
You can use chicken breasts if you prefer.
For a thinner sauce, add 1-2 tablespoons of water or chicken broth.
Adjust the amount of chili paste to your desired level of heat.
Serve Hunan chicken on its own or over rice or noodles.
Store leftovers in an airtight container in the refrigerator for up to 3-4 days. Reheat either in the microwave or on the stove top.
Nutrition
Serving:
1
serving
Calories:
222
kcal
Carbohydrates:
12
g
Protein:
24
g
Fat:
8
g
Saturated Fat:
2
g
Polyunsaturated Fat:
1
g
Monounsaturated Fat:
4
g
Trans Fat:
0.02
g
Cholesterol:
108
mg
Sodium:
732
mg
Potassium:
502
mg
Fiber:
1
g
Sugar:
8
g
Vitamin A:
827
IU
Vitamin C:
60
mg
Calcium:
38
mg
Iron:
2
mg