Beef stir fry is incredibly easy and loaded with tender beef and crisp vegetables.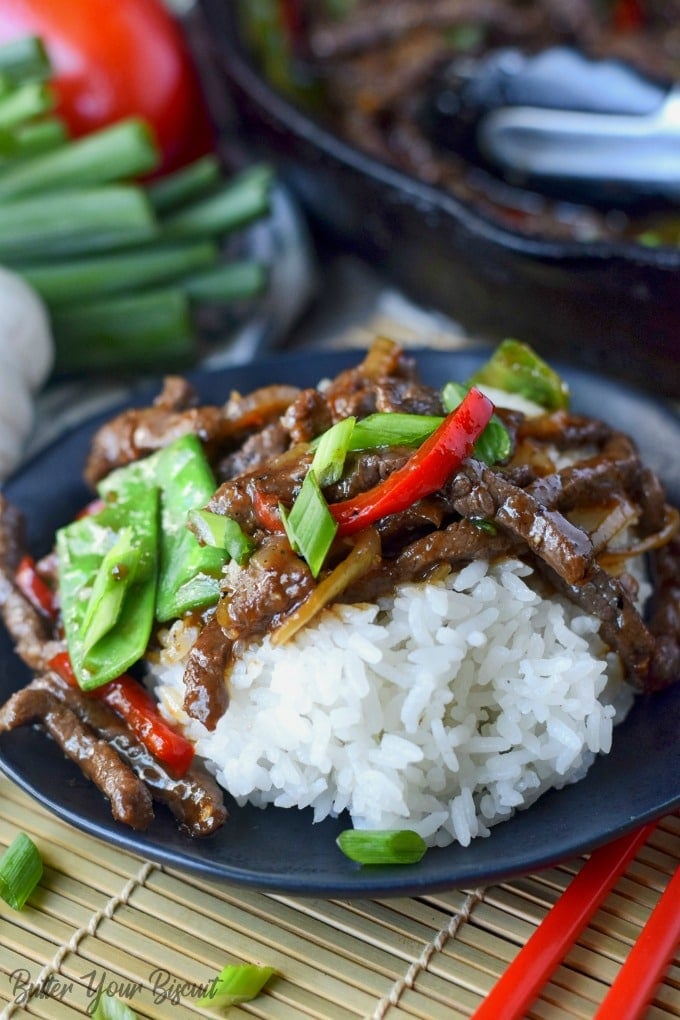 The best thing about stir fries is that they come together super quick, which makes it a perfect meal for those busy weeknights. Once you start making stir fries at home, you'll never feel the need to order take out again. Stir fries are super versatile, healthy and a great way to use up all those extra veggies in your fridge.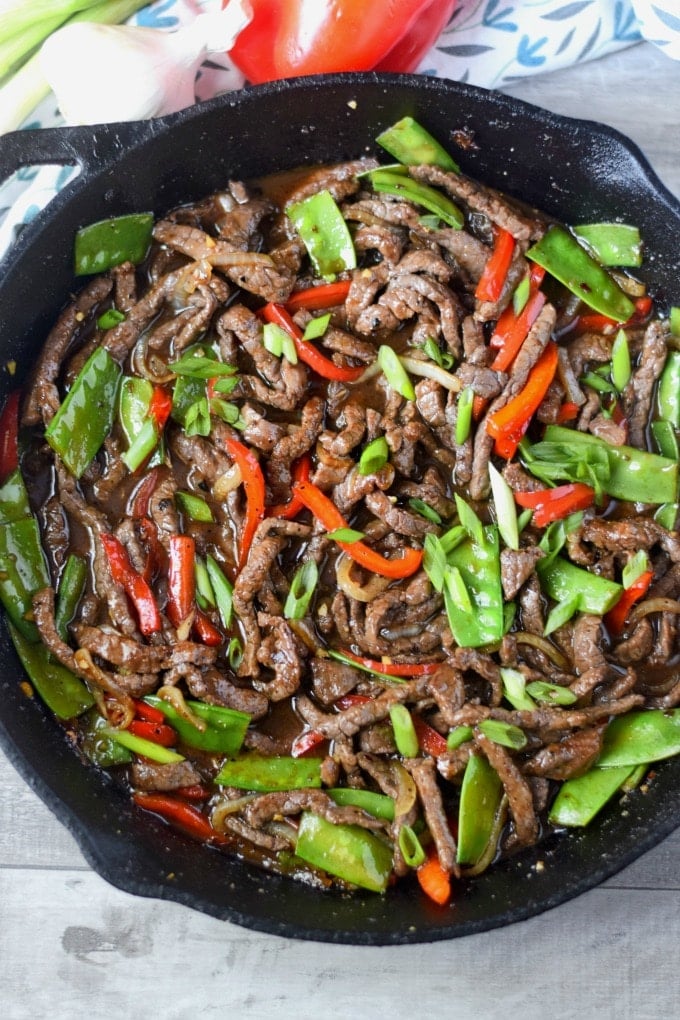 What is the best beef for stir fry? There are several cuts of beef that are great for stir frying. Good news is it doesn't have to break the bank. These are the most popular Sirloin, skirt steak, flank steak, and rib eye (which to me is the most tender) Whichever you choose its important to cut thin slices against the grain and cook in a fast hot wok or skillet.
Tips for making beef stir fry
Whisk the sauce together and set aside

Cut and slice your veggies

Slice the steak against the grain into thin slices

Toss the steak in salt, pepper and cornstarch

Heat a wok or skillet or super high heat, cook steak in batches if needed. Remove to a plate

Add onions and peppers, then snap peas, garlic and ginger.

Add beef and sauce back in, Toss 1-2 minutes until thickened.

Serve over rice or pasta
Tools/ingredients I used to make this recipe
Still hungry? Check out these quick and easy recipes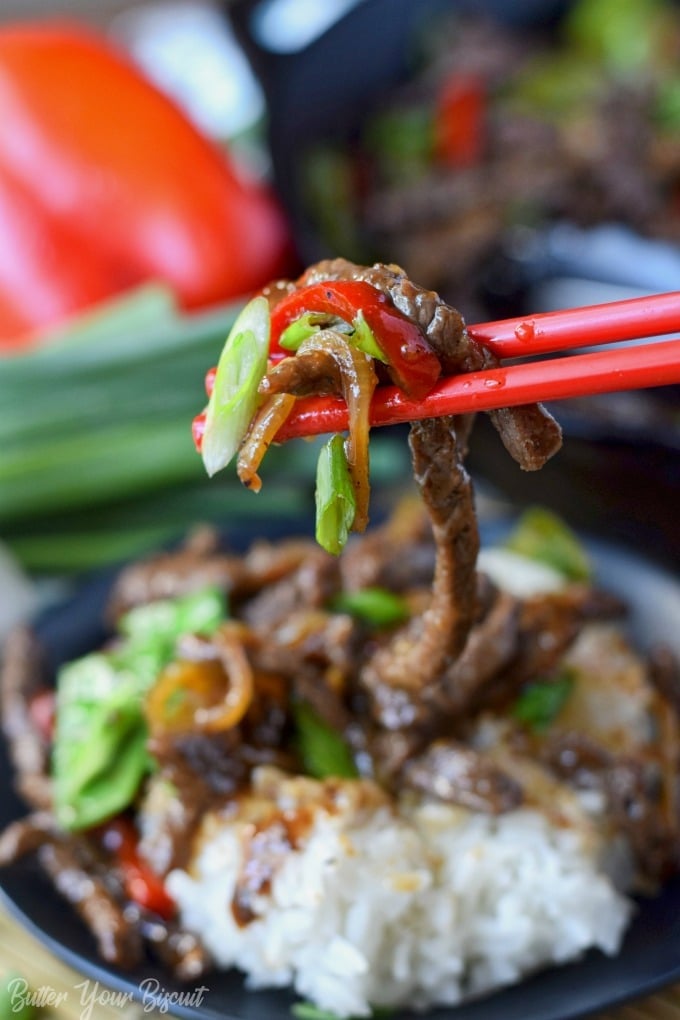 MAKE SURE TO FOLLOW ME ON FACEBOOK, INSTAGRAM, PINTEREST FOR ALL MY LATEST RECIPES.
Yield: 4
Beef Stir Fry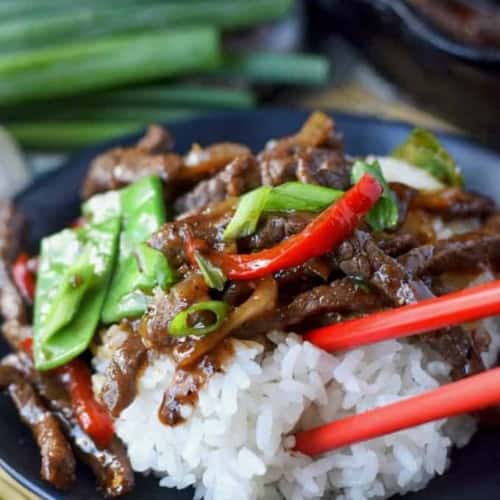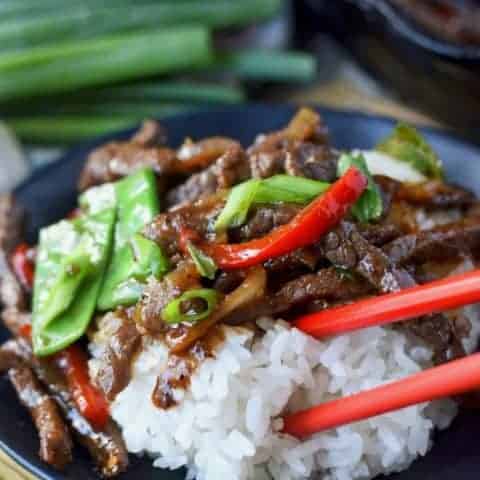 Beef stir fry is incredibly easy and loaded with tender beef and crisp vegetables.

Prep Time 15 minutes

Cook Time 10 minutes

Total Time 25 minutes
Ingredients
1 lb steak, flank steak, skirt steak, sirloin steak or rib eye
3 teaspoons cornstarch
1 teaspoon kosher salt
1/2 teaspoon pepper
2 tablespoon vegetable oil
2 tablespoon fresh minced garlic
2 teaspoon fresh grated ginger
1/4 cup Oyster Sauce
1/4 cup beef broth or water
2 tablespoon brown sugar
1/2 teaspoon sesame oil
2 tablespoon soy sauce
1/2 teaspoon red pepper flakes
1 cuo red pepper
1 cup onion
2 cups Snow Peas
green onions for garnish
Instructions
Slice beef into thin slices against the grain and place in a bowl. Add 2 teaspoon cornstarch salt and pepper and mix until combined. Set aside
Slice all you vegetables
Heat oil in a wok or skillet on high heat. Add meat (in batches if needed, you don't want to overcrowd the wok or skillet) and cook 1-2 minutes and remove to a plate. Repeat until all the meat is cooked.
Add onions and peppers and cook 2-3 minutes just until soft, add in snow peas, garlic and ginger cook another 1-2 minutes.
Add the beef back in with the sauce mixture toss until combined.
Serve over white rice or noodles. Garnish with green onions