Beef Short Ribs are cooked low and slow with garlic, herbs, carrots, and onions in a rich red wine sauce, the perfect Sunday dinner that will make your house smell amazing!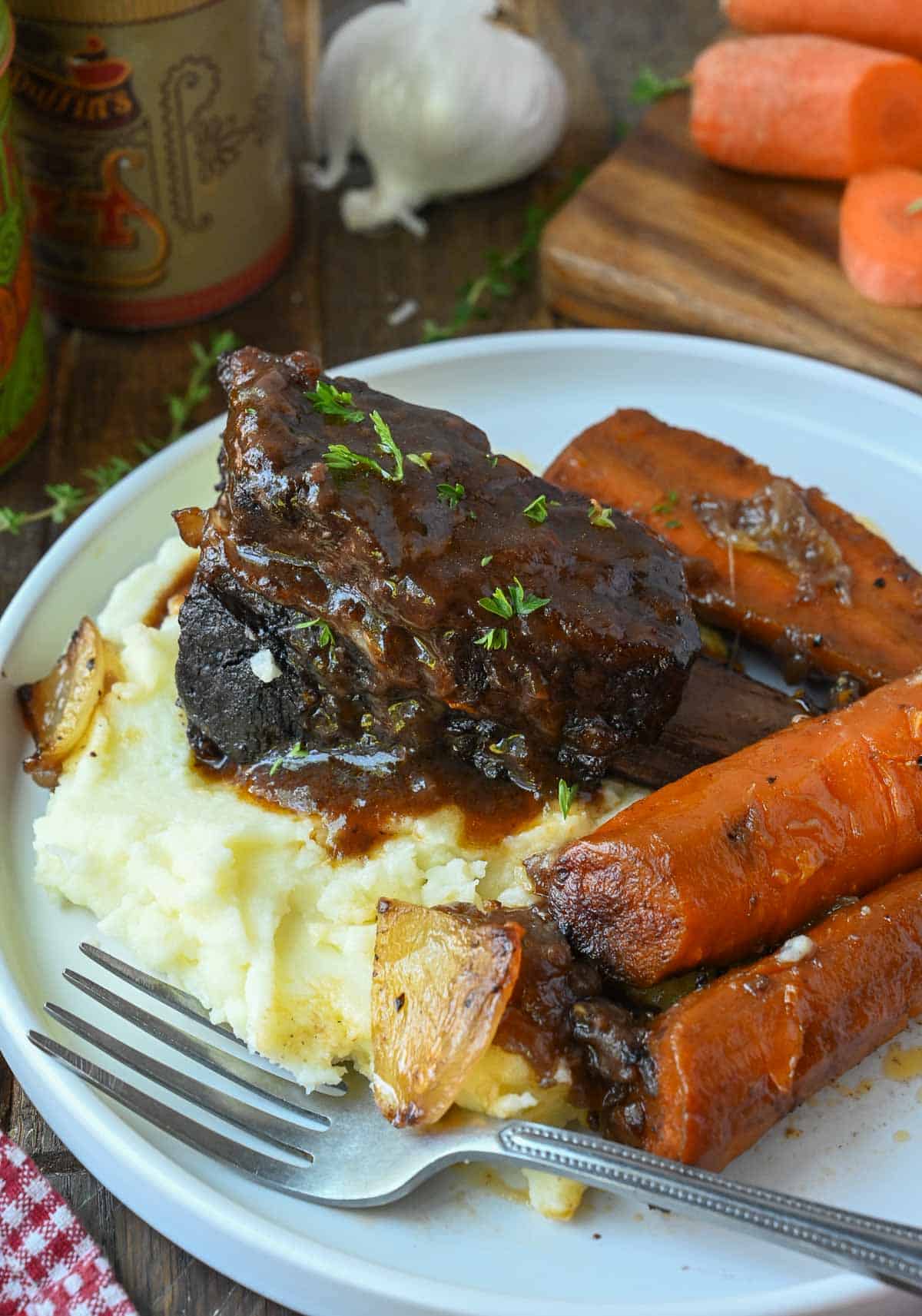 We may earn a small commission for purchases made through links in this post. Read our disclosure policy here.
Chunks of rich meat that falls right off the bone, in a deep rich sauce. The perfect Winter night comfort food in that delicious braising liquid that's even better the next day when the flavors just intensify! 
Why this recipe works
They are so forgiving and easy to prepare, cooked low and slow in a delicious flavorful red wine sauce. Perfect on a pile of my Creamy Mashed Potatoes egg noodles, or creamy polenta.
Ingredients needed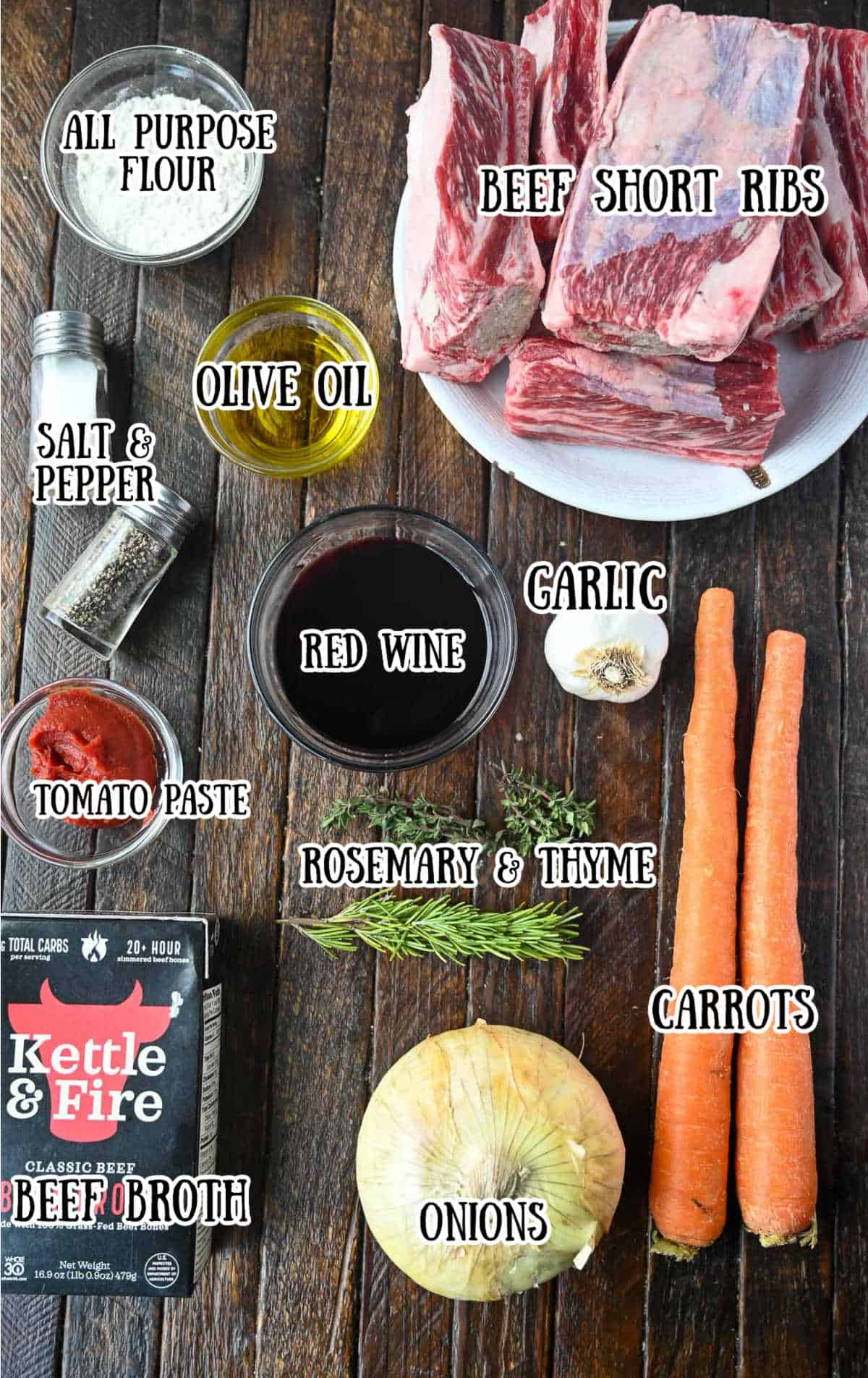 Notes
Short ribs: You can also use a chuck roast cut into large chunks.
Wine: A dry red wine is best like merlot or cabernet.
Beef stock: Low-sodium beef broth to cut back on the sodium.
Onion: Yellow or sweet onion works great.
Carrots: Try to get thicker carrots.
Garlic: Fresh minced garlic is best.
Herbs: Use fresh herbs, Rosemary and Thyme to take this dish over the top.
How to make this recipe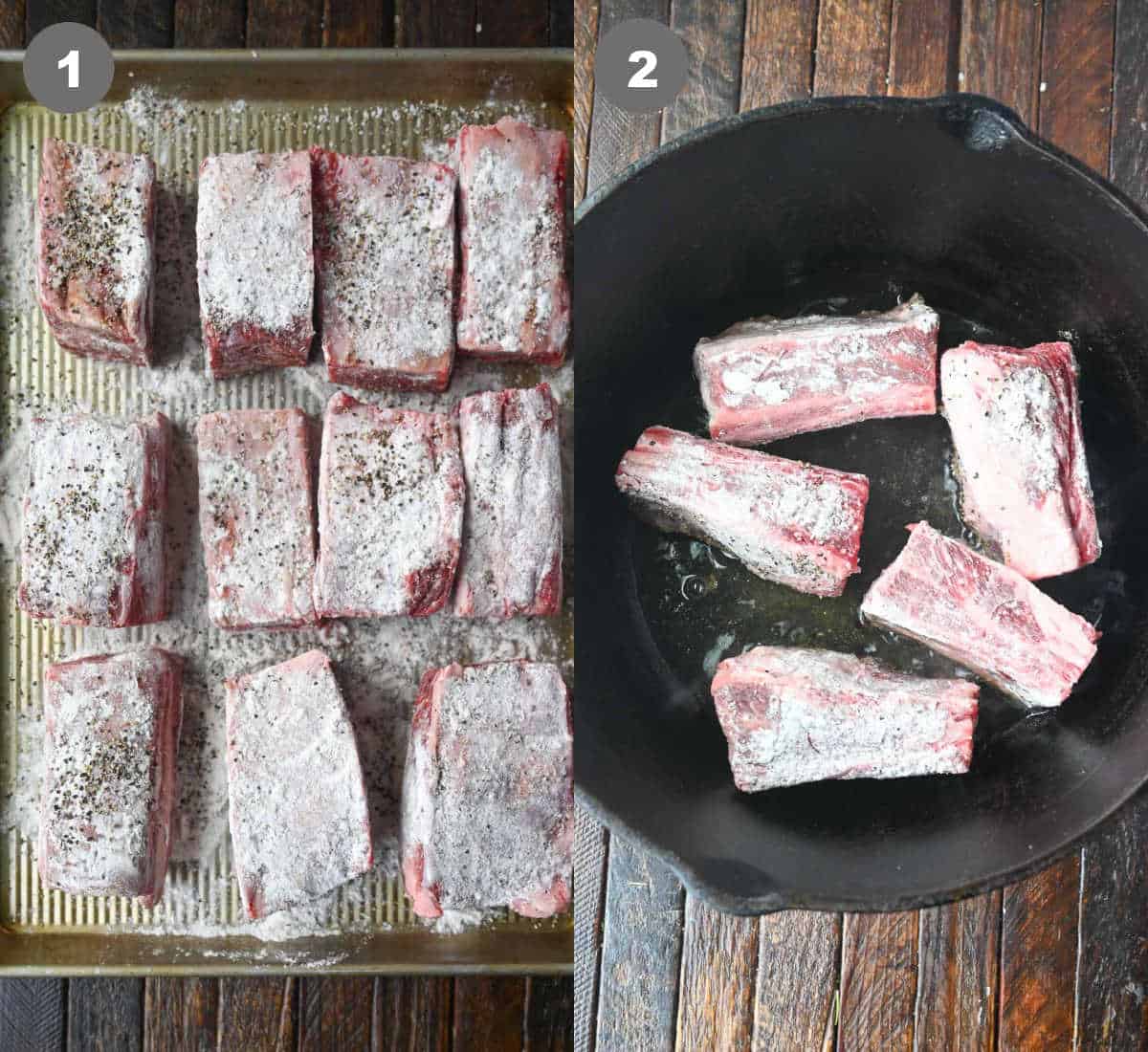 Step 1: Sprinkle the flour salt and pepper over the short ribs.
Step 2: Heat a large Dutch oven on medium-high heat, add the olive oil, and place the short ribs into the pot.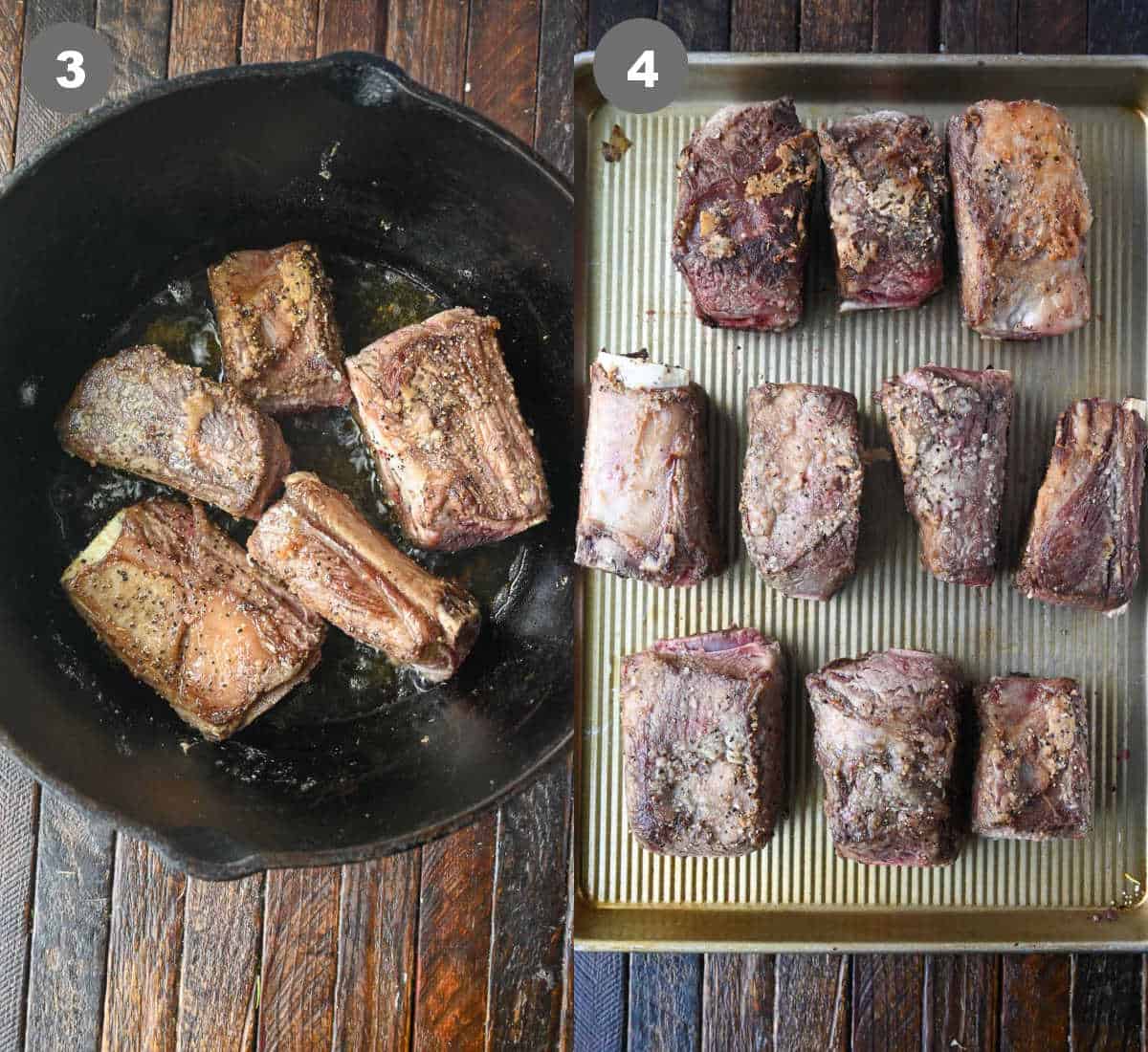 Step 3: Brown short ribs on all sides.
Step 4: Remove the browned short ribs and place them on a sheet or plate.short ribs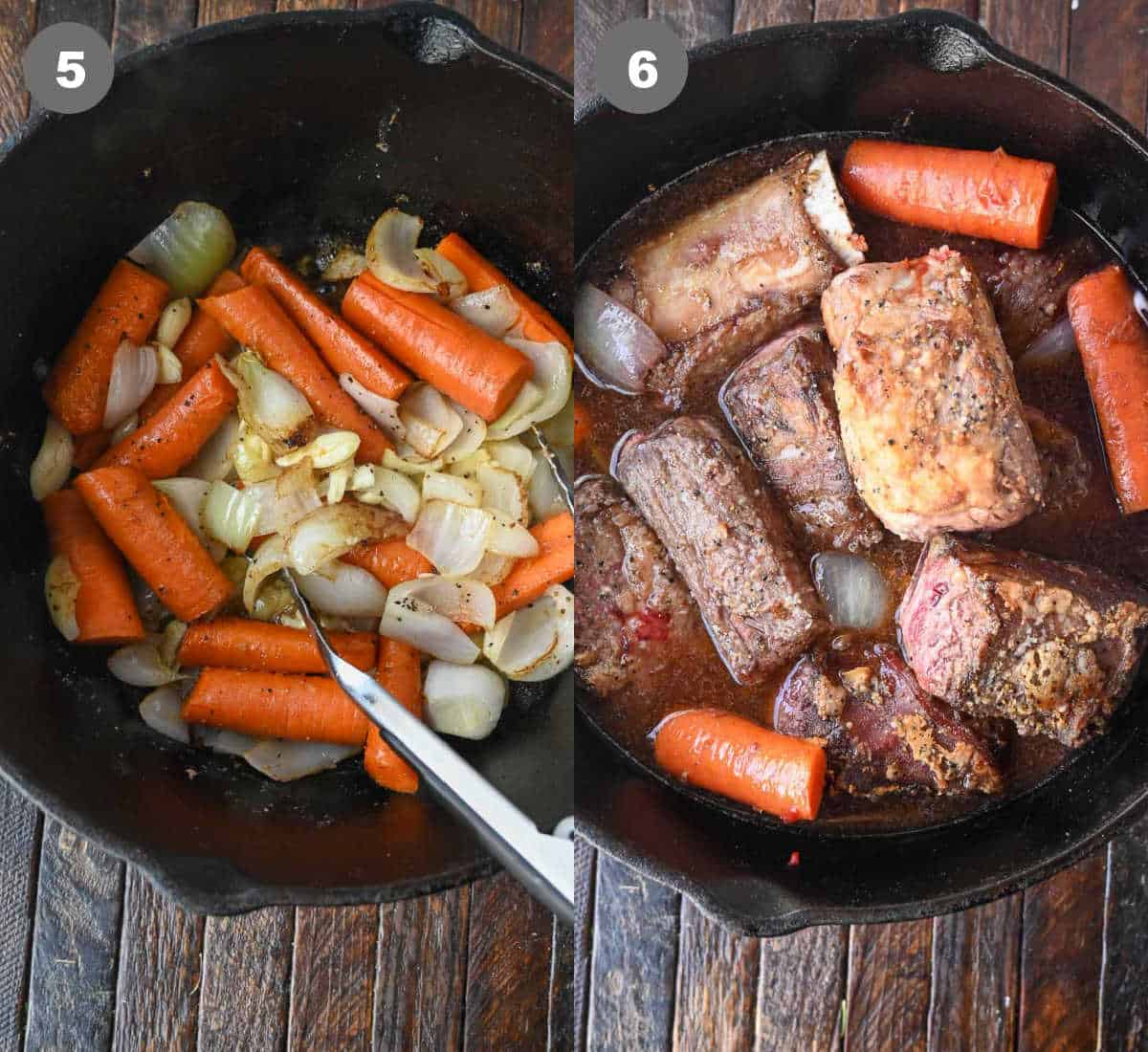 Step 5: Add the carrots and onions into the pot to get some caramelization, then add in the garlic and tomato paste.
Step 6: Add in the red wine and beef broth and simmer. Turn off the heat and add back in the beef rosemary and thyme, cover, and bake!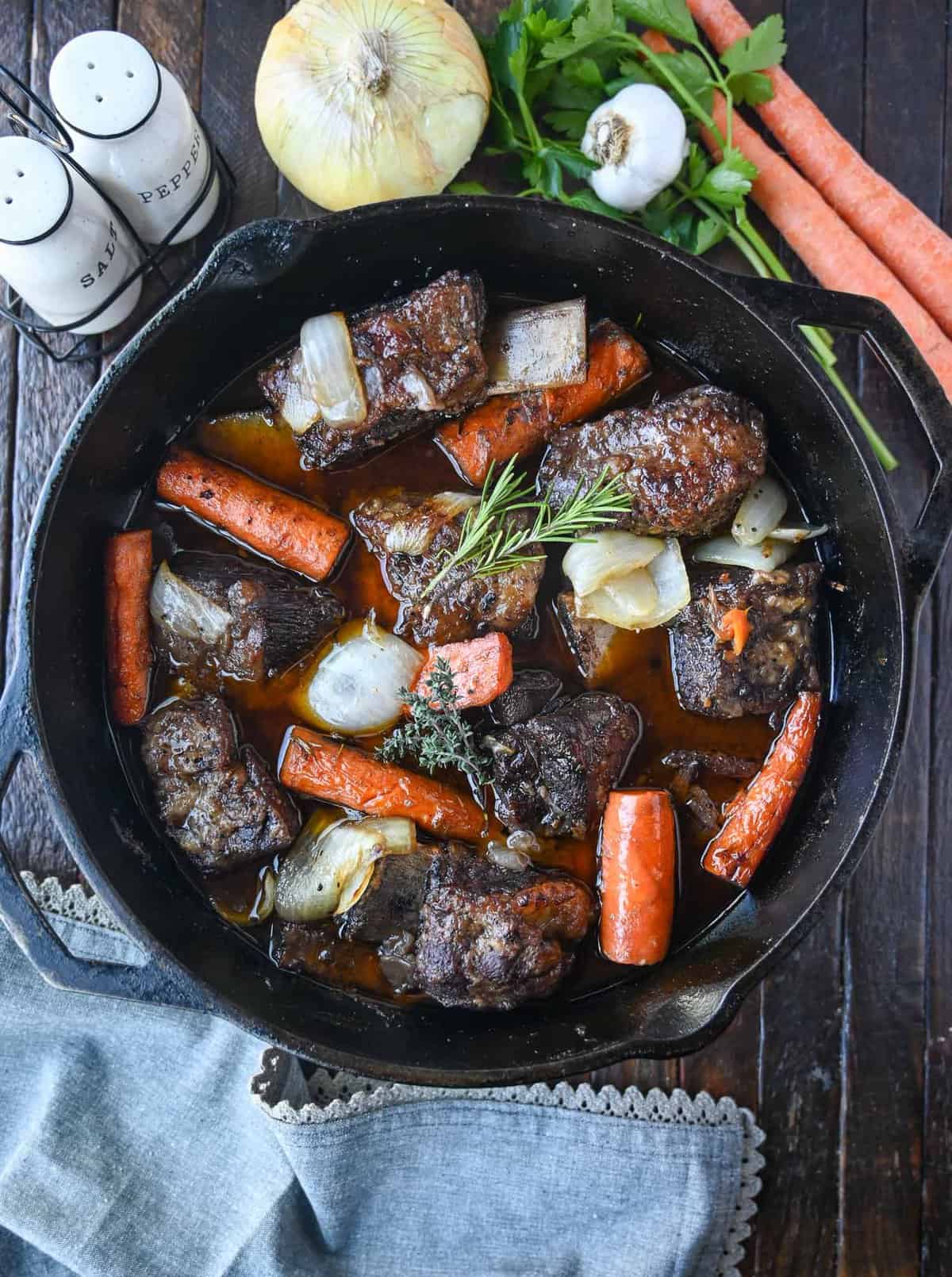 Recipe Tips
If you don't have a Dutch Oven I love this one. I use it for everything like my No Knead Artisan Bread and it will last forever!
If you prefer a thicker sauce after straining the carrots and onions out with a slotted spoon. Whisk in a cornstarch slurry and let the strained liquid simmer to thicken.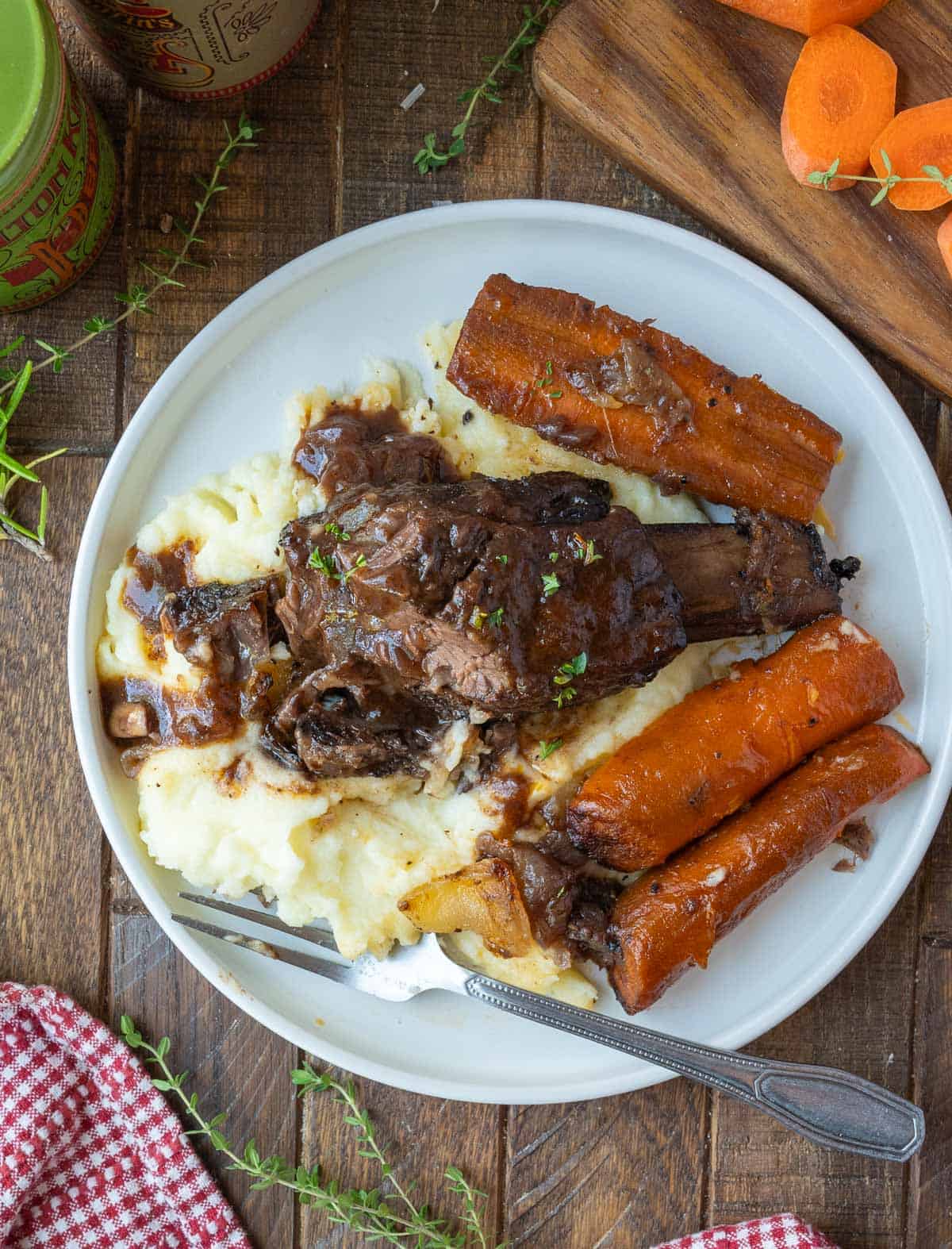 Recipe Faq's
What are short ribs?
Short ribs are shorter and fatter than regular beef ribs. Usually taken from the brisket or chuck part of the beef, a tough cut of meat that best cooks low and slow to make them more tender and flavorful.
Do I have to use wine?
It adds the best flavor and all of the alcohol burn off during the braising time. But you can use a non-alcohol wine or replace the red wine with more beef stock. But the level of richness won't quite be the same.
Do I need to brown the short ribs first?
Yes dont skip it! It gives you so much extra flavor to the ribs and the browned bits for the sauce. Browning the short ribs, sears them, and gives them more flavor and a little color after the veggies have a little brown to them add the garlic, then the tomato paste. The tomato paste needs a little heat to wake it up. 
Can this be made in the slow cooker?
Yes you can, but first sear the ribs, carrots, and onions in a hot skillet and add in the liquid to remove all the flavor from the bottom of the pan then add everything to the slow cooker. Cook on low for 8-10 hours or high for 5-6 hours. 
What wine is best?
I use a dry red wine like Merlot or Cabernet Sauvignon
wine but no need to buy an expensive wine. You won't be able to tell the difference either way with the extra rich flavor it adds to the short ribs recipe.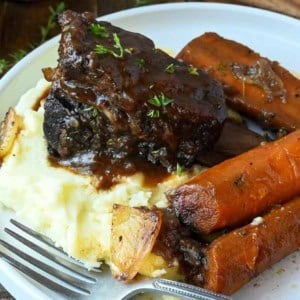 Short Ribs Braised in Red Wine
Beef Short Ribs are cooked low and slow with garlic, herbs, carrots, and onions in a rich red wine sauce, the perfect Sunday dinner that will make your house smell amazing! 
Ingredients
4

pounds

bone-in beef short ribs

2-3 inches thick

2

tablespoons

all purpose flour

kosher salt

pepper

3

tablespoons

cooking oil

1

large

onion roughly chopped

6

large

carrots peeled and cut into large chucks

6

cloves

garlic, smashed

2

tablespoons

tomato paste

2

cups

dry red wine

3

cups

low sodium beef broth

2

sprigs fresh thyme

2

sprigs fresh rosemary
Instructions
Preheat oven to 350 degrees

Sprinkle the ribs with flour salt and pepper.

In a large

7qt dutch oven

or heavy bottom pot. Heat oil over medium-high heat. Sear ribs on all sides and transfer to a plate.

Add onions and carrots to cook, occasionally stirring until browned about 10 minutes. Add garlic and cook another minute and then add tomato paste and cook another 5 minutes.

Add red wine to deglaze the pot, then add the beef broth and bring to a low boil. Turn the heat off and add back in the short ribs. Add your sprigs of Rosemary and Thyme into the pot. Cover with lid and bake for 2 hours then lower the heat to 325 degrees and bake another hour.

Remove pot from oven and strain carrots and onions out of the pot

Serve with gravy!
Notes
I use a cabernet or merlot wine, no need to be expensive.
Non-alcoholic sub- You could use non-alcoholic red wine. Or use 2 additional cups of beef broth and 1 tablespoon of Worcestershire sauce.
If you want the gravy to be thicker you can add 1 tablespoon of cornstarch with 2 tablespoon of water mix together in a small bowl. Simmer the sauce on medium-high and add a little of the cornstarch mixture at a time until the desired thickness.
Slow Cooker directions: Follow the directions in the recipe using a large skillet then add everything to the slow cooker. Cook on low for 8-10 hours or high for 5-6 hours. 
Nutrition
Serving:
6
Servings
Calories:
531
kcal
Carbohydrates:
5
g
Protein:
45
g
Fat:
30
g
Saturated Fat:
10
g
Polyunsaturated Fat:
3
g
Monounsaturated Fat:
14
g
Trans Fat:
0.03
g
Cholesterol:
130
mg
Sodium:
406
mg
Potassium:
1085
mg
Fiber:
0.3
g
Sugar:
1
g
Vitamin A:
81
IU
Vitamin C:
1
mg
Calcium:
20
mg
Iron:
5
mg