Cast Iron Pans will last a lifetime, they're great for searing meat, roasting veggies, or baking your favorite dessert!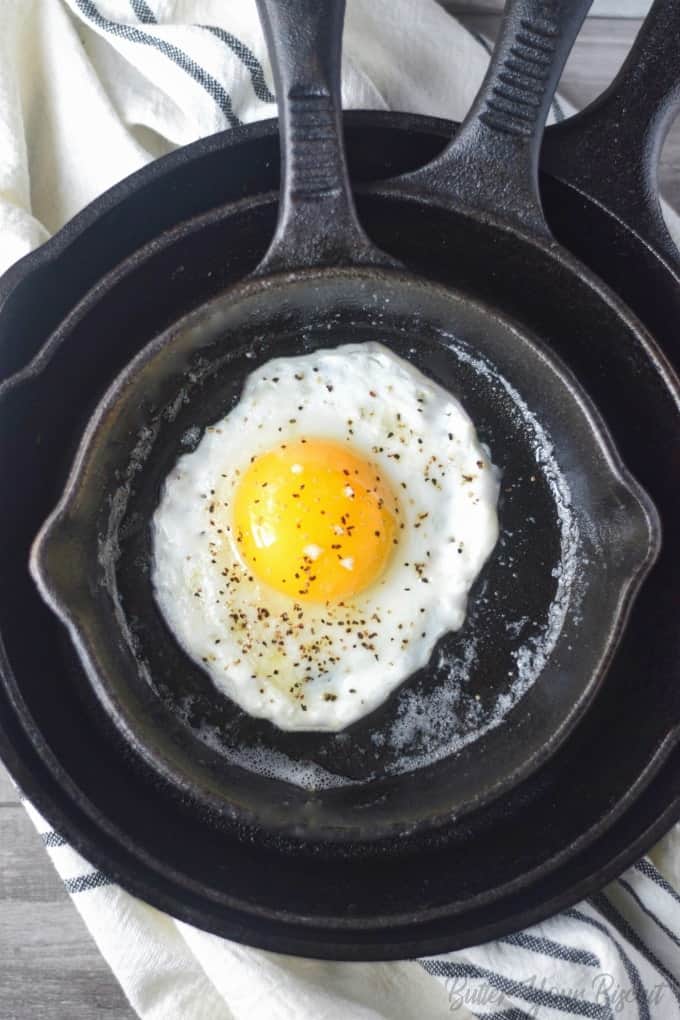 Oh, how I love my cast iron pans. You may remember your grandma using cast iron pans, and I bet those pans still live to cook delicious food. The truth is cast iron pans if taken care of properly can last for many many years. They can easily go from your stovetop to your oven, not to mention they are much cheaper than most cookware.
How to season your Cast-Iron pan
When you first bring home you're brand new OR new to your cast iron pan, wash with hot soapy water

Dry thoroughly

Spread a thin layer of vegetable/canola oil all over the skillet

Place your skillet upside down in a 375-degree oven

Place a sheet of foil or baking sheet on the lower rack to catch any drips.

Bake 1 hour, turn the oven off and let your pan cool in the oven.
Daily upkeep on your cast iron skillet



Use a paper towel to wipe away grease and crumbs.

Use hot water and very little soap if necessary using a scrub brush or pad

After you rinse, place your cast iron on a burner on medium heat to thoroughly dry it.

Take a paper towel with 1-2 teaspoons of vegetable oil and rub it all inside your pan. (rust is your biggest enemy)


Store until ready to use again.
Tips and Tricks
If your pan becomes sticky after seasoning, this is a sign of oil buildup. Place back in the oven upside down and bake at 350 for 1 hour.

Occasionally, while cleaning your pan with a towel you may see some dark residue on the towel. this is perfectly safe and will go away with regular use.

Any food-safe high heat cooking oil like vegetable, canola, coconut, will work to season your pans.

If your pan does become dull or rusty, just follow the steps to re-season it and it will be good as new.
For tough stuck-on bits of food, add water to the skillet and heat on medium heat. Bring to a boil to loosen the cooked-on food. This works especially with, sticky foods and sauces.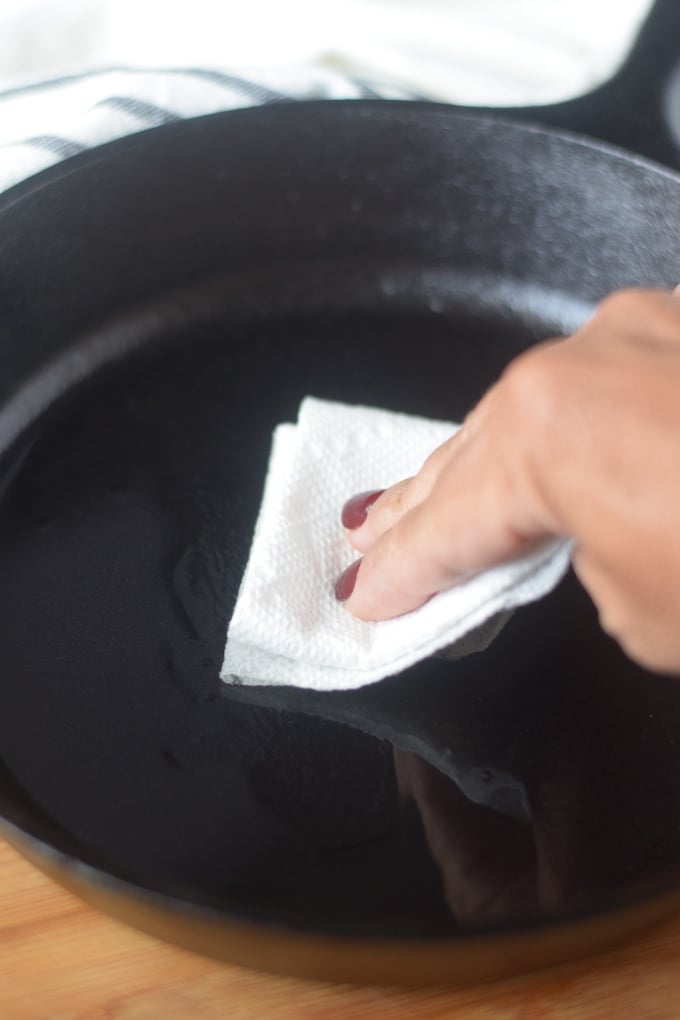 Always finish your pans with a little oil wiped across the entire cooking surface.

Best products/tools
The best-cast iron skillet recipes
Common Myths



Never cook acidic foods in a cast iron pan: In a well-seasoned cast-iron pan, the food only comes in contact with the layer of polymerized oils in the pan. So it should be no problem at all.
Metal utensils are a no-no in cast iron pans: Using a metal spatula to flip your food is totally fine as long as you don't scrape at the pan itself.
You can never use soap to clean a cast-iron pan: That's simply nonsense, Don't go overboard but a couple of drops of soap isn't going to ruin your seasoning.

If a Cast Iron Skillet gets rusty it's ruined:

You just need to strip it and start over with the seasoning process.
MAKE SURE TO FOLLOW ME ON FACEBOOK, INSTAGRAM, PINTEREST FOR ALL MY LATEST RECIPES.