Bacon wrapped pork tenderloin with bourbon sauce is a family favorite meal. Turns out juicy and delicious every time!
This juicy bacon wrapped pork tenderloin with a sweet homemade bourbon sauce is wrapped in smokey bacon and oven roasted to perfection. Pork tenderloin is my favorite cut of pork and of course bacon makes everything better right?Pork tenderloin is pretty economical, usually you get two small tenderloins in one package. Which easily feeds 5-6 people. It's equivalent to the beef tenderloin, they are both the most tender cut of meat.   Wrapping these babies with yummy pieces of bacon ensures that the lean pork stays tender and juicy and is simply mouthwatering.

You can insert a few toothpicks if the bacon isn't cooperating with you, just make sure you remove them before you serve it.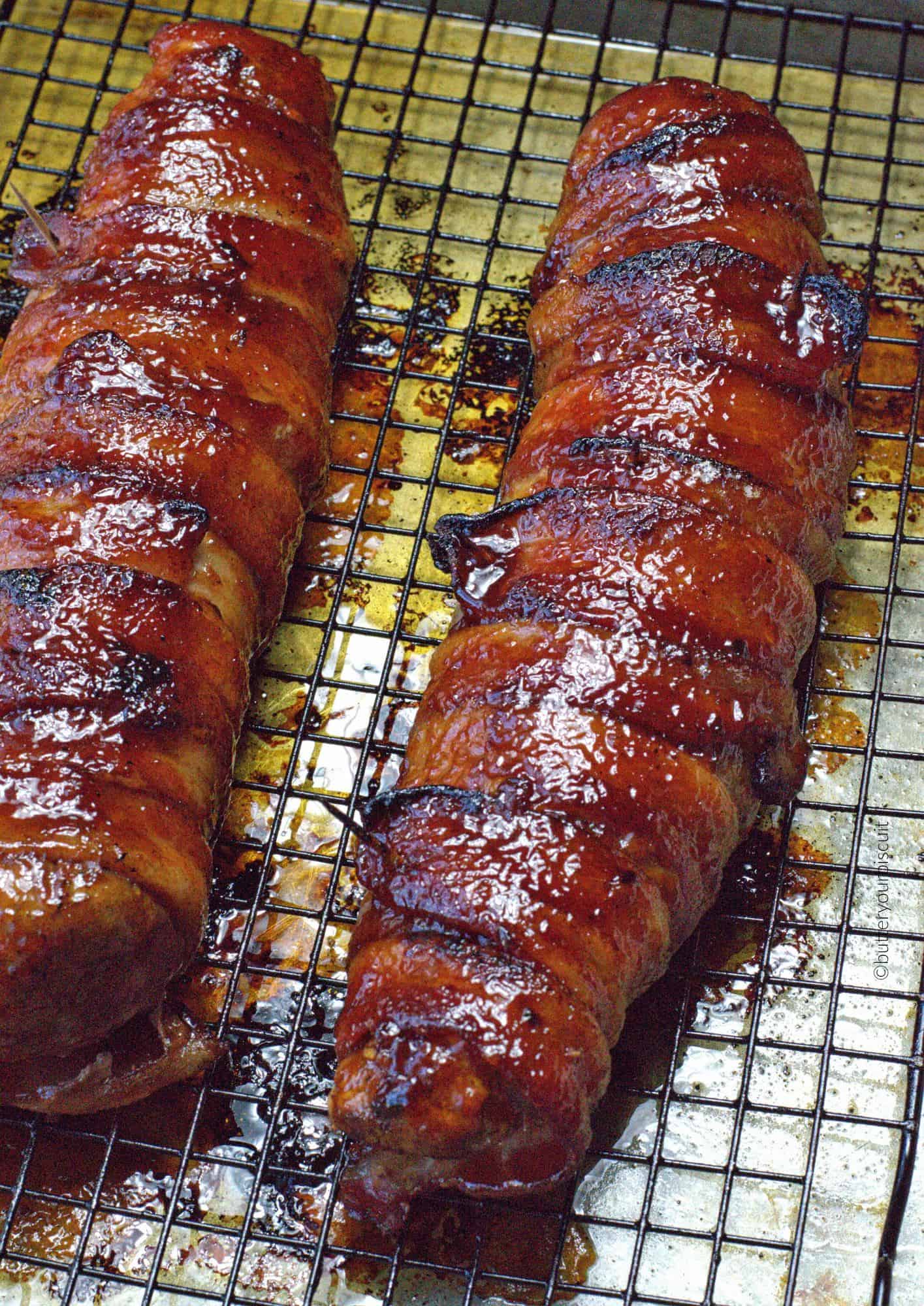 You can also use a sheet pan with a cooling rack to roast the tenderloins, but feel free to just leave it in the cast iron pan and roast in the oven. Either way just make sure you let the meat rest for about 15 minutes before you slice.

Can we talk about that Bourbon sauce for a minute? It really is fantastic! Sweet and tangy and full of flavor. I use it a lot during the grilling season. It keeps well in the fridge for a couple weeks, so I usually make a double batch. My daughter adds it to everything, but she is a condiment lover!

This recipe is really quit easy, it can even be prepared the day before to make that weeknight dinner even easier. Or even for a dinner party this tenderloin is always a crowd pleaser. I love to serve my Parmesan Roasted Brussels Sprouts with this recipe, I just leave out the diced bacon.
Bacon Wrapped Pork Loin with Bourbon Sauce
Ingredients
2 1 1/2 lb pork tenderloins (usually comes in one package)
4 cloves garlic minced
1 tablespoon olive oil
3 teaspoons smoked paprika (or regular)
1/2 teaspoon cayenne pepper
2 teaspoon kosher salt
1/2 teaspoon pepper
1/2 lb good quality bacon (about 4-5 slices for each tenderloin)
[b]For the bourbon sauce[/b]
1 cup bourbon
1/2 cup brown sugar
1/2 cup ketchup
2 tablespoons Worcestershire sauce
1/2 lemon, juice only
1/4 cup apple cider vinegar
Big pinch of salt and pepper
Instructions
For the bourbon sauce: In a medium saucepan, add the bourbon, sugar, ketchup, Worcestershire, vinegar, lemon juice and salt and pepper. Whisk together carefully until combined. Bring to a simmer over medium heat. Simmer uncovered for 45 minutes or until reduced by 1/3 and thickened. Remove and let cool until needed. Pour about 1/4 of the sauce in a separate bowl and set aside to save for dipping sauce.
Preheat oven to 375 degrees
Combine the olive oil, paprika, cayenne pepper, salt, pepper and garlic in a small bowl. Rub all the mixture into the tenderloins. Wrap the bacon strips around the tenderloin securing with toothpicks if needed.
Heat a cast iron or oven safe pan to medium-high heat. Add the bacon wrapped tenderloins and sear until its slightly brown on both sides about 8 minutes. Brush some of the bourbon sauce generously over the top of the tenderloin.
Transfer the pan to the oven and roast the tenderloin until it reaches 140°F for medium, about 15-20 minutes, or 150°F for medium-well 25-30 minutes. (The pork will continue to rise in temperature a few degrees while it rests.)
Turn the oven to broil. Remove the tenderloin and brush on more bourbon sauce, broil for 2-3 minutes to get the top a little caramelized.