Butter cookies are a classic cookie everybody loves. They have a rich, buttery flavor with a crisp texture. Simple to make and delicious dipped in dark chocolate.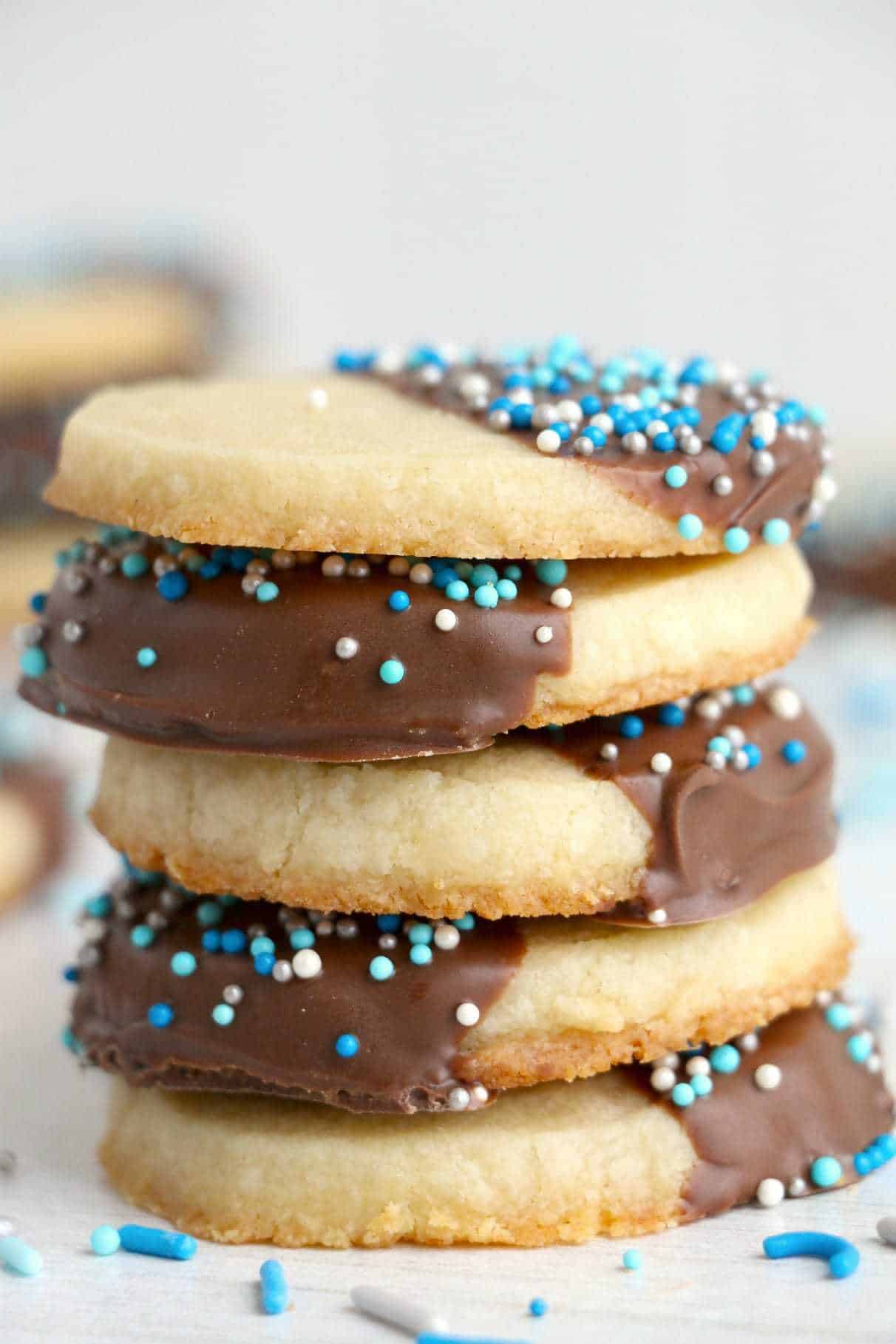 Cookies are a classic treat around the holidays. Butter cookies scream Christmas to me like these No Spread Sugar Cookies! Although these butter cookies are delicious any time of the year, they're light and not super sweet.

How long do butter cookies last?
Butter cookies will be good for up to 2-3 weeks. Be sure to store them in an airtight container at room temperature.
Tips for making butter cookies
Use a high-quality unsalted butter.

I recommend using unsalted butter when baking. Salted butter will not ruin your cookies, but different brands add different amounts of salt to their butter so it's a safe bet to just use unsalted.

Make sure your butter is soft. Set the butter out on the counter 40-60 minutes before baking.

If you forgot to set the butter out you can microwave in 10-second increments on 50% power. Keep rotating the butter until it is soft.

Make sure to pick good vanilla for this recipe since it is one of the main components of flavor.

After dipping the cookies in chocolate, you can speed up the drying process by putting them in the refrigerator for 10-15mins. But make sure to not leave them in there too long because it could dry out the cookies.

What's the difference between sugar cookies, butter cookies, and shortbread cookies?
All three are very similar, it's all about the ratio of ingredients.
Shortbread cookies have the highest ratio of butter to flour, tend to be crumbly and very tender.
Butter cookies have a high proportion of butter and more butter and sugar. They hold their shape well and offer a sturdier texture.
Sugar cookies have the highest ratio of flour to fat which gives them a sturdy texture and the perfect cookie for cutouts.
Why do I need to chill the dough?
Chilling the dough for the butter cookies will dehydrate the dough to help shape the cookie before baking. It also gives the ingredients time to intensify their flavors and make a PERFECT butter cookie. Keep the rolled dough in the refrigerator for up to 4 days for fresh-baked cookies anytime.

Why are my cookies flat and spread out?
If the fat in the cookie dough melts in the oven, your cookie could become flat. That means you do not have enough flour to hold the melted fat and it makes your cookie overspread. If it continues, you can add an extra 2 Tablespoons of flour to the cookie dough. But be careful not to over mix the ingredients.
Can you freeze butter cookies?
Absolutely! Bake them and freeze them for up to one month. Thaw overnight and then dip in the melted chocolate.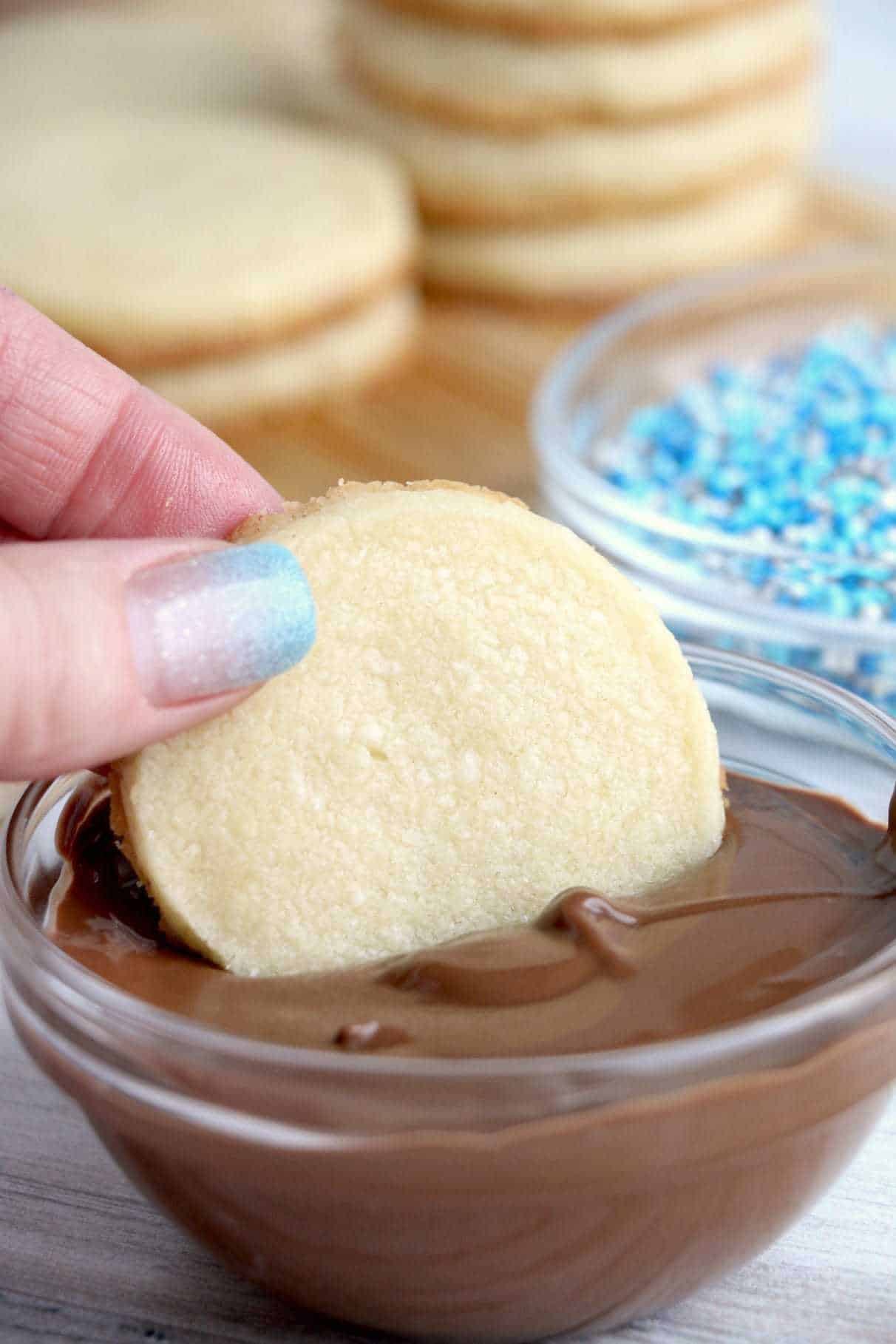 Milk chocolate, dark chocolate, or even white chocolate would be delicious.
Looking for more delicious cookie recipes?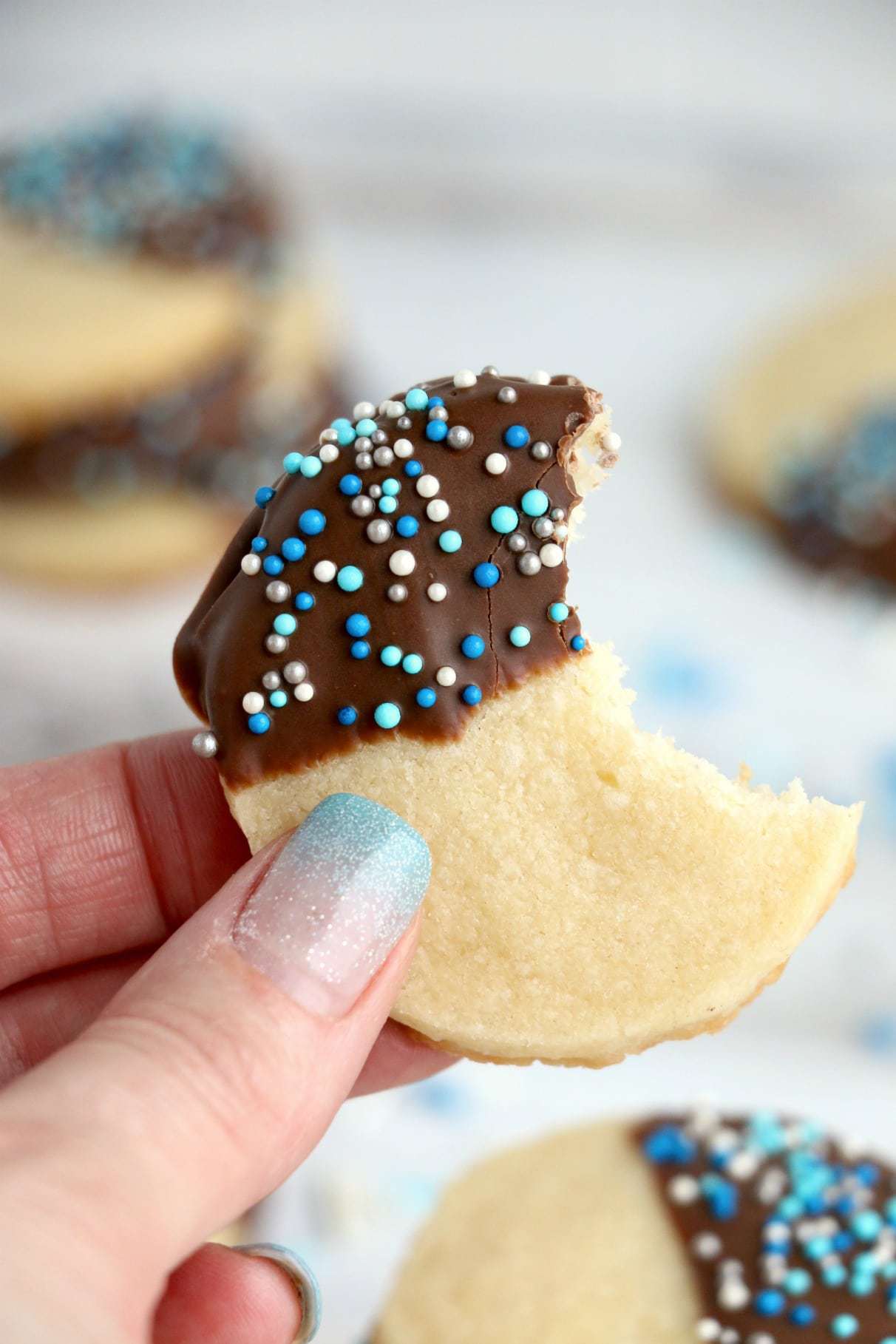 MAKE SURE TO FOLLOW ME ON FACEBOOK, INSTAGRAM,PINTEREST FOR ALL MY LATEST RECIPES.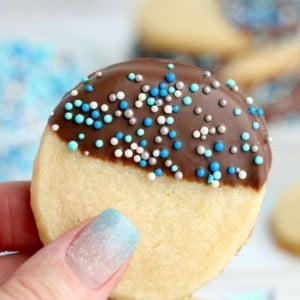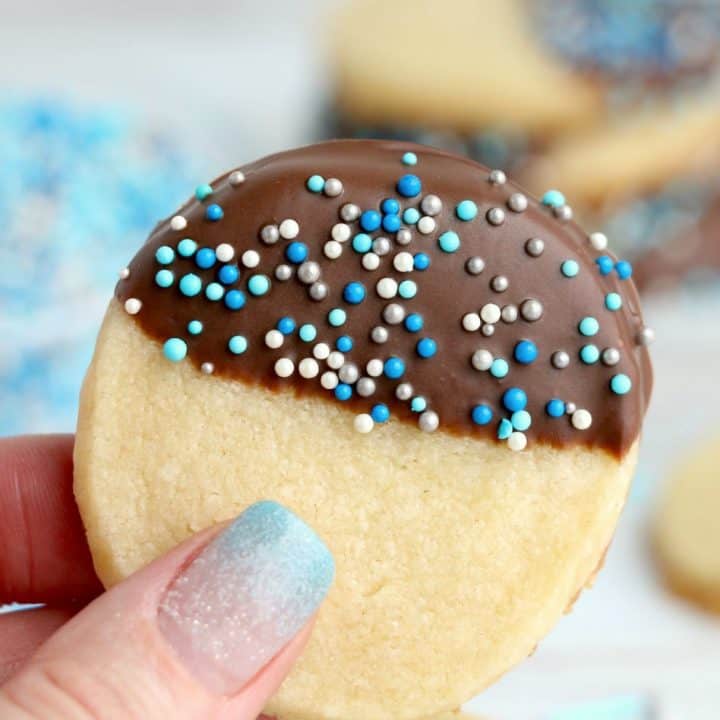 Chocolate Dipped Butter Cookies
Butter cookies are a classic cookie everybody loves. They have a rich and buttery flavor with a crisp texture. Simple to make and delicious dipped in dark chocolate.
Ingredients
3/4

cup

unsalted butter

softened (12 tablespoons)

2/3

cup

sugar

1

egg yolk

1

teaspoon

vanilla

1

teaspoon

almond extract

1 1/2

cup

all-purpose flour

1/2

teaspoon

salt

4

oz

chocolate chips

sprinkles
Instructions
In a medium mixing bowl, beat softened butter.

Add sugar, egg yolk, vanilla and almond extract and beat again.

Add flour and salt, blend until uniform.

Form dough into a roll about 2 inches wide and wrap it in plastic wrap.

Refrigerate dough for 1 hour.

Preheat oven to 350ºF.

Slice the cold dough into 1/2-inch slabs and place them on a cookie sheet.

Bake for 10-12 minutes or until edges begins to turn golden brown. Allow cookies to cool.

Melt chocolate in a microwave-safe bowl in 30-second intervals.

Dip cookies halfway into the melted chocolate, allowing the excess to run off. Add sprinkles.

Chill until chocolate is hardened.

Nutrition
Serving:
1
g
Calories:
156
kcal
Carbohydrates:
17
g
Protein:
2
g
Fat:
9
g
Saturated Fat:
6
g
Polyunsaturated Fat:
3
g
Cholesterol:
29
mg
Sodium:
113
mg
Sugar:
10
g