Homemade salad dressings are super easy to make and will take your salads to the next level!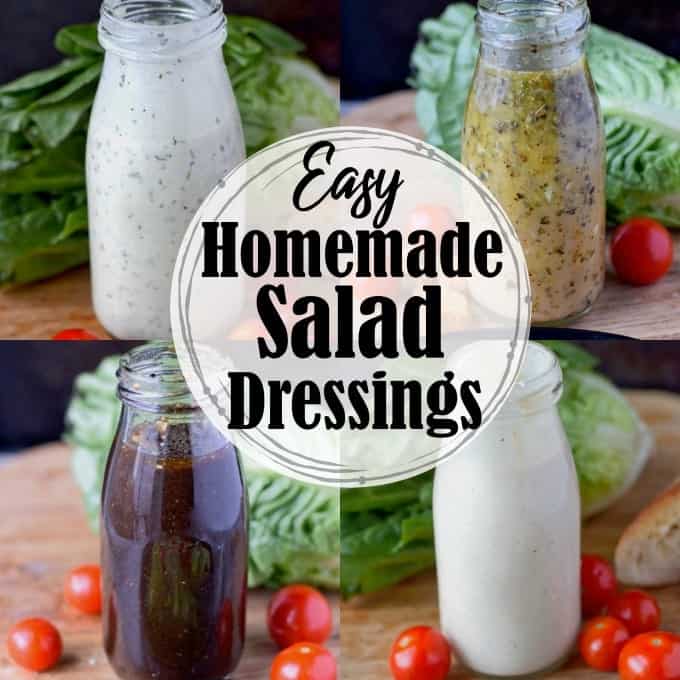 I'm a big fan of salad, especially a loaded chicken avocado salad...Yum! I always have at least a few different homemade salad dressings in the fridge, ready to go.
HONEY MUSTARD DRESSING
This easy four ingredient dressing is so easy, Using ingredients you already have on hand, this one is a keeper. Seriously no need to buy the jar anymore, this homemade version is so much better. Perfect on a crispy chicken salad or a delicious dip for chicken strips, pretzels or slather some on a hamburger bun.
CREAMY PARMESAN DRESSING
This fresh and flavorful homemade salad dressing is easy to make. It will turn the most boring salad into a delicious side dish or main course. Thick and creamy with tangy lemon and salty parmesan cheese.
CREAMY ITALIAN DRESSING
This dressing is zesty, flavorful, and super easy to make. I'm not a huge fan of vinaigrette dressings but when you add the creaminess to them I'm sold! Changes everything for me. Give it a try I'm sure it will be a hit!
RANCH DRESSING
This ranch dressing is fast and easy and a whole lot better than the bottle. My family has always been ranch lovers. I really never even thought about making my own. But boy oh boy were we missing out. You've got to give this a try, use it as a salad dressing or veggie dip! This dressing is also fantastic on my Grilled Chicken Avocado Salad!

GREEK VINAIGRETTE DRESSING
This easy Greek Vinaigrette is loaded with authentic flavors and comes together in 5 minutes. Perfect for salads or even on pasta salads. Some people prefer a more tangy vinaigrette I myself like a touch of sugar in mine. But this recipe is easily adjusted to your specific taste. No need to ever buy a store-bought vinaigrette again!
BALSAMIC DIJON
This dressing has the tang of Balsamic and Dijon with a touch of sweetness with the honey. Delicious over chicken salad or even in a wrap. The perfect balance of salty and sweet flavors. You're going to need to try this one soon!
BLUE CHEESE DRESSING
Blue Cheese dressing doesn't always get a lot of love. Blue cheese has a very strong flavor and I believe you either love it or hate it. I myself love it especially on a good wedge salad or slathered on some Crispy Buffalo wings. However you eat it, it will be fantastic!