Broiled lobster tail is an indulgence, the perfect main course for any special occasion.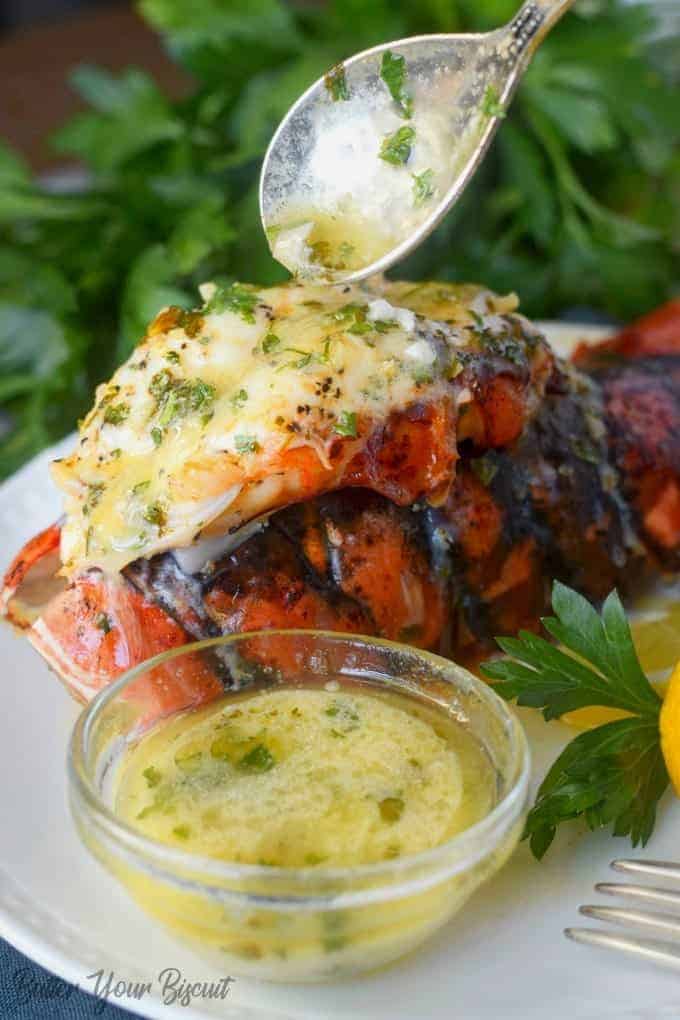 Broiled lobster tail is sweet and dipped in a creamy garlic lemon butter sauce. Pair it with a juicy rib-eye steak, and baked potato, and oh my the perfect surf and turf meal.

Most people think lobster is too expensive and hard to cook at home. But it's really easy, cooks super fast and if you watch for sales you can get a really good price at your local grocery store.
How to prepare a lobster tail with garlic lemon butter
In a small bowl melt your butter, garlic, lemon, and cayenne pepper for 1 minute in the microwave.

Reserve 1/3 of the butter sauce for dipping

Using kitchen shears slice down the back of the lobster and stop at the fin.

Dislodge the walls of the shell and pull the meat out and place it on top.

Line a baking sheet with parchment paper or foil.

Broil, basting a couple of times.

Serve with finely chopped parsley and reserved butter sauce.
How can you tell if the lobster tail is cooked?
Your tails are done when the color of the meat turns from translucent to white or opaque.


Keep in mind tails will continue to cook after you remove them from the heat source.

Lobster tail is done when the internal temp is 140-145 degrees you don't want to overcook as it will become tough and chewy.
How to thaw frozen lobster tails
It's best to slow thaw your lobster tails before you plan to cook them.

Place your lobster tails in the refrigerator on a plate the day before.

To speed up this process place the tails in a large ziplock freezer bag sealed and place in a bowl of cold water
More seafood recipes you'll love!
MAKE SURE TO FOLLOW ME ON FACEBOOK, INSTAGRAM, AND PINTEREST FOR ALL MY LATEST RECIPES.
Broiled Lobster Tails with Garlic Lemon Butter
Broiled lobster tail is sweet and dipped in a creamy garlic lemon butter sauce. 
Ingredients
3- 6

ounce

lobster tails

thawed

6

tablespoons

butter

3

cloves

garlic minced

Pinch

of cayenne pepper

optional

1 1/2

teaspoons

Lemon juice

salt

pepper

Fresh chopped parsley
Instructions
In a small bowl melt butter, garlic, lemon juice, and cayenne pepper. Reserve 1/3 of the mixture for dipping.

Using kitchen shears cut down the shell to the fin. Slide your fingers under the shell and loosen the meat. Pull meat out of the shell and place it on top of the shell.

Preheat the broiler and move the oven rack about 6-8 inches below the broiler.

Season with salt and pepper and brush garlic butter sauce over the top of the meat.

Broil 5 minutes, then brush more garlic butter sauce over the top. Broil another 5 minutes, or until white and opaque and internal temp reaches 140 degrees.

Garnish with fresh chopped parsley
Nutrition
Serving:
3
Servings
Calories:
21
kcal
Carbohydrates:
2
g
Protein:
4
g
Saturated Fat:
1
g
Cholesterol:
31
mg
Sodium:
103
mg
Sugar:
1
g