Fire-Roasted Salsa comes together in minutes and is loaded with flavor. Perfect with chips, or as a topping for your favorite Mexican food like tacos, burritos, and nachos!
We may earn a small commission for purchases made through links in this post. Read our disclosure policy here.
Summer is prime tomato season, so whether you use your own homegrown tomatoes or grab them from your local grocery store. Don't let summer go by without giving this one a try, or my Cowboy Guacamole.
Why this recipe works
Indulge in the smoky goodness of this easy salsa recipe! Made with fresh ingredients, this salsa packs a bold and flavorful punch. The charred tomatoes, peppers and onions add a smoky flavor to the salsa, great for dipping your favorite tortilla chips or piling on my Flank Steak Tacos or Chicken Burrito Bowls!
Ingredients needed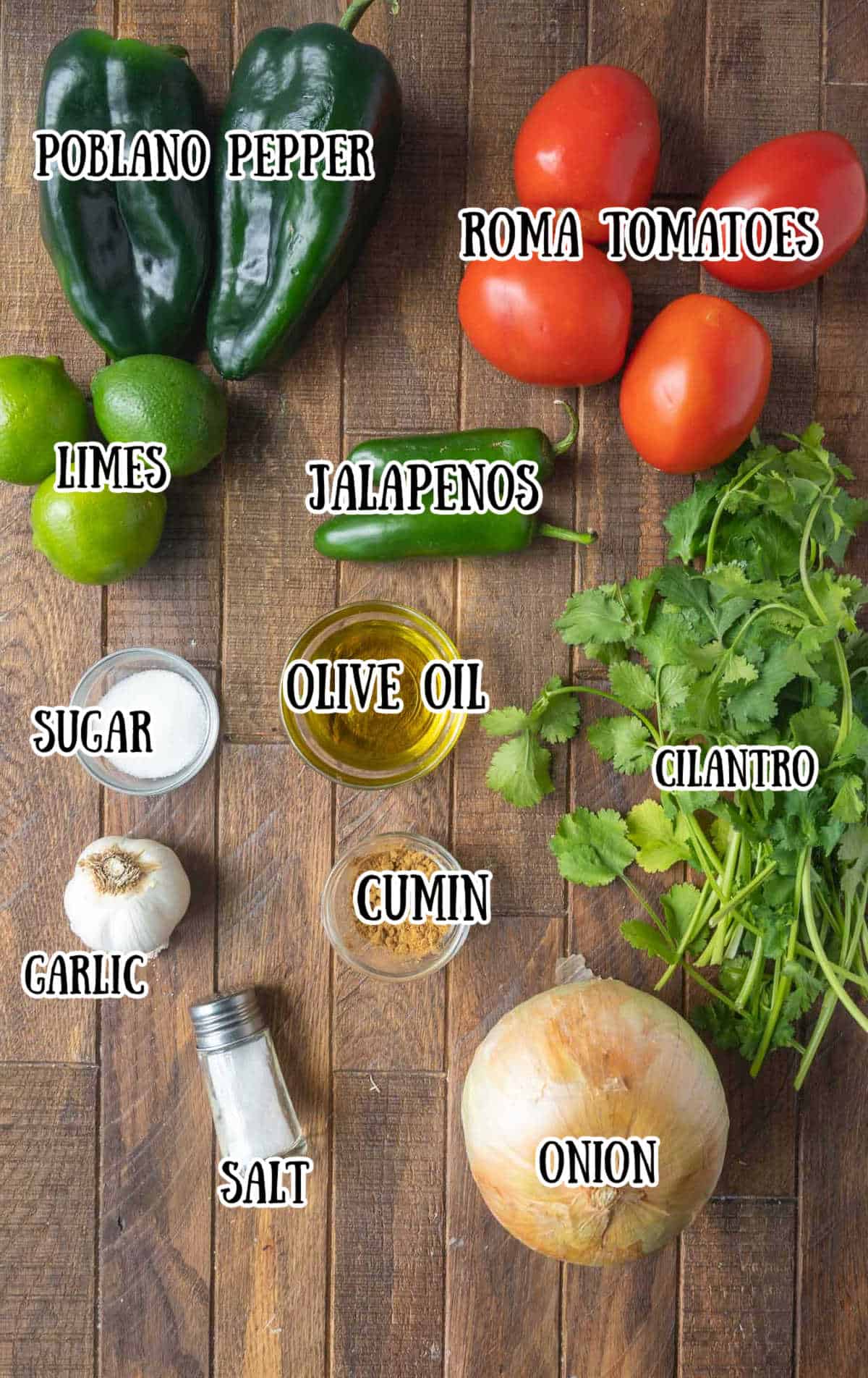 Ingredient notes
Poblano pepper: They offer great flavor without the heat.
Tomatoes: I prefer Roma tomatoes or plum tomatoes, they generally have more flavor and fewer seeds.
Onion: Yellow onion or red works fine.
Jalapeño pepper: Remove the seeds for less heat or leave them in for a spicier salsa.
Limes: Don't leave these out fresh lime juice adds a touch of citric acid.
Sugar: Helps balance out the acidity
Do I have to use fire?
No, although grilling the vegetables over an open flame gives them a smoky authentic flavor. You can roast the veggies in the oven. I just recommend giving them a broil at the last minute to get some char.
How to make this recipe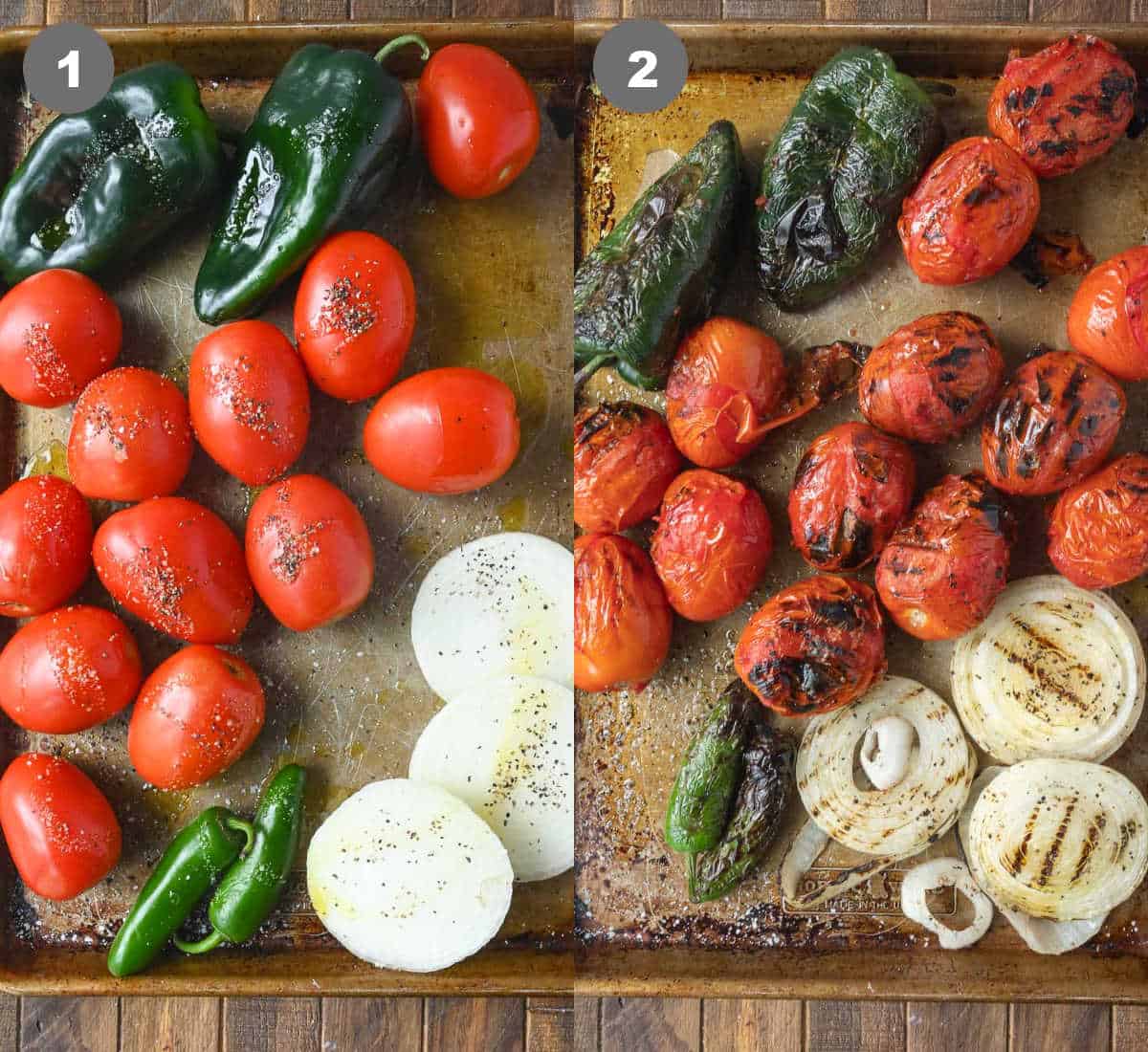 Step 1: Place the vegetables on a baking sheet and drizzle the olive oil over them and sprinkle with salt.
Step 2: Place the tomatoes, onions, garlic, and peppers directly over a flame or under a broiler until they develop a charred appearance.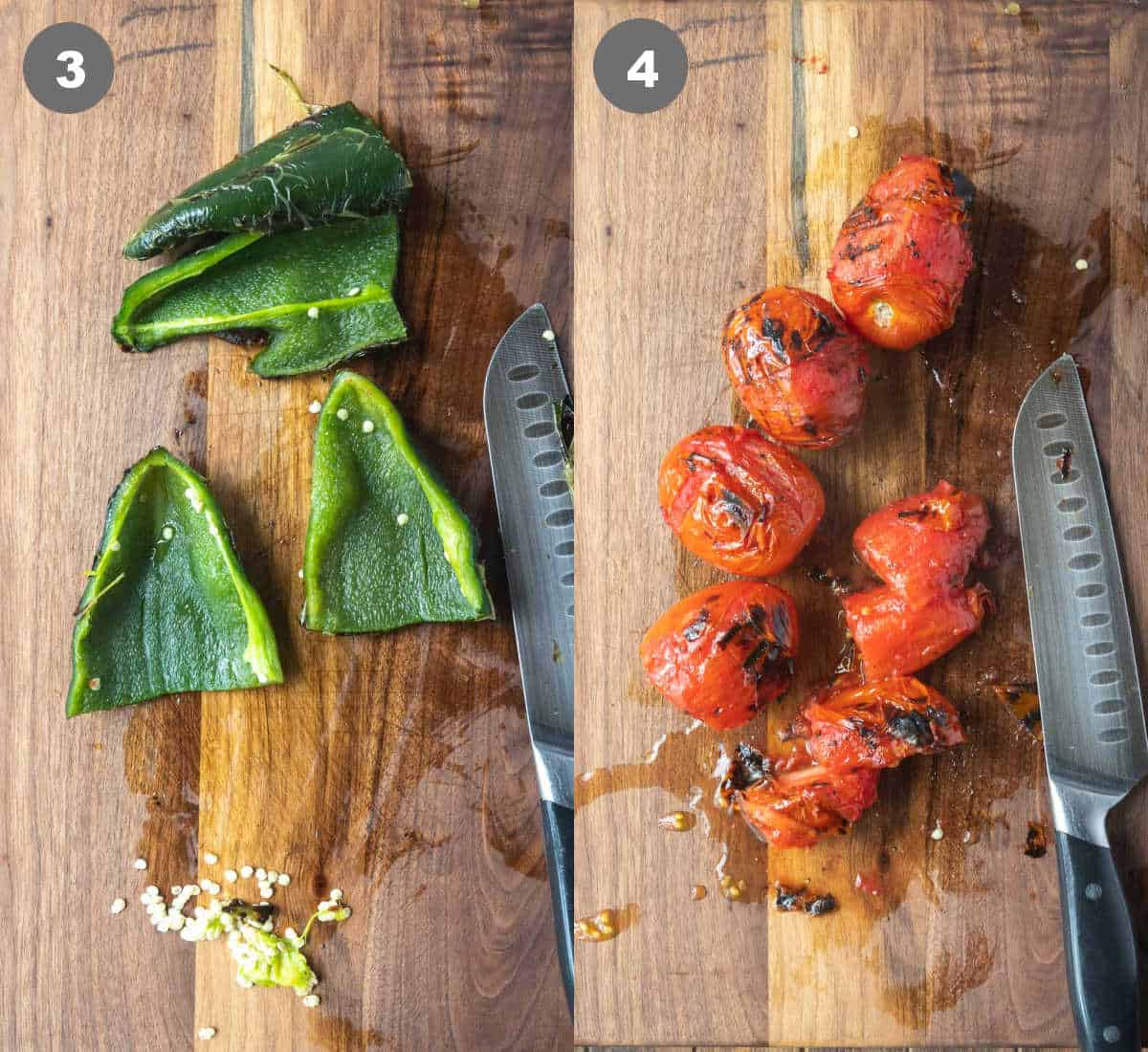 Step 3: Slice the peppers in half and remove the seeds.
Step 4: Place the charred tomatoes on a cutting board and cut the end off and remove the skins if you prefer.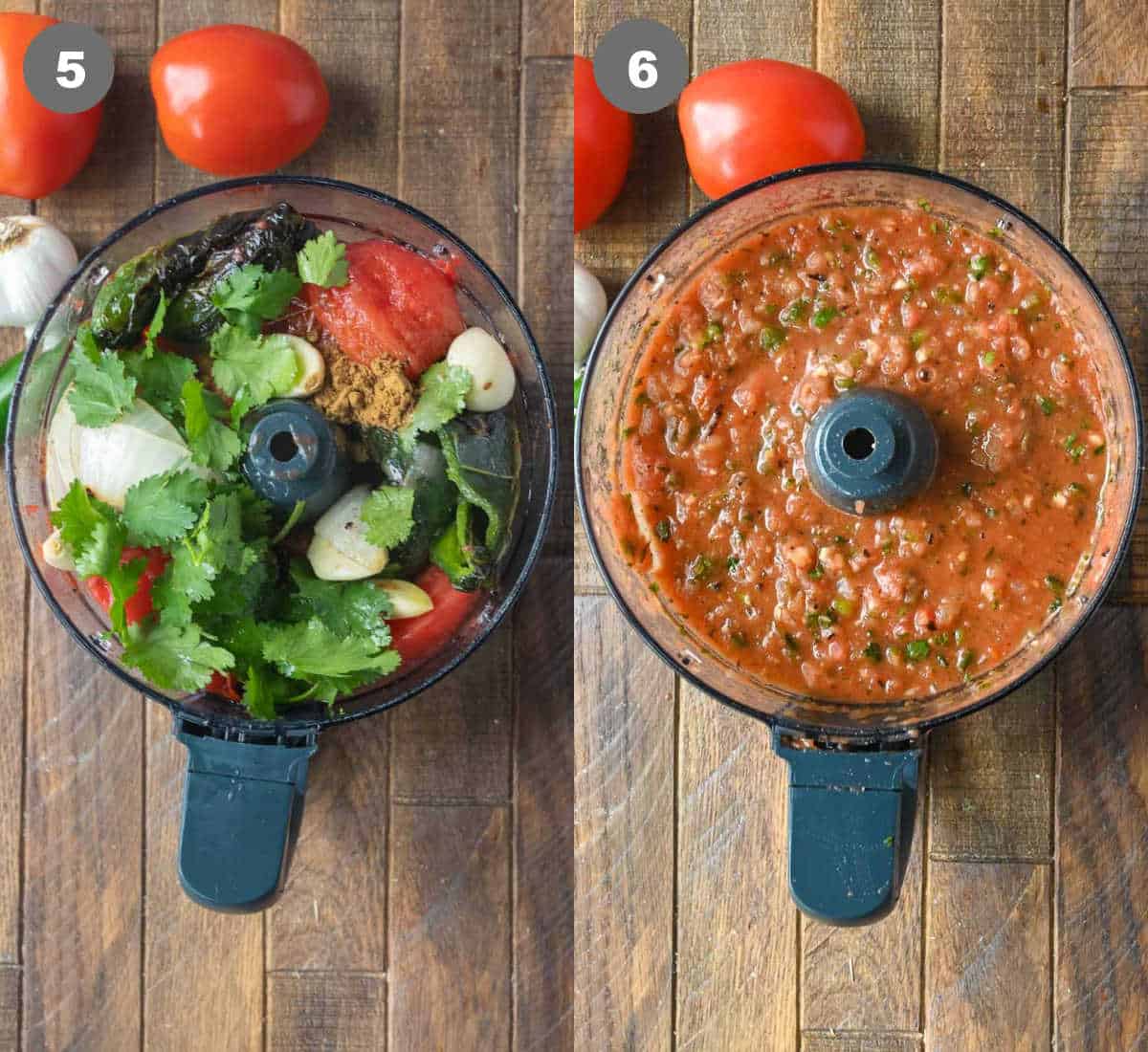 Step 5: Place the rest of the ingredients into a food processor.
Step 6: Pulse less for a chunkier texture and more for a thinner salsa consistency.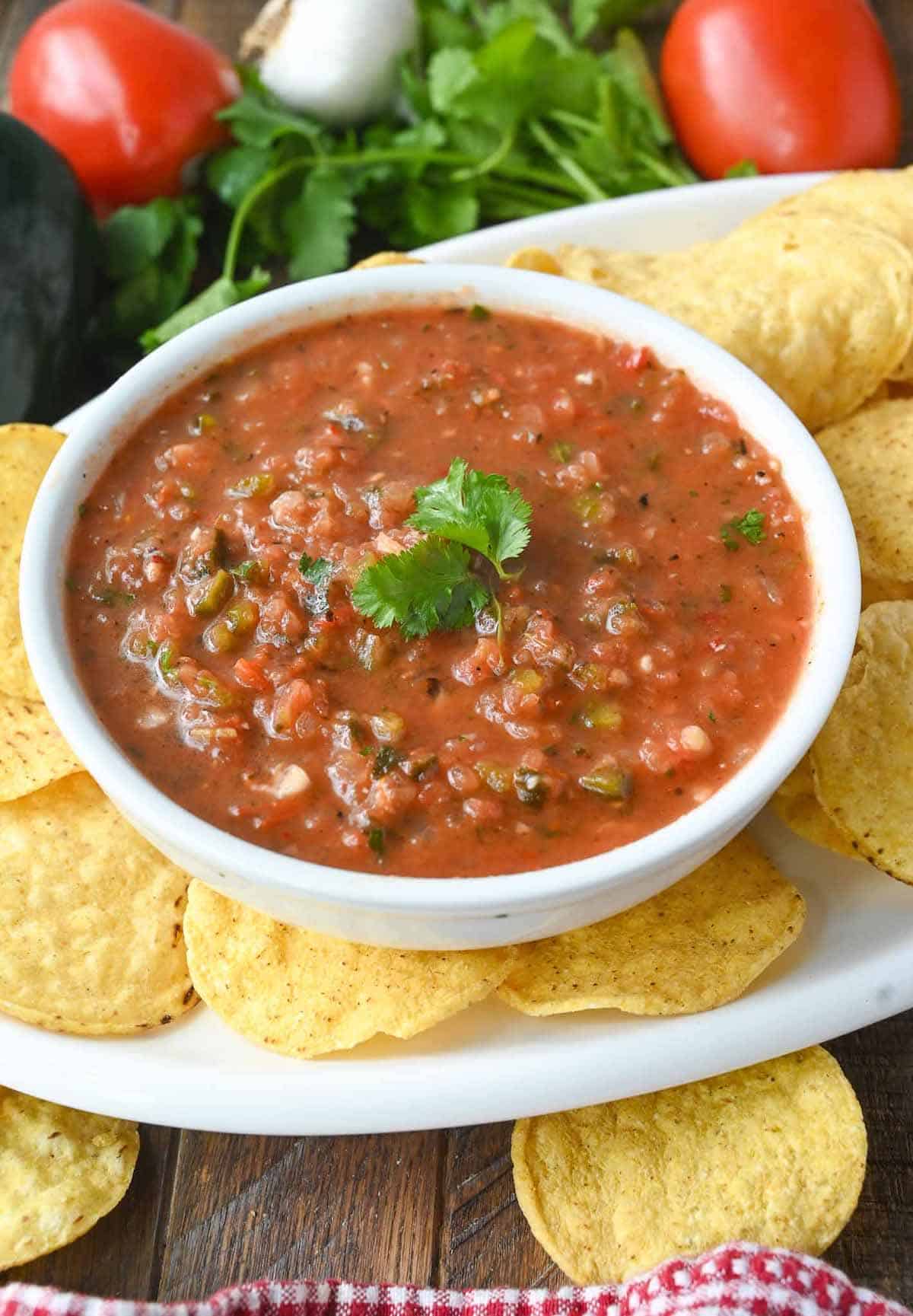 Recipe tips
Use rubber gloves when seeding peppers. The oil from the peppers can burn your hands.
You can use a food processor or find out how to utilize the pulse button on a blender to create a perfect salsa.
Store salsa in an airtight container for 4 days.
Seasoning to taste: Taste the salsa and adjust the seasoning as needed. Consider adding salt, black pepper, cumin, or other spices to enhance the overall flavor.
Allowing flavors to meld: For optimal taste, refrigerate the salsa for at least an hour to allow the flavors to meld together. This resting time will enhance the overall taste and make it even more delicious.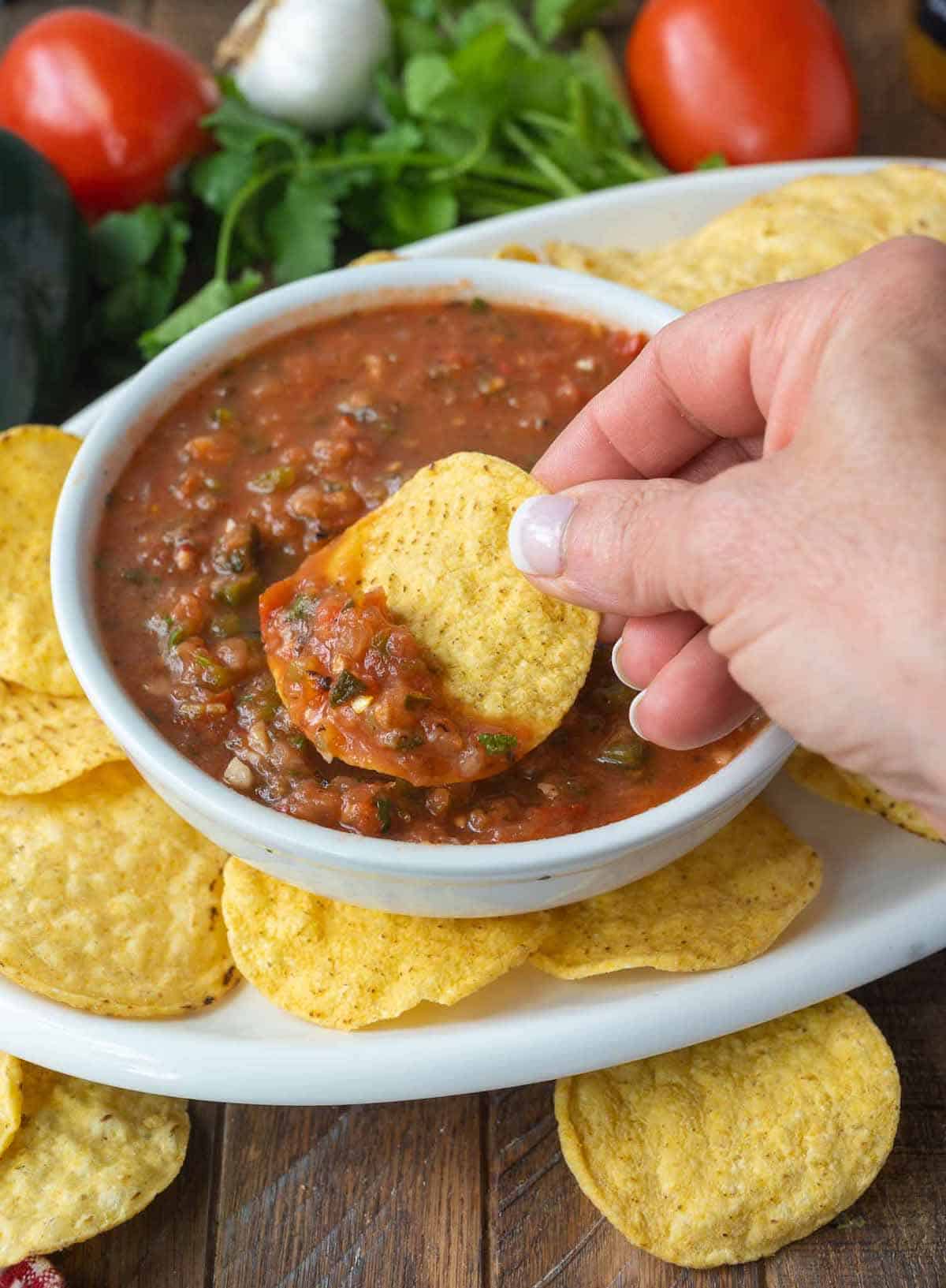 Recipe Faq's
Can I can this roasted salsa?
Although you can technically use this recipe for canning. But you will have to use the proper canning techniques to ensure it's safe to store.
Can I freeze this salsa?
Yes, place leftover salsa in a ziplock freezer bag, remove the air, and freeze for up to 3 months. A perfect way to use up those garden tomatoes and have some fresh salsa for football season.
What are the best tomatoes to use?
You can really use whatever you want. Roma tomatoes are always a good choice, they tend to have fewer seeds.
Do I have to peel the tomatoes?
No, it's not necessary to peel the tomatoes. Once they are blended you won't even notice them.

Is this salsa spicy?
Adjusting the heat level: For a milder salsa, remove the seeds and membranes from the roasted peppers. For a spicier version, leave them in or add additional hot peppers according to your preference.
MAKE SURE TO FOLLOW ME ON FACEBOOK, INSTAGRAM, AND PINTEREST FOR ALL MY LATEST RECIPES.
Fire Roasted Salsa
Fire roasted salsa comes together in minutes and is loaded with flavor. Perfect with chips, tacos, burritos and nachos.
Ingredients
3

pounds

roma tomatoes

1

large white onion sliced in thirds

2

jalapenos

2

large poblano peppers

2

tablespoons

olive oil

6

garlic cloves

1/4

cup

cilantro

2

tablespoons

lime juice

2

teaspoons

sugar

1/2

teaspoon

cumin

2

teaspoons

salt
Instructions
Heat a grill on medium-high heat. Drizzle tomatoes, pepper, and onions with olive oil, sprinkle with salt and pepper if desired. Place whole tomatoes, peppers, and onion slices over direct heat. Cook 5 minutes or until it begins to get some char. Flip and cook another 5 minutes. Remove to a bowl and let cool.

Remove the stem and seeds from the peppers (use gloves so you don't get any oils on your hands if you have a lot of charring on your peppers you can scrape it some off.

Place peppers, tomatoes, onions, garlic, cilantro, lime juice, sugar, and salt in a food processor. Pulse until blended.

Taste and season with more salt, sugar, and lime juice if needed.

Store in an airtight container in the refrigerator for up to 4 days.
Notes
To Bake: Preheat oven to 400 degrees roast for 15-20 minutes. Then turn on the broiler to char them up a bit if desired.
I used Roma tomatoes but you can use any tomato you just may have more seeds in them.
The skin on the tomatoes is easy to remove after roasting if you want. I prefer to leave it on.
You can also use a blender but you want to just use the pulse button or else you will puree it instead.
Nutrition
Serving:
1
cup
Calories:
92
kcal
Carbohydrates:
13
g
Protein:
2
g
Fat:
4
g
Saturated Fat:
1
g
Polyunsaturated Fat:
4
g
Sodium:
366
mg
Fiber:
3
g
Sugar:
8
g